In anticipation of Call of Duty: WWII due to drop in November, we take a look at the best CoD games and see what made each of them so special.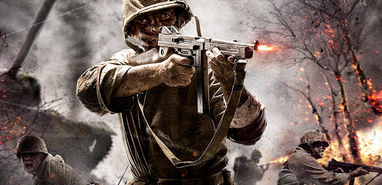 By now, the venerable Call of Duty series has become one of the most well-known properties in all of gaming, with the next entry easily making the grade for our list of most anticipated games still to be released in 2017. But the series' continued success has brought its fair share of detractors as well, with some people still believing that all Call of Duty games fall into the realm of mindless shooters.
But, while there are several duds here and there, the CoD universe has also produced its fair share of masterpieces. So, in anticipation of Call of Duty: WWII, the fourteenth instalment of the best-selling series that's due to drop on November the 3rd, let's take a closer look at the four best CoD games and see what made each of them so special:
1. Call of Duty 4: Modern Warfare (2007)
Featuring one of the single most memorable single player campaigns ever attempted in a video game setting, Modern Warfare expanded CoD typical brand of World War II adventures into fresh and unexpected territories. Gone were the bland and generic characters of yesteryear, replaced with memorable ones that benefited from some truly fantastic storytelling.
Who can forget gripping levels like 'All Ghillied Up" and the famous nuke blast? Of course, this being CoD, multiplayer was also at an all-time creative high, popularising concepts such as kill streaks and weapon attachments in the process.
2. Call of Duty: Black Ops (2010)
The game that officially made CoD a household name, Black Ops continued on the path of great storytelling, courtesy of writers such as David S. Goyer, who worked on Christopher Nolan's modern masterpiece "The Dark Knight".
The game features a mysterious narrative with Cold War undertones and gave the world a genuinely memorable character in Viktor Reznov. Aside from that, Black Ops had some truly excellent online play for its time, and also perfected the ever-popular Zombie mode for co-op gaming.
3. Call of Duty: Modern Warfare 2 (2009)
The sequel to Modern Warfare tried hard to recreate the twist-filled drama of its predecessor, sometimes veering close to controversy, as with the infamous terrorism-alluding 'No Russians' level. The rest of the game is still a blast to play through, with the challenging two-player cooperative Spec Ops mode adding a new wrinkle to what was already a fantastic multiplayer experience.
4. Call of Duty 2 (2005)
While it might seem a tad outdated by this point, Call of Duty 2 was an impactful shooter in its time, one that's still capable of leaving gamers who don't care that much about graphics on the edge of their seats. CoD 2 definitively placed the series ahead of its competitors with its stunning recreation of World War II conditions, much more realistic and atmospheric than in latter attempts. If there's any game that CoD: WWII might look to for inspiration, it's this one.
All in all, we look forward to playing the newest entry in the CoD series and hope it will be a blockbuster action game that's at least on par with the aforementioned masterpieces. But even if the developers fall short of that lofty goal, you can rest assured knowing that Call of Duty's usual brand of high-octane energy will still be found in CoD: WWII.