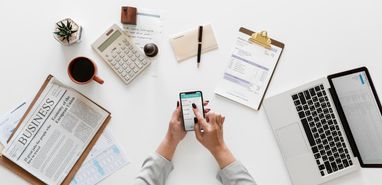 Do you struggle with budgeting your income? Is saving money inconceivable? Are you still paying off student loans or other debt? Have you had arguments over shared expenses like rent?
If you answered yes to any of these questions, you'll be glad to know that there's a remedy for you — and it's already in your pocket. Smartphones have access to millions of apps with hundreds in every genre. Luckily, our friends at Wikibuy did the research for you to find the best apps to track your financial life. Skip to the infographic below for more information.
If you have the problems above, or any other financial dilemmas, there's an app for that. From creating budgets to tracking daily expenses to investing, mobile applications can do it all. The best part is that you can use them 24/7, or whenever you have your smartphone on you.
You can track your physical activity, caloric intake, sleep and schedule on your phone, so why not throw your finances into the mix? Instead of hiring a financial advisor, asking your parents for advice or guessing you can use an app to help you reach your financial goals.
Acting as an organizer for your income and expenses, these apps will help you track your finances in a simple yet effective way. Whether you made a New Year's resolution or it's just time for a change, you'll be surprised how easy managing your money can be with a little help. You may even find yourself recommending these apps to your friends and family.
Keep reading for the 21 best apps to organize your financial life. Some of the apps are even free to download. Is a free tool to help you save money essentially free money? Either way, that's a pretty good deal. Check out the visual for details.