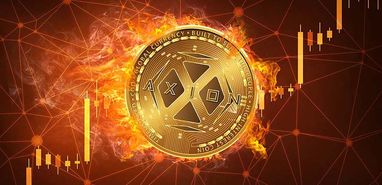 Not long ago, we ran an article that introduced a new cryptocurrency meant to provide investors with a new income investing option. In the months since, Axion's developers had worked steadily to prepare for their November 2nd launch date. But when that date arrived, things didn't go as planned.
Shortly after Axion's launch, it became apparent that someone had begun an attack on the currency. Within hours, a then-unknown attacker managed to mint 79 billion Axion tokens and dump them on the open market. The sale sent the token's price plunging over 99% – and netted the attacker over $500,000 in ill-gotten gains.
It didn't take long for Axion's developers to recognize what was happening and issue a warning to investors to stay away on their social channels and via Discord.
In the hours and days that followed, the Axion team worked to uncover the truth about what had happened. In short order, the source of the attack became clear. It turned out that a contractor working for Rock'N'Block – the firm hired by Axion to develop smart contracts and a frontend for the network – had inserted code into the smart contracts that allowed them to mint Axion in an unauthorized fashion.
Important:
It's important to note that the attacker added the exploitable code after the codebase had undergone five separate audits to ensure its security and stability. The audits, carried out by multiple independent teams including teams from
CertiK
and
Hacken
, all certified it ready for launch. The attacker used their privileged insider position to make changes at the time of deployment.
To help shed some light on the events of November 2nd and the days that followed, here's an overview of what we know about the attack on Axion, and how their relaunch is fast becoming one of the biggest comeback stories the crypto space has ever seen.
A Launch Gone Awry
The attack on Axion began at around 11 AM +UTC on November 2nd, shortly after the AXN token's launch. At that point, the attacker minted 79 billion AXN tokens using a prearranged flaw in the platform's unstake function. Then they sold those fraudulently-minted tokens on the Uniswap exchange, which drained Axion's liquidity pool and allowed them to walk away with 1300 ETH – worth approximately $500,000 at the time.
At that point, the security analysts at CertiK started looking into what was happening, hunting for the flaw the attacker was exploiting. What they found was that someone had inserted malicious code when the Axion smart contracts were merged with some required OpenZeppelin dependencies. Critically, this happened after Axion's developers had turned over their audited and completed code to Rock'N'Block's developer team for the launch.
According to Rock'N'Block itself, it didn't take long to figure out who had done it. In a press release immediately following the attack, they admitted "it is obvious that one of the engineers consciously substituted the code (which was tested and audited) for his own code containing the vulnerability. A few hours after the deployments, the suspect verified the code on Etherscan, thus proving malicious intent – only with source code with a vulnerability can the contract be verified."
In the same release, Rock'N'Block identified a contractor in their employ by the name of Ilya Maximovich Solovyanov as the perpetrator of the attack. But in the ensuing days, they claim that they've been unable to contact him and that he had deleted his prior communications and social profiles.
Note:
At the time of this writing, Rock'N'Block is engaged with the proper authorities to track both the suspect and the stolen funds. They intend to pursue the matter to the fullest extent of the law and to recover the stolen funds, if possible.
Axion's Response to the Attack
We're still here.

All the AXN/HEX2T people were holding at the time of the exploit will be credited.

We will launch a liquidity reward portal to build the liquidity back up as well.

We are working hard to relaunch AXN as soon as possible.

— Axion (@axion_network) November 2, 2020

This isn't the first time a cryptocurrency came under attack in this manner. Earlier this year, other crypto projects like Ravencoin, dForce and Origin also suffered similar large-scale attacks. But what's unique about Axion's response to the events of November 2nd is that they continued to press forward, intent on staging a relaunch on November 11th.
Within days of the attack, the Axion community rallied to raise additional funding to more than replace what was stolen from the liquidity pool. That, plus the quick discovery of the exploit made it possible to repair the original code and to get the project back on track. And the developers behind Axion remained eager to prove the merits of their vision, both to early investors as well as to the broader cryptocurrency community.
To that end, they quickly announced their relaunch plans, which included measures to help investors equitably recoup their losses. To start, the Axion team announced that all holders of AXN (or its HEX2T precursor), would receive an airdrop of the newly-minted AXN tokens at a 1:1 ratio at the time of the relaunch. Existing stakeholders didn't have to take any action, or even pay any transaction fees for the airdrop. The developers planned to handle the transfers automatically with no user input.
But that's not all. Because the developers recognized that there were plenty of investors who sold their AXN as its price plummeted to try and preserve their initial capital, they also planned to include them in that 1:1 airdrop of new AXN using their total holdings from before the attack unfolded. The idea was to try and roll back the clock to bring everyone back to where they were when the attack took place.
And they didn't leave out investors that looked to take advantage of the flash crash by purchasing the devalued AXN in the aftermath of the attack. For them, Axion planned to exchange their old tokens at a rate of $0.00025 per AXN, calculated as a function of how much ETH they spent to acquire those old tokens. In other words, they would receive a sum of new AXN worth whatever the ETH value was at the time of their original purchase.
Important:
Since the Axion team noticed the attack right away, but were aware that not all investors saw their warnings to stop buying AXN, they set the cutoff date for eligible purchases on Nov. 3rd at 8:36 AM PST. In their view, that would compensate AXN buyers who bought low without knowing that an attack had occurred, while leaving out those trying to take advantage of the relaunch plans that were announced at that time and date.
Axion's Plans to Strengthen Oversight
It was also interesting to see how quickly the Axion community – and the cryptocurrency community at large – stepped in to try and assist when word got out of the attack. In the immediate aftermath of the attack, several high-level blockchain developers offered their help and have since joined the Axion team.
That made it possible for Axion to expand oversight of its ongoing development as well as the relaunch on November 11th. With all the extra hands, they can now make sure that no single developer can make unauthorized changes without anyone else seeing what they've done. And on top of that, the Axion team indicated that they had reached out to CertiK for help overseeing the relaunch in real-time.
Axion Emerges Stronger, Safer
At the time of this writing, Axion has just completed its relaunch. And so far, the results are even better than anyone in the Axion community could have expected. After overcoming a relaunch-day hiccup in the form of a Metamask outage, Axion managed to complete its proposed relaunch on November 13th. And in just one short hour, the Axion token saw more than one million dollars in trading volume – which was a hopeful sign of what was to come.
In the days after the relaunch, the new Axion token hit some significant and impressive milestones. Among the most important is that they've already seen over 124 billion tokens locked into the Axion staking system, proving that investors are in for the long-haul. That's a powerful statement of support from the community, indicating that Axion's fast and thorough response to their earlier issues has inspired investors to get back on board and stay there.
On top of that, it's also worth noting that many of Axion's investors have locked their stakes in for the platform-maximum of 5,555 days – which is just over 15 years. Within the first 48 hours after relaunch, no fewer than 760 individual Axion token holders had reported doing so, for a grand total of 3.6 billion tokens. That's the equivalent of $900,000 US which is now committed to the Axion staking platform for at least the next 15 years.
The strong early performance of Axion's relaunched token, combined with the long-term stability that comes from having so many maximum-time stakers on board, puts Axion in a great position. And that position is expected to improve even more as the platform begins its regular weekly token auction cycle.
Axion is Poised to Grow
The first such auction is scheduled to take place on November 20th. At present, the auction is expected to include over 13.5 billion tokens, which will fetch approximately $3 million. And because 80% of auction proceeds go towards token buybacks and redistribution among stakers, that's going to put significant upward pressure on the token's price.
That's excellent news for a platform that some people seemed ready to give up for dead less than two weeks ago. And the relaunch has even gone so well that Axion's developers have now pledged that 1% of all auction proceeds (out of the 20% reserved to fund network development) going forward will be donated to the Eden Reforestation Projects.
Starting today, 1% of all auction proceeds will be sent to @eden_reforest to help support biodiversity, animal lives, bringing jobs to developing nations, and the health of our planet. https://t.co/xNVuj4Bq4D pic.twitter.com/JHqy9oWqnn

— Axion (@axion_network) November 14, 2020
Note:
As of November 17th, that translates into enough funding for the non-profit to plant 868 trees across a variety of geographic areas. At the same time, the efforts help lift local residents in those areas out of poverty by paying them a fair wage for their work.
So, for now, it appears that it's all systems go for Axion. And it already looks like they're well on their way toward delivering on the promise of sustainable passive income streams for willing investors. At the same time, they're also giving back in a way that will benefit all of humanity. That's not a bad rebound for a project that suffered such an egregious attack in the not-too-distant past. And let's hope they continue to succeed on all fronts – because that'll be good news for us all.