If you have been looking around for a pretty nice midrange laptop to game on, you might want to have a look at Dell's Inspiron 7000 gaming series.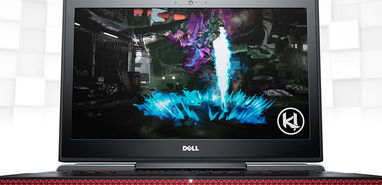 If you have been looking around for a pretty nice midrange laptop to game on, you might want to have a look at Dell's Inspiron 7000 gaming series. It has what it takes to give you a great gaming experience without having to sell one of your kidneys. This is a 15-inch system that provides you with a Core-i5 – 7300HQ, a GTX 1050 Ti, 8GB of DDR4, a 1080p display and a GTX 1050 Ti for around £670, and I have actually seen it on sale at various places for cheaper than that.
Now Dell has decided to make it more awesome!
Dell's new Inspiron 7000 Gaming offers a GTX 1060 alternative, 4K display (if you want it) and Thunderbolt 3 capability.
Usually, I am not a fan of gaming laptops solely because I believe they are overpriced and don't last as long as a gaming desktop (not to mention desktops can be upgraded and laptops cannot). But I have heard some really great things about this gaming laptop from a few other people, so I thought it good to share it with those who do like gaming laptops.
The Inspiron 7000 Gaming weighs in at 5.76 pounds. The only thing that I didn't find positive is how Dell changed the battery size from a 74 Whr battery to a 56 Whr for the new model. But, who really uses their battery while they're gaming anyway. I know I never did when I did use a gaming laptop. I suspect Dell was forced to cut the battery size when they decided to upgrade to the larger and more powerful 1060 GPU.
Mobile GPUs Are Still Loud, No Matter the Technology
Powerful gaming laptops, no matter what technology they tout, are always pretty loud. The mobile GPUs are to thank for this. How loud the acoustic profile primarily depends on what kind of cooling system the OEM uses.
Nvidia has been making a lot of fuss about its Max Q:
…the most advanced thermal and electrical designs ever achieved, elaborate heatpipe and heatsink setups, the highest-quality low-noise fans, next-generation high-efficiency energy regulators, and optimised components from top-to-bottom.
Nevertheless, one thing still stands true: Gaming laptops with powerful GPUs still sound like single props taking off.
I am pretty sure Nvidia keeps its best Pascal GPUs for their mobile products, so it isn't quite fair or logical to treat desktop TDPs as being equivalent to their mobile counterparts. Nonetheless, the desktop GTX 1050 Ti is a 70W card, while the GTX 1060 is equipped with a 120W TDP. It doesn't matter if their mobile variants are 50W and 90W or 30W and 70W, much more heat still needs to be dissipated with the 1060 compared to the 1050 Ti.
The Specs
Over the years, the Dell 7000 Gaming has had some pretty cool vent designs. This time around, I think they went a little modest on the vent design by covering the entire rear of the machine with horizontal lines, while the front edge has the same look. If you choose the matte black, it can seem kind of plain. If you choose the bright red model, it looks anything but.
As with most average laptops, it has the usual array of HDMI, USB 3.1 and ethernet ports. It has the good old SD card reader. But what set it apart from the rest is the Thunderbolt 3 USB Type-C port.
This newer model is only slightly thinner at 0.98 inches thick. As stated above, it still weighs the same as the previous model at 5.82 pounds (2.65 kilos). The weight will increase to 6.28 pounds (2.85 kilos) if you choose to buy the GTX 1060 model.
The 1080p display model costs around 740, while the 4K model is around 1105. I must admit that the price for this quad-core i5 and GTX 1050 is pretty fair. But, on the other hand, it will be a harder sell at the higher end, where you have MSI and ASUS with more gaming cachet and similar options in the same price range.