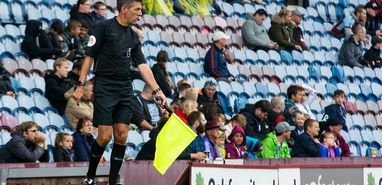 English Premier League chiefs recently opted against using the innovative new Semi-Automated Offside Technology (SAOT) that was showcased at the 2022 FIFA World in Qatar.
The question being asked here is, how long can officials deny this new technology? Let's take a closer look and find out.
What is Semi-Automated Offside?
FIFA's Semi-Automated Offside Technology was successfully trialled at the 2022 FIFA World Cup. It involves 12 strategically placed cameras in the stadium to track players' movements when the ball is kicked. Then it uses Artificial Intelligence (AI) algorithms to determine whether players in a certain position are offside.
If the player is offside, an immediate alert will be sent to the Virtual Assistant Referee (VAR) team within less than a second. In other words, SAOT can speed up offside decision-making time, allowing games to run smoother with fewer stoppage interruptions.
Why has the Premier League chosen against adopting the new technology?
Despite calls for improvements in VAR, Premier League chiefs chose not to adopt the new Semi-Automated Offside Technology. Instead, they will be bringing in four more cameras to aid the current VAR technology.
The main reason for them deciding not to bring in this new technology for the 2023/24 season was that they fear it may date too quickly for it to prove itself as worthy and reliable.
The decision could come back to haunt them. It has already been adopted in Spain's La Liga and Italy's Serie A, so Premier League chiefs will no doubt look to see how it fairs in these two leagues before adopting the technology.
Without introducing the new tech, it's unlikely to have too much of an effect on most decisions that are made in games, the outcomes of games, or premier league odds, for example. We will just have to wait and see if the four additional cameras will make a difference to VAR or not.
Last season, it was reported that only two of the offside decisions made by VAR were overturned as incorrect.
Can Manchester City win the 2023/24 Premier League?
Fresh off their treble-winning season, Manchester City will be looking to hit the ground running. They will be playing to win the Premier League for an impressive four years in a row, having won in the 2020/21, 2022/23, and 2022/23 seasons.
To better understand just how likely Manchester City can win the Premier League, we must look to the major online bookmakers for the most realistic odds. For example, the official Unibet website currently has Man City priced at around 4/5 in fractional odds, which is 1.8 in decimal odds and -125 in American/moneyline odds, meaning there's a 55.60% implied probability rate of them winning the title again.
In comparison, London side Arsenal, who are currently the second odds on favourite team to win the Premier League outright, only have a 16.70% implied probability rate of winning. In odds, this is the same as saying 5/1 (fractional), 6.00 (decimal), or 500 (American/moneyline).
Erling Haaland is the current odds-on favourite to score more goals than any other player. He bagged 36 goals in the league last season and will be looking to have a repeat of scoring this many goals this season. He is currently priced at around 8/13 (1.62, or -163), meaning there's a 61.90% chance he will score more goals than any other player.
Final note
If FIFA's Semi-Automated Offside Technology is successful in La Liga and in Serie A, and if there are too many controversial VAR decisions in the 2023/24 Premier League campaign, Premier League officials may have to reconsider adopting the technology for the following season.