At Computex on May 30th, 2017, Intel announced that they will be putting out a new family of desktop processors called "Core X".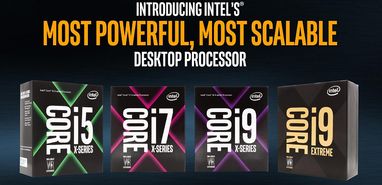 At Computex on May 30th, 2017, Intel announced that they will be putting out a new family of desktop processors called "Core X". These new processors are supposed to improve upon the existing Core i5 and Core i7 models, and there will also be a new Core i9 line released which will pack even more firepower.
These new processors are targeted at people who want to run the latest games at the best possible resolution while their computer has other functions running. For example, gamers who stream footage or live chat with viewers are meant to buy this product. Core X is also targeted at content creators, who often have many different creative tools open at once when they vlog.
To entice these buyers, the Core X-series has a range of models starting with 4-cores and ending with the Core i9 Extreme, the first consumer desktop processor that offers 18-cores and 36-threads. The Core i5-7640X is the cheapest, at £190, and it offers 4-cores and 4-threads. The Core i7 X-series have more of a range. The least expensive of these is £265, 4-core, and 8-thread. The most expensive is a £470, 8-core, and 16-thread chip.
As for the new Core i9 line, Intel is putting out four models. The cheapest is £780 and boasts a 10-core, 16-thread processor, and the highest of this range is the 32-thread chip with 16-core and a £1,330 price tag.
Then there is the Core i9 Extreme, with a whopping 18-cores and 36-threads. The high processing speed is matched by a high price – £1,564!
The new desktop Core X processors are all designed to work with Intel's X299 motherboard chipset, a new product which is meant to come out alongside the new processors. Most of these products are expected to be launched in the next few weeks. The architecture of all of these chips is built on Intel's Skylake X, an updated version of the sixth-generation Skylake platform. For the two 4-core models in this new lineup, the basis comes from Kaby Lake X.
Intel is also releasing "Turbo Boost Max 3.0," which is an upgraded version of its Turbo Boost Technology that will be available on some of the higher-end models of the Core X family. The additional cores on the Core X models are meant to improve multitasking performance; the addition of Turbo Boost Max 3.0 should help each core achieve improved performance. To this end, Intel claims that the Core X-series improves the performance of the previous generation by 10 percent on a multithread performance and 15 percent on a single thread.
AMD recently released the Ryzen processors, which are viewed as a viable competitor to Intel's Core series. With AMD threatening its position more effectively than anything has in years, Intel must work to keep ahead. AMD is planning a similar release as the Core X line, called the ThreadRipper, which will come out later this summer. ThreadRipper offers 16-cores and 32-threads, which is serious competition for even the 18-core i9 Extreme.
Intel has also stated that they have seen up to 30% improvement on their eighth-generation line of chips, code-named Coffee Lake. However, there is no real update on when these chips will be released.