For the last 20 years, home broadband connections have continued to get faster. And it's a good thing that they have. With ultra-HD video streaming, high-capacity cloud data storage, and even AAA video game titles now coming over the wire into homes, high throughput is essential.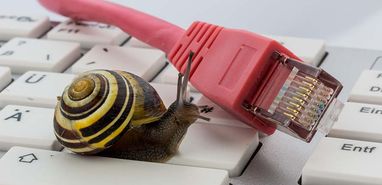 The trouble is, the average home network hasn't kept pace. With multiple WiFi standards still in common use and a mix of old and new hardware vying for bandwidth, it's easy for bottlenecks to develop. And when they do, most people just contact their ISP and ask for more speed – and the higher bills that come with it.
But that's not always the right move. If you consider that a single 100Mbps internet connection would be enough to watch four simultaneous 4K Netflix streams, it's clear that plenty of people are paying for far more bandwidth than they need. In most cases, it's their home network that's holding them back.
So, if your home network is facing a speed crunch, don't worry. Just follow this handy home network speed troubleshooting guide to help find and fix the problems that are holding your network back.
Step One: Get a Real-World Speed Measurement
The first step to solve a home network speed problem is to figure out if you're having a problem in the first place. For that, you'll need to run some tests. First, take the device you notice having the biggest speed problem and head over to the Speedcheck internet test site. It'll give you some throughput figures for that device. Write down the results.
Then, find your newest device with a wired ethernet connection and re-run the test. This will be your baseline for maximum internet performance in your home. If you get numbers far higher than the first test, your ISP isn't your problem. It's proof positive something in your home network isn't up to par. At that point, it'll be time to dig a little deeper.
Important:
It's important to use a recent device with a wired ethernet port for the second test. If possible, you want it to be capable of a 1Gbps wired connection. This will give you the truest reading of your ISP's actual line speed.
Step Two: Separate WiFi and Wired Devices
These days, most modern connected devices rely on WiFi to get online. But there are lots of things – PCs, smart televisions, certain smart speakers – that still offer the option of wired ethernet. And you should make use of that option wherever it's practical. Wired connections offer stable high speeds and don't suffer from interference like WiFi does. Plus, every device you take off of your WiFi network will help speed up all the remaining devices.
You'll want to run the same speed test on every device that can run it (some smart TVs and speakers don't have graphical web browsers). The idea is to get each device's test to look as much like your maximum performance baseline as possible. Focus on switching to ethernet for your slowest devices, followed by everything else. That will maximize the impact of your network changes.
Note:
One of the reasons people avoid ethernet is that it's hard to run wiring for it in existing homes. But there are ways around that. There are
DECA and MoCA adapters
to turn existing COAX runs into handy ethernet jacks. And, there are high-speed versions of
Powerline adapters
that can turn your home's outlets into ethernet ports, too.
Step Three: Check WiFi Hardware and Upgrade as Necessary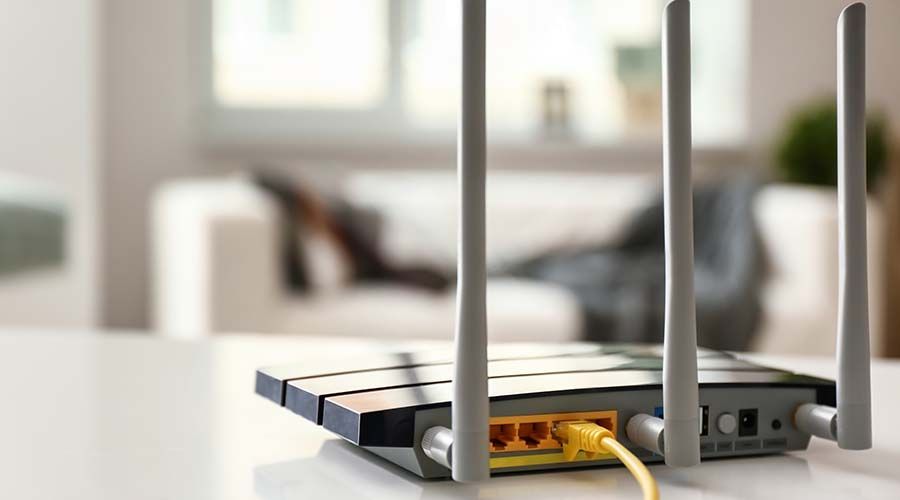 Now that you have fewer WiFi devices to contend with, the next step will be far easier to complete. The first thing to do is to look up the model number of your WiFi router to figure out what wireless standard it uses if you don't already know. That will help you understand if your wireless speed problems are a function of the router's limitations, or something else. Consult the chart below to see the theoretical maximum and real-world maximum speeds for your WiFi standard:
11g – 54Mbps Theoretical – 20Mbps Real World
11n – 600Mbps Theoretical – 100Mbps Real World
11ac – 1,300Mbps Theoretical – 200Mbps Real World
11ax – 10Gbps Theoretical – 2Gbps Real World
As you can see, the advertised speeds for WiFi hardware far exceed what you'll get when you use it in your home. The real-world numbers should be much closer to your actual performance, depending on environmental factors like interference, local wireless saturation, and the building materials in your home. And there's another thing to consider, too.
WiFi, unlike ethernet, operates at half-duplex. That means it can transmit or receive, but not both at the same time. So, you should divide your WiFi connection speed (reported by your device) in half to get an idea of its maximum internet speed. If you get a number that's too small, it's time to upgrade your WiFi hardware.
Important:
Remember that both sides of the WiFi connection – device and router – have to be capable of a standard to use it. Otherwise, your connection will only be as fast as the slower of the two. Also, every legacy (older WiFi standard) device on your network will degrade performance for all the others. So, getting rid of an outdated device can, by itself, speed up your whole network.
Step Four: Boost Coverage, Eliminate Interference
In some homes, WiFi simply won't work very well. Having metallic infrastructure in the walls can block WiFi signals, as can stone, concrete, or brickwork. Even a large fish tank will cause trouble because WiFi signals don't penetrate water easily. After you've gotten to this step, the last thing to do is find and eliminate any WiFi dead spots created by the environmental conditions in your home.
Finding them is a simple matter. Just take your most speed-sensitive WiFi device into each area of your home and perform a speed test. If you notice an area with poor performance, you've likely found a dead spot in your WiFi network. Then you can take steps to fix it.
The simplest way to do this is to add an additional WiFi access point in the parts of your home that get poor coverage. Your best bet is to connect each access point to the main network using ethernet or one of the extension types (DECA, MoCA, or Powerline) mentioned earlier. If this isn't possible, you can use a WiFi repeater as an option of last resort.
Note:
WiFi repeaters should never be used unless there's no other viable option. Because they form a wireless bridge to your existing WiFi network, their maximum throughput is only half of the original router they're connecting to. For that reason, they're more likely to create more speed problems than they solve.
A Network Built to Last
After going through the steps listed above, you should be getting at least 75% of your baseline maximum internet speed on every device in your home – or better. In most cases, that's the best you can hope for using consumer-grade equipment. If you still find your internet speed lacking, try shutting off connected devices one by one to see if their absence improves things. It's always possible that there's an address conflict or some kind of hardware incompatibility lurking in your device combinations.
If not, you should have a network that's running like a dream and that's ready to handle all of your high-bandwidth internet use cases. If you're lucky, you may even find that you've been paying for more speed through your ISP than you actually need. And wouldn't saving a little money each month be nice? Then you can use it to keep upgrading your hardware so you'll never suffer from a slow home network ever again!