Geo-blocking not only prevents you from accessing content you want to see but can also cause you to pay more for purchases and be denied access to necessary services. Here's everything you need to know about it, including how to avoid it.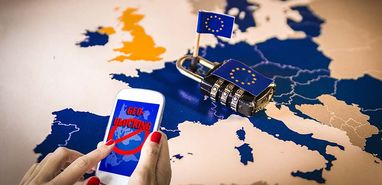 If you've been using the internet for long, there's a good chance you've encountered certain websites and services that won't let you access them based on where you are in the world. The most common places that you may have encountered this is on streaming websites like YouTube and Netflix. But those are only the most obvious examples.
For example, did you know your bank may prevent you from using their website when you're away from home? Or that travel websites often quote you different airfare prices depending on where you access them from? Almost everywhere you go online, your location plays a big and invisible role in the experience you have.
All of this is a result of something called geo-blocking. That refers to a group of technologies that allow websites and services to identify your location using a variety of data points. And in turn, companies like Smartproxy and countless VPN and smart DNS providers have evolved tools and techniques to counter it.
In this guide, we're going to tell you everything you need to know about the practice of geo-blocking. We'll cover what it is, why it's used, and how it works. And, most importantly, we'll explain how you can evade geo-blocking to gain access to the sites and services that would otherwise be denied to you (and when to use them). Let's dive in.
What Is Geo-Blocking?
As we've mentioned, geo-blocking is the umbrella term that describes the methods used to restrict online content and service access based on user location. In the early days of the internet, this was not a common practice. But now, it's become so commonplace that the majority of internet users will encounter some form of it almost every time they go online. In effect, geo-blocking has turned the world wide web into a series of smaller, region-based subnetworks. And certain companies have gotten so aggressive with it that it's becoming a major hindrance to everyday web users.
Note:
Geo-blocking is also known as geo-filtering. That's because it is sometimes used to enforce granular restrictions to content access, rather than to prohibit access to an entire site. For the purposes of this guide, we won't distinguish between the two.
What is it Used For?
Most of the time, geo-blocking is used by content providers to enforce their licensing agreements with content producers. Because of those agreements, certain content (like Hollywood movies) might have multiple rightsholders in different parts of the world. For example, Netflix might only have the rights to a certain television series in the US, while another provider like Now TV offers it to users in the UK and parts of Europe.
But it's also used to restrict sales of certain products based on user location or to alter prices to compensate for different local economic conditions. And in some cases, e-commerce sites might even use it to apply the proper tax codes to your online purchases. In rare instances, geo-blocking may also help to defend websites from influxes of traffic coming from regions they don't officially support.
How Does it Work?
Geo-blocking systems typically make use of your public-facing IP address to determine where you are. This is possible because the owners of those IP addresses – the world's ISPs – maintain databases tying each IP address to a specific region where it may be allocated to users. Sometimes, those databases might identify your location down to your specific street address. But because of the size of the average ISP, most databases are only accurate at the country level.
Important:
On mobile devices, some geo-blocking systems make use of GPS data, cell tower connection information, and public WiFi access logs to determine where you are. Those systems are still rare. But in the future, companies might increase their reliance on that data because it's more accurate than IP address information.
Avoiding Geo-Blocking
There are a variety of reasons you might wish to avoid geo-blocking. The most popular reason is to access media content that is otherwise unavailable in your local area. But you also might want to do so to find better prices on airfare, consumer products, and other services whose prices might vary based on where you are. Here are three ways you can do it.
Smart DNS
In some cases, websites and services do not detect your location by using your IP address. This happens most often when the restrictions are less critical to the business, so they opt for a simpler, cheaper method. That method is to check which DNS server referred you to their site. The theory is that most people will use their ISP-provided DNS server by default, and so it's possible to determine their relative location using that information.
A smart DNS service provides users with alternate DNS servers that are pre-programmed to report the location of their users' choice. When using one, all you have to do is set your preferred location before you connect to a geo-blocked site, and the service handles the rest.
Tip:
Smart DNS services, while handy, usually only support a limited number of sites. So, if you're going to sign up for one, check to see that it supports the site you're trying to access before you decide to buy.
Proxy Services
When you encounter geo-blocking that is using your IP address to identify your location, the only way around it is to route your connection through an address that's in an allowed region. The simplest way to do this is by using a proxy service. Most proxy services offer multiple location options that make them a perfect fit for avoiding geo-blocking. Beware, however, that large providers like Netflix maintain lists of known proxy server addresses and will still block your access when you're using them.
The best bet is to use a service like the aforementioned Smartproxy, which makes use of a residential proxy network rather than one based within datacentres. That guarantees that you'll be using an IP address that's known to belong to residential ISPs. As such, they're indistinguishable from the millions of other users connecting to geo-blocked services at any given time. That makes them far harder to identify for any site that relies on IP-based geo-blocking
VPNs
Last but not least, you can use a VPN to prevent IP-based geo-blocking systems from detecting your actual location. Like proxies, they route your connection through a server in your desired region to make it appear that you're connecting from there. They're a popular option for people looking to unblock content on major streaming services.
Plus, a VPN adds an extra layer of security by encrypting all of the data traveling to and from your device. That makes it almost impossible for anyone – including your ISP – to tell what you're doing online. Be aware, however, that content providers are well aware of the fact that people use VPNs to evade their restrictions. And they're engaged in a never-ending war to identify VPN servers and block their connections. So, a VPN service that works one day for a particular site might stop working the next until the provider finds a workaround.
Important:
Although many people believe that a VPN makes it impossible for anyone to trace their online activities back to them, that's not always the case. That's because even a VPN provider that keeps no usage logs can't keep you completely anonymous. For example, law enforcement might be able to correlate your ISP's connection logs with the traffic coming from a VPN server to figure out who – and where – you are. But unless you're doing something illegal, that should pose no real concern.
At the end of the day, geo-blocking is bound to be a part of the internet for the foreseeable future. And if you're being affected by it, you could have a frustrating time accessing the sites and services you need. But by making use of the options mentioned here you should be able to reliably evade geo-blocking in almost every case.