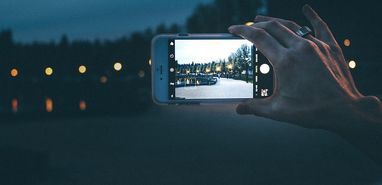 Leaked blueprints unveiling Apple's plans for the up and coming iPhone 8 have revealed an intriguing reinvention of the world's most popular phone model. This year's iPhone 8 comes just after a recent announcement that phone giant Apple became the first company in history to be worth $733 billion – a value which places them higher than the entire Spanish stock market.
So as Apple grows into the supersize shoes of one of the world's most powerful companies, what does this mean for its latest designs?
The leaked images allegedly revealed through a leaked computer-aided design (CAD) have uncovered the biggest hints to date. The said files show a vertical, dual camera on the back of an edge-to-edge display, slightly thicker than the iPhone 7 models already in circulation.
The vertical dual-camera protrusion has a with a flash between the two lenses – which could be used for 'advanced augmented reality' features, it has been alleged. Though it's not 100% clear how final the designs released are for the official release in September, it is certainly looking like it offers some very likely suggestions.
The renders are based on the expectation that the iPhone 8 will be 144mm tall, 71mm wide, and 7.7mm thick, along with the all-glass design which is thought to be completely without any sort of side buttons or physical "buttons" in general.
On the back, we can see the widely-expected vertical orientation of the dual lens camera which is a potentially significant move forwards from the older iPhone designs.
Tenth Anniversary
It's believed that Apple is testing a number of prototypes for the iPhone 8 as it is coinciding and commemorating the company's "tenth anniversary".
It has been a long time coming also for the introduction of the new touch ID fingerprint reader, which is has been speculated, will be at the bottom of the front screen display.
Time Will Tell
As speculations continue and facts remain up in the air, it's not easy to verify the leaked images or even to say if they're accurate to the real iPhone which isn't going to be launched until the Autumn. However, as KGI Securities analyst Ming Chi-Kuo predicted, it would be around this time, it's hard not to sit on the edge of our seats.
If not for the iPhone 8, for the brand new Google Pixel which is close to being born. We're in for an interesting year.