H.266/VVC, the new video codec for better compression, will be available soon. But it will certainly not be compatible with all of your hardware and software in the short term. That's why you'll need to transcode and convert VVC to MP4 HEVC or H.264.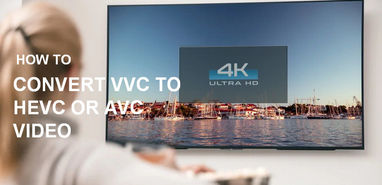 Compressed video data takes a whopping 80% of Internet traffic in the world. That's why new compression standards are constantly needed and designed.
H.266, also known as Versatile Video Coding (VVC), is the upcoming codec that promises to save 50% more bit rate than H.265/HEVC (High-Efficiency Video Coding) without losing image quality. The new standard was developed by the Fraunhofer Heinrich Hertz Institute (Frauenhofer HHI), together with Apple, Ericsson, Intel, Huawei, Microsoft, Qualcomm, Sony, and many other partners. Here's a comparison of H.264 vs H.265 and their differences.
Different from previous standards, H.266/VVC is especially beneficial when streaming 4K or 8K Ultra High Definition videos on TV and is more ideal when applied on moving images such as high-resolution 360° video panoramas videos and screen sharing contents. VVC is also great for moving making, as it is supposed to embrace 10-bit YCbCr colour spaces with 4:2:0 sampling, YCbCr/RGB 4:4:4, and YCbCr 4:2:2, allowing latitude for colour grading.
What Are Codecs Competing with VVC?
The main purpose of H.266/VVC is to reduce video file size. There are several other similar compressed codecs.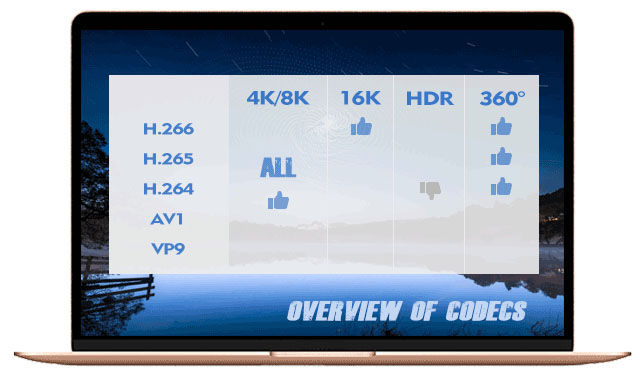 AVC: Generally referred to as H.264, AVC is by far the most widely applied and most compatible video compression standard.
HEVC: Also known as H.265, HEVC is the codec that was designed to evolve from its predecessor – AVC mainly by saving about a half bit rate or compressing a video size about twice.
AV1: AV1 is an open and royalty-free video codec released by Alliance for Open Media in 2018, based on Google's VP9. It was developed to compete with AVC and HEVC. Tests show that AV1 provides a better visual quality at a low bit rate than HEVC.
MPEG-5 EVC: This is the next-generation codec that was recently finalised by the Moving Pictures Expert Group (MPEG). It compromises an almost 25% greater compression efficiency than HEVC. Similar to AV1, it also features a royalty-free baseline profile.
LCEVC: Short for Low Complexity Enhancement Video Coding, it is another competitor to VVC. Based on V-Nova's Perseus codec, LCEVC is MPEG-5 Part 2. It is expected to provide excellent compression efficiency while having low requirements on data computation and workflows.
XVC: It is developed based on HEVC and VCEG by Divideon from Sweden. Neither expensive patented nor royalty-free, it is a software-defined licensed codec mainly used in software on mobiles and tablets. It is claimed to be about 20% better in compression than HEVC and 10% better than AV1.
Will VVC Be More Compatible Than HEVC?
HEVC was released in 2013, seven years ago. This codec has controversial patent issues from its different interested parties, which leads to a less wide application and not good compatibility in hardware and software. From time to time, there have been errors in HEVC encoding, decoding, export or playback in VLC, Adobe Premiere Pro CC, Sony Vegas, ShotCut, etc.
Although VVC has not available publicly yet, many people start concerning about its compatibility with the new codec. They worry that VVC would follow the same old disastrous road of its predecessor, HEVC, despite Fraunhofer HHI's determination to build a uniform and transparent licensing model based on the FRAND principle and the already released draft VVC license terms by HEVC Advance LLC.
No matter whether the concern about H.266/VVC's future is necessary, one thing is certain: such a new codec can't achieve universal access in the short term; and the compatibility problems are bound to occur. It always takes a long time for any new technology to be developed, bug-free, finalised, and popularized.
One good example is AVC/H.264, the predecessor of HEVC. By far AVC still remains dominant, despite its initial releasing back in 2003. Even by now, the two "old" standards, AVC and HEVC are used on 10 billion end devices and makeup over 90% of global digital video transmission and compression.
Therefore, you'll probably need to convert H.266 to H.265, H.264 or other video formats, especially:
when you want to play VVC-encoded videos on VLC, Mac, iPhone, PS4, Android, etc.;
when you want to avoid or fix issues like "Codec missing or unavailable";
if you are a filmmaker, and you want to convert H.266 to a less render-intensive format like ProRes or DNxHR (DNxHD);
if you will have footages from different types of cameras and need to share them to social network platforms like YouTube, Facebook, Twitter, and Instagram.
VideoProc – a Professional Video Transcoder and in Particular, a VVC Decoder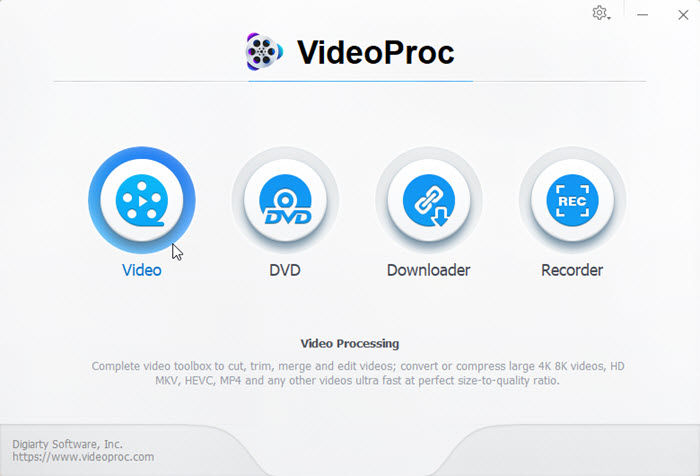 VideoProc is the world's leading provider of one-stop solution for multimedia processing. In any case you need to deal with multimedia content like DVDs, videos and audios, you may need this software. It can convert, resize, edit, download and record videos on a Mac or Windows PC. It is especially a perfect pick for converting, compressing, and editing large 4K/8K/12K videos with its full and intelligent Hardware Acceleration technology.
VideoProc can convert, for example, MKV to AVI, MOV to MP4, MP4 to MP3, and transcode HEVC to H.264, AV1 to HEVC, VP9 to VP8 and much more. It promises to be one of the first software to support VVC and any other new codecs like EVC/MPEG5 and LCEVC.
What Is a Video Codec?
A codec is a compound word of coder and decoder. A video codec here refers to a computer code or software that encodes and/or decodes video data saved in a digital file in a lossy (compressed) or a lossless (uncompressed) manner. A video coder/encoder is to encode a raw video to another digital format for storage or transmission often in a compressed or likely an encrypted way; while a decoder is to decode and decompress the data mainly for playback or editing.
What Is Video Transcoding?
Video transcoding refers to converting a video from an encoding format to another digital format. It generally comprises two steps, one is to decode, another is to re-encode. In the first step, the original video and audio data are transferred to an uncompressed format, and in the second one, the data is converted to another format that can be better supported by specific devices, applications, or video sharing sites.
How to Convert H.266 to HEVC or H264 in VideoProc
H.266 codec has not yet been released officially, so it is impossible to provide a real step-by-step guide right now. Instead, we'll show you how to convert another video to MP4/H265 easily since the operations and the principles are all similar except for the imported files.
Step 1: Download the video transcoder
Go to the official website of VideoProc, click on the Free Download button on the home page. After downloading it on your Windows or Mac, install it following the wizard and open it.
Step 2: Import your source file(s)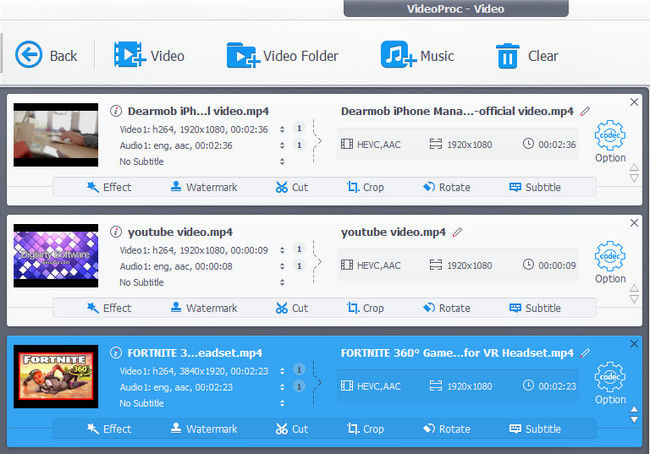 Choose the first tab, Video, on the home interface of VideoProc, and go to the Video interface. Click on +Video or +Video Folder to import one or several video files from your computer. Then the software will load the files quickly.
Step 3: Choose HEVC as the output format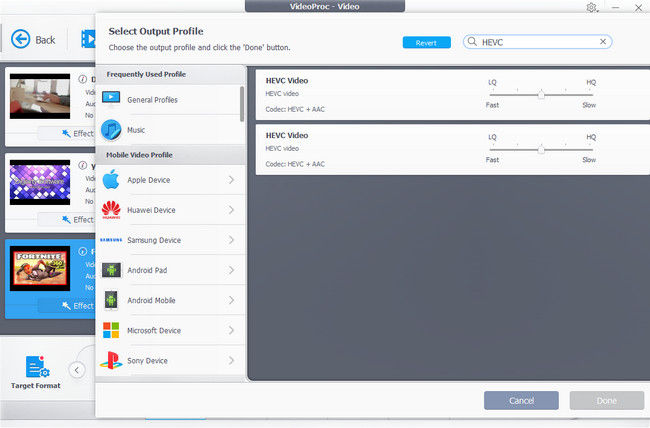 After loading, go to Target Format, you can search HEVC or H264 in the search box to find the related profile such as HEVC Video (Codec: HEVC + AAC), click on it and tap Done.
Step 4: [Optional] Make detailed settings
If necessary, you can make settings such as the following:
Edit the video: VideoProc has plenty of editing options such that you can extract subtitles, add effects, rotate, stabilise, denoise, and so on.
Shorten the video: you can change the video length by cutting, trimming, splitting, or merging.
Change video resolution: the output file will keep the original resolution by default; but you can change it by downscaling or upscaling, such as 2560×1440 (2K) to 1920×1080 or 3840×2160 (4K).
Change aspect ratio: you can crop to change the aspect ratio or choose 16:9, 16:10, 4:3, 1:1, 2.39:1, and so on directly.
Change frame rate: you can change the frame rate from or to 15, 23.976, 29.97, 30, 50, 60 for different needs such as slow-motion video or uploading to YouTube, Instagram, etc.

Step 5: Ready and go
For faster and smoother processing, make sure you have check Nvidia / Intel / AMD under Hardware Acceleration Engine.
You can also make use of some advanced features like High-Quality Engine, Deinterlacing, and Auto Copy.
Then browse and set an Output Folder to save the final file(s), and click the RUN button to start converting H.266/VVC to H.265 or H.264.
What More Can VideoProc Do
Besides converting VVC to HEVC or H.264, VideoProc will also reversely transcode HEVC to VVC, H.264, AV1, MPEG2, etc. It can convert between different container formats like MP4, MKV, AVI, MOV, WebM and make any video audio files compatible with Apple iPhone/iPad, Android, Huawei, Samsung, Microsoft, Sony devices, TVs or sharable to YouTube, Vimeo, Facebook and so on.
Moreover, VideoProc is a GPU-accelerated video editing software application that is also designed with DVD ripping, video downloading and recording modules. So you can use this single software to do more than just transcode videos.