It's never been easier to improve your professional photography skills and prowess than it is today. AI and cloud services can help to improve your professional photography skills and produce the results that your loyal clients want to see.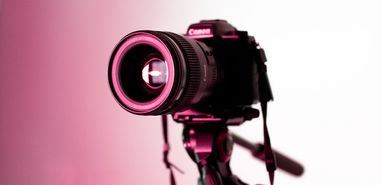 Artificial intelligence and cloud services are some of the latest technologies pioneering the evolution of the professional photography industry. Today's visual artists are better equipped than ever before to edit, store, and share their work using the wide array of digital tools available to them and their clients.
Here is how AI and cloud storage is helping to produce, share and store leading quality photographic work at minimal cost to modern photographers.
Using Artificial Intelligence as a Photographer
According to Google's AI Blog, machine learning can excel in virtually any area with clearly defined goals. Tasks in which there exist right or wrong answers and results can streamline the training process and enable AI algorithms to achieve your desired goals. Regardless of what they may be.
You could, for example, train an algorithm to correctly identify certain objects and subjects in your images. Or, you could instruct AI to categorise similar images according to your specifications. However, there are certain areas in which objective evaluations are not present.
Professional photography provides a clear example. Photographs tend to get measured by their aesthetic appeal, which is an extremely subjective measure and open to individual interpretation. With that said, machine learning can still be trained on subjective concepts to assist your career as a photographer.
To delve deeper into how machine learning tackles subjective topics, Google introduced an experimental deep learning system for the creation of artistic and creative content. The algorithm was designed to replicate the workflow of a professional photographer, scouring landscape panoramas from Google Street View in search of the best visual compositions. Once these were identified, the algorithm then carried out a variety of post-processing operations to create traditionally aesthetically pleasing photographs.
The tech giant's virtual photographer assessed more than 40,000 panoramas from beautiful areas like Yellowstone National Park, Big Sur, Jasper National Park in Canada, Banff, and the Alps. It managed to produce impressive photographic results, many of which approached professional quality, as was judged by professional photographers with years of experience in the industry.
According to Google, using supervised learning to teach AI many aesthetic aspects required a labelled data set, a collection of professional quality images, and a breakdown of aesthetics in numerous aspects. Each of which AI learns individually with negative examples generated by coupled image operations.
By keeping the image operations as semi-orthogonal, the company had the ability to enhance images based on their compositions, HDR and saturation levels, and dramatic lighting with rapid and separable optimisations.
AI for Individual Photography Professionals
Google's research sought to train AI to automatically optimise images in a large-scale manner. But there are plenty of smaller-scale tools available to professional photography industry members too.
Tools like Luminar AI, for example, can quickly and reliably enhance images by removing unwanted blemishes from a subject's face. All while leaving intact desired attributes like texture, hair, freckles and more. This tool also detects faces on a group and environmental photos and allows photographers to edit them without masking.
Aurora HDR is another AI-based editing tool based on Quantum HDR Engine technology. It combines bracketed photographs in one picture, thereby reducing burned colours, loss of contrast, and noise, while mitigating unnatural lighting caused by halos and unstable de-ghosting. Quantum HDR Engine accurately analyses the photos and merges them using the intelligent power of machine learning. It minimises the major issues that other HDR merging tools pose to editors and generates truly impressive results that are both natural-looking and dynamic in nature.
Then there is Picturesque, a tool built specifically for use by professional photographers that filters out the dross and optimises images in a few clicks. This tool boasts features of Adobe Lightroom, including smart grouping, intelligent zoom, and an automated 'best image' highlighting tool. The software's powerful algorithms become smarter the more you use the app and provide feedback, which enhances your ability to edit images over time.
Cloud Services for Reliable Storage
Cloud storage has come as a natural progression of how photographers save their professional photography work in the digital age. Some photographers are still wary of storing their images on the cloud. But many have welcomed the opportunity to access their work anywhere and at any time, as long as they're connected to the internet. Many photographers have taken this a step further and rely on the cloud for storing other business essentials such as invoices too.
There are dozens of reliable options to use to store your images safely and securely online, including everything from Google Drive to smaller independent services like Photoshelter. In the past, photographers would transfer their images from their cameras to their computers. The files were stored on a hard drive and optimally backed up to ensure that no data got lost.
Storing images online is not significantly different from this method. But instead of storing your work on your own hard drive, you upload your images to 'the cloud'; a massive and stable online server. Most cloud storage services allow you a certain amount of storage space for a monthly or yearly fee. For example, you can hire 100GB of secure storage with Google Drive for just $1.99 per month.
Note:
The primary difference between hard drive storage and cloud storage is that you'll need to pay a subscription fee indefinitely to store and access your images on the cloud. A physical hard drive is a once-off expense. But it is also subject to theft, damage, data loss, and other occurrences that could negatively impact your professional photography business.
The Best Cloud Storage Options for Photographers
As a photographer, you need cloud storage services that are quick, reliable, cost-effective and suitable for your bandwidth and individual purposes.
Adobe Creative Cloud is one of the most popular options among photographers as it's designed specifically for their requirements.
The Creative Cloud plan offers access to Adobe Photoshop and its features, Lightroom CC, Lightroom Classic CC, and 20GB of secure cloud storage. Additional storage is available for purchase if needed. The Creative Cloud accepts all manner of file types, from RAWs and TIFFs to JPEGs, GIFs and more. The integrated RAW image support allows you to import RAW photos onto your personal desktop and edit them on your mobile or a work computer by logging into your Creative Cloud account online.
Google Drive is another widely used and trusted cloud storage service that allows anyone with a Google account to get started. It offers streamlined folder organisation, colour coordination, and effortless file sharing via email. You can select view, edit and comment features depending on how much access you would like to give file recipients over the folders and photographs you send them.
Photoshelter is another option. This service allows you to create a content site for your photography portfolio. Plus, it offers cloud storage, along with design templates, custom domains and more.
This turnkey service is a favourite among professional photography connoisseurs, despite its somewhat higher price structures than the last options mentioned. The basic package only comes with 4GB of storage space. But if you would like 100GB or more, you will receive many more features alongside the space you pay for. This service even offers unlimited cloud storage as part of its Pro tier. This is helpful if you handle significant volumes of high-quality images in your line of work.
The Takeaway
Modern technology is driving the constant evolution of the professional photography industry. All while making it easier than ever for photographers to produce top quality, polished results.
AI tools have partially automated the editing of raw image files to ensure consistent aesthetic appeal. Cloud services give you the option to store your work securely on the cloud without having to invest hundreds of dollars on external hard drives and other storage equipment.
The future is digital. As a photographer, it's up to you and the tools you choose to strike the perfect harmony between technology and your visual art form of choice.