Want to find out what the costs and benefits of seeking a web hosting service? We outline them here.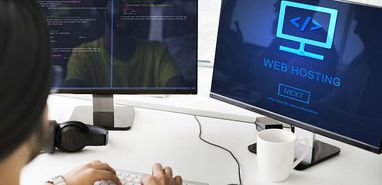 When you run a business, one of your most important areas of responsibility is creating a website that works perfectly for it. Beyond the creation of the site itself, you also need to think about the web host service and how this is going to play a role in the successful management of your site. So, in the following blog post, we are going to take a look at different types of web host services, as well as their main costs and benefits.
Different Web Hosting Plans – Advantages and Disadvantages
Now, let's get into detail and check out different web host services and how they can play a role in the successful development of your website. We also need to look at some of the downsides to help you make a more balanced decision.
Shared Web Hosting
First of all, we have shared web hosting plans, which are when plenty of customers are all signing up for the same storage space, which automatically means a competition of resources on a single server. You can find yourself sharing alongside hundreds of different users. You will have access to everything that the host offers as part of the overall package, including databases, monthly traffic, disk space, email accounts, FTP accounts, and further add-ons.
The prices are highly affordable, and they are a great option for beginners who are looking to manage web hosting.
There are also plenty of add-on web services that you can use.
If you are running a smaller blog or website, this option can prove to be more than ample in managing the level of traffic that you can expect to receive.
Resources are limited, and you have less control over security and performance.
If you require more advanced configurations or a higher bandwidth, this may prove not to be the choice for you. Also, if you have aspirations to grow your website further, you may find that you want to put it straight onto a private server.
Cloud Hosting
Next up on the list, we have cloud services, which are often used when your site begins to develop a bit of a following. This means that your website will be spread across a wide range of different servers. The hosting company can move your website around different servers as required.
They tend to provide improved performance and reliability.
The price structure is pay-as-you-go, which works well for a lot of business owners.
There are a few factors to take into account, including goals, technical experience, and budget. If you are expecting a larger among of traffic or spikes in visitor numbers, this may prove to be a more effective option than shared hosting. E-commerce businesses often choose cloud hosting as a result. Since you are not committed to a single server, your site can easily be moved if any issues occur along the way. Issues of speed that are found on shared servers are often better when it comes to cloud hosting.
On a more negative note, the management system can be more complicated.
VPS Hosting
Next on the list, we have VPS hosting, which refers to virtual private servers. These stores all of the data and files on your website. The one 'main' server is split up into multiple virtual servers. As is suggested by the word 'private,' this is a server that is reserved entirely for your own usage. There is no sharing of RAM, CPU, or other data with other users.
One of the major advantages of this particular option is that it allows you complete control over your environment, as well as the opportunity to fine-tune the security and performance as required.
In terms of categorization, VPS hosting sits in the middle between shared and dedicated hosting. However, you do have certain private advantages, including unlimited bandwidth, a powerful CPU, scalable RAM, etc. There are a number of different reasons why you may be tempted to make the switch to VPS hosting. These include if you are especially worried about security, if you are experiencing a higher volume of traffic, if your website is running slower than you would like, and if you have an online store of your own.
You need to be aware that more upkeep and maintenance are going to be required.
The managed services can end up racking up a significant price tag if you are not careful.
Dedicated Server Hosting
Finally, we have the choice for people who are not interested in sharing at all – dedicated server hosting. This means that you have the entirety of bandwidth, storage space, and IP address. You will also have control over all associated services and any technical support that you require along the way.
The number one advantage that you can enjoy here is the fact that you have complete access to the server resources, which gives you excellent control over performance, reliability, and security, allowing you to make as many customisations as you like.
If you are running a larger business that requires complete control of the server, this may prove to be the right option for you. You have the total flexibility to change the server configurations as required. Not only this, but you can add new software and resources as and when you require them. In terms of performance level, you should be able to optimise the server as you like based on the demands of the application. Also, you can customise the server to meet your own security means.
As you would expect, this represents the most expensive option in a server.
Not only this, but you are also going to require a good degree of technical knowledge to get the most out of them – or at least the technical team who can ensure that your server continues running effectively.
Tip:
When you are choosing a web hosting plan, it is always going to be worth weighing up each one of the potential costs and benefits in turn before settling on the right one for you. Budget is also going to play a major role here, which is why so many people turn to shared web hosting. However, if you are able to stretch a bit further and you have the need for a more private server, this is an option that is certainly worth looking into in finer detail.
It is often the case that businesses change their server situation depending on the size of their company and the amount of traffic that they can expect to receive on a regular basis. You may decide that you want to experiment with the different options out there to work out which is the best one for you. Ultimately, it is certainly worthwhile speaking directly to host companies and telling them all of your requirements. They are much more likely to be able to point you in the right direction.