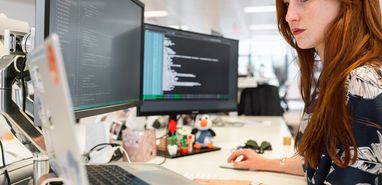 New technologies, cross-platform development, and blockchain technology are just some of the trends that you should expect when it comes to software development for 2022. A careful understanding of these future trends will help developers create better, efficient, and more consumer-friendly software for different applications.
Critical changes were necessary to allow businesses and consumers to adapt to the coronavirus pandemic. Businesses had to modify their app and web development strategies to match their consumers' changing needs. Meanwhile, developers had to create software that met the expectations of their clients in just a short time. All these will now impact software development in the next few years.
Custom software development benefits many industries including government offices, universities, companies, and non-profit organizations. Bespoke software can improve overall business processes, reduce costs, and keep employees more productive. All these reasons drive the growth of software development for 2022 and beyond.
Top 5 Software Development Predictions for 2022
Here are key trends that will drive software development next year.
The Use of Popular and New Programming Languages
Software developers rely on strong coding skills and according to the latest stats, JavaScript, Java, Python, and C++ continue to be the best choice among builders. But lately, new languages are starting to become more relevant.
These new programming languages may help you optimize tasks and are efficient for web, mobile, or backend coding. You should take time learning about and comparing these to traditional programming software, to see if the newer ones will make a difference for you. More programming languages are in the works and may launch next year.
The Rise of Cross-Platform Development
Gone are the days when mobile app developers focused on the creation and maintenance of an app that's solely for one platform. An app that's only for Android or one that's only for iOS devices costs a lot to create and, as a result, more developers and firms are switching to cross-platform development.
Cross-platform development tech allows developers to sustain two mobile platforms using one codebase. This technology reduces the need to utilize resources and provides enormous opportunity to adapt codes to many applications.
At present, cross-platform developer tools like Flutter and React Native are among builders' favorites. Flutter is a multi-platform software that uses an open-source framework so you can produce striking and creative software using only one code. It is one of the fastest when it comes to code compilation and has several features that enhance productivity including automated testing and helpful tool kits.
Meanwhile, React Native is a cross-platform mobile app development tool written in JavaScript. With this Facebook developer tool, your app can reach several platforms in a single code. It works with Android, Android TV, macOS, iOS, tvOS, Windows, Web, UWP, and VR.
Embracing Blockchain Technology
The basic idea underlying blockchain technology is to create a secure, fixed, and decentralized database that captures all transactions chronologically. Blockchain makes sure that all information that's part of the blockchain is correct. Blockchain's level of security and transparency in transactions is not present in any other technology, which makes it easier for all the included parties to do business.
All cryptocurrencies will have one or several user-end programs, which will use them as an internal currency to exchange assets on the open market. In 2022, we will see an increase in the need for software development companies that excel in the use of blockchain technology.
Human Augmentation Will Be More Relevant
The human augmentation industry will be in demand in 2022 and beyond. This technology takes many forms and shapes with artificial intelligence (AI) as its most common form.
AI is indispensable in automatically detecting, diagnosing, and repairing software errors. A developer does not even need to touch their code to make repairs. Finally, AI can keep software developer costs down.
Priceless artificial intelligence features like its no-code and low-code platforms are becoming more and more popular. These help developers work on various projects in a short time. In addition, 2022 will be a year when more companies and industries realize the importance and the convenience of working with robotic technology. AI and robotics will be classified as a new class of workers in different industries.
The latest stats of current AI use reveal that this technology will shape the future of app development. Many businesses will show increasing interest in artificial intelligence and are considering investing in this technology in the future. Also, around 47% of digitally established businesses make use of AI and it's estimated that the AI tools industry will be worth $2.9 trillion in value in 2021.
Focus on Near-Shore Software Development
Software developers are among the highest-paid professionals. Their contribution to the industry is highly regarded as they grabbed first place in the top 100 jobs in the United States. Springboard.com further states that the average salary of a software engineer is higher compared to the industry average for other industries.
However, most companies believe that hiring a software developer is expensive and would rather use other cheaper alternatives, like nearshore outsourcing.
Nearshore outsourcing is deemed less complicated than offshoring development, and it provides additional advantages for businesses. Nearshore developers possess common cultural backgrounds with the marketing team, making collaboration easier. Hiring a nearshore developer means there are fewer travel expenses, minimal time zone differences, and improved communication. Developers will speak a similar language and thus communication will be simpler and more efficient.
New technologies will continue to emerge in many aspects of our lives. There's improved interest and enhanced engagement in various industries as well. Understanding the top software development trends for this year will help you make smart decisions on many software development strategies for next year.
2022 will be a year of rapid growth in software development. Many new digital and software platforms will emerge due to this exponential expansion.
The new software will continue to change the way we live, work, and play. As we welcome 2022, businesses and organizations will demand better, more efficient, and safer software. By considering these trends, developers can create the best products for their clients and consumers in the coming years.