Today, you must take several steps to attract traffic in a crowded blogosphere. Here's how.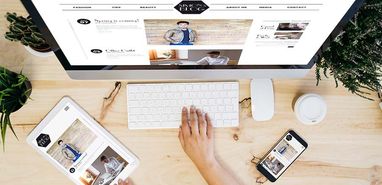 Contrary to rumours you might have heard, blogging is not dead. Your blog can make a lasting impression on others, whether it's a professional blog or just a way to share your personal experiences. However, acquiring blog traffic is more challenging today than ever before.
To compete in today's blogosphere, you must learn how to make your blog more attractive. The right actions will help you build traffic and impact people. Here are six key ways to boost your blog engagement.
1. Create Engaging Content
If you want people to read and return to your blog, you must create engaging content. To do this, you should work up a profile for your ideal reader. Start with basic demographics like gender, income, and age, as well as his or her interests and passions.
Your blog should address those topics with a mix of "evergreen" and newsworthy topics. Evergreen topics are always relevant, like how to write a resume or how to feed your family on a budget. They will become the foundation of your blog.
However, writing about current events, such as the impact of COVID-19, keeps your blog relevant and helps with search engine rankings. Readers will also appreciate that you know what is going on in the world. Additionally, injecting a dose of controversy from current headlines can also drive traffic.
While your posts must target your ideal reader, you also have to be authentic and create the right tone for your blog. Things you need to consider include:
How formal will your writing be? Even business blogs can take different tones. For example, a legal blog will be more formal than one for baby toys.
What tone do you want to strike: serious, uplifting, analytical, friendly, something else?
How educated is your ideal reader on this topic?
Info:
Only
2 out of 10 people click into an article
after reading the headline, so you must take time to craft an attractive headline. A good headline is useful, urgent, unique, and provides an ultra-specific answer to the reader's problem.
2. Optimize for Search Engines
Once your post is complete, your next task is search engine optimization (SEO). This process requires keyword research. While SEO plugins can provide some guidance, spend some time working on this until you have a system down.
First, you must think like your ideal reader to figure out what keywords he or she will search. After you brainstorm a list of terms, find out whether or not people are using those terms. Tools like Google Adwords Planner and Ubersuggest help you discover if you can compete with those keywords.
For example, the term "parenting tips" is very difficult to rank for since many popular websites have snagged them. But if you add additional keywords to your phrase, (i.e., parenting tips for single dads in L.A."), you will have less competition. These are called long-tail keywords and they are necessary to increase blog traffic to new and smaller blogs.
When you're done, edit your post to logically include these keywords. Add them to your headline, section titles, links, categories, and tags.
If you already have a blog, it might be time to give your site a technical SEO overhaul as well. Make sure that your site is accessible, loads quickly, and uses a responsive design. Advanced techniques such as using structured data can also boost your SEO efforts.
3. Format for Readability
According to Blog Tyrant, "73% of visitors skim rather than read" your blog. That means that you must format each blog post in a way that makes it easy to digest. Additionally, most blog posts should be around 1500 words to be more attractive to readers and search engines, making this a necessary practice.
Start by breaking your post out into smaller sections, each with its own header. Keeping your paragraphs short, no more than three or four sentences will make it "scannable." Readers will be more likely to skim through to the end and share it.
You can encourage readers to scroll beneath the "fold," that is, the area cut off by the bottom of their screen, by placing an intriguing line that makes them want to read more. Make it short and compelling. Examples include, "What happened next is amazing!" for a personal story or, "Here's your cheat sheet" for a how-to article.
Use bullets or numbers to organize content into easily digestible lists. Bold or italicized text helps your main points to stand out. Finally, break up content with eye-catching images or simple graphs that enhance your main points.
4. Build Your Fan Base
Now that you've completed your post, how do you attract visitors to blog? You need to build a strong content marketing strategy. You can use several platforms to distribute the content you've produced, such as outreaching other sites to host your content or using digital media to share it directly with your ideal customers.
Social Media
Social media is an essential way to share content but each platform has unique demographics and formats. Instead of signing up for all of them, it is best to choose one and focus your attention on building your audience there before moving on to another.  Popular choices include:
Facebook allows you to build groups and pages as well as a personal profile. Stories and Facebook Lives are the best way to attract users.
Still the go-to source for creating and sharing longer-form videos.
Long considered the more "professional" social media, LinkedIn helps you to connect with people in various businesses.
This is a great choice for posting gorgeous images, like vacation spots or delicious food. It also has stories and video options.
This platform is a great way to share your posts along with opinions on what's trending.
This short-form video platform is a great way to go viral.
Newsletters
Crafting a newsletter that goes out regularly is important to build your readership and keep your current audience up-to-date. One of the best ways to attract new visitors is by creating a "freebie." You provide a product or service in return for people opting into your newsletter.
There is a lot of debate on what makes a good freebie but it should complement your blog's regular content. Some examples include a mini ebook, a 15-minute consultation, or a printable item. It must be intriguing enough that readers are keen to sign up for your newsletter.
You have lots of flexibility with the content of your newsletter but it must always be engaging. Use your email to promote your own blog posts as well as other helpful info for your readers. Employ a newsletter service like MailChimp or ConvertKit to ensure that you are compliant with anti-spam laws.
6. Be Consistent
Chris Mihai at the Art of Blogging writes, "bloggers who publish more frequently get better results." No matter how often you post, though, it's important to be consistent. If readers expect a post every day, week, or month, you can lose them if you reduce your frequency without warning.
This is also true for social media and email marketing. Create a schedule for writing, SEO tasks, and content marketing. If you cannot keep your regular schedule or are taking a hiatus, always inform your readers beforehand.
Blog engagement is just as important today as it ever was. Master these basics before engaging in more advanced skills like understanding artificial intelligence in marketing. Investing your time efficiently in these techniques will help you build an audience that keeps coming back for more.