To highlight these advances, here's a look at the five most useful – and amazing – assistive technologies for the disabled on the market today.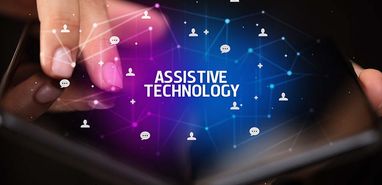 It's no secret that modern technology has helped improve the lives of countless people with disabilities. From electric wheelchairs for those with mobility problems to hearing aids for the hearing impaired and everything in between, being disabled today isn't nearly the struggle it once was. But there's also a whole range of novel assistive technologies that go well beyond the general-purpose solutions that most people know.
And over the past twenty years or so, those assistive technologies have advanced by leaps and bounds. That's created a whole new class of software and devices aimed at solving very specific problems for the disabled.
1. Dot – The Smartwatch for the Visually Impaired
Even though you might not think that smartphones are an essential technology for the visually impaired, the truth is that they offer plenty of helpful features. They can, for example, use their onboard cameras and OCR software to read text aloud for a visually impaired user. But because they're so screen-centric, there is a limit to what smartphones have to offer to those that can't see their screens.
And that's where the Dot smartwatch comes in. It features a Braille display that gives blind or low-vision wearers the ability to access many of the features smartphone users take for granted. While wearing one, they can have incoming text messages translated into Braille and streamed to their wrist for easy reading. And they can read the caller ID on incoming calls and control their phone's functions with intuitive touch controls.
Amazingly, Dot's even working on expanded Braille displays for public installation – which would make the wider world a much friendlier and easier to navigate place for the visually impaired than ever before.
2. The Be My Eyes App
The Dot smartwatch is an excellent example of technology helping disabled persons to do more on their own. But the reality is that some tasks call for outside assistance. And the Be My Eyes app helps connect people in need with those willing to help all over the world. Available on both iOS and Android-powered devices, it's a platform that lets blind and low-vision individuals use their smartphone's camera to carry out everyday tasks with the help of volunteers around the world.
They can ask for help with almost anything – reading labels on household items, navigating unfamiliar streets – anything they have difficulty doing. And big-name companies like Microsoft, Google, Twitter, and others have partnered with Be My Eyes to offer customer support to the visually impaired right from inside the app. It's a one-stop-shop that makes life better and easier for its users in over 150 countries and more than 180 languages.
3. Google's Live Transcribe and Sound Notifications App
For those with hearing disabilities, communicating with people who don't know sign language can be difficult. But there are some ways around that, especially if the other person is willing to be patient and make some accommodations. When there's a group involved, however, the hearing impaired are often left out. Unless they have a solution like Google's Live Transcribe and Sound Notifications app handy.
It's a useful smartphone app that can transcribe the voices picked up by the phone's microphone into easy-to-follow text for those with hearing disabilities. Plus, it can learn to detect danger-signifying sounds like smoke alarms, sirens, and crying babies to alert users to check on their surroundings. It can even make the user's phone vibrate when somebody says their name – making it simple to participate in group conversations without getting lost in the shuffle.
4. Sesame Enable Touch-Free Controls
Touch screens, keyboards, and mice have revolutionized the way we interact with much of the technology in our everyday lives. But for paralyzed or otherwise physically impaired users, many of the functionalities designed for touchscreens is inaccessible. But thanks to an array of assistive software from a company called Sesame Enable it's possible to control almost any camera-equipped device without laying a hand on it.
The software uses the device's camera to track the users' head movements, mapping them into controls for any standard apps and software installed on the device. It makes it possible for those suffering from ALS, MS, and spinal cord injuries to interact with smartphones and PCs using whatever limited range of motion is available to them. And since the software is free, anyone can use it to convert an otherwise hard-to-use device into an accessible computing powerhouse.
5. PHOENIX Medical Exoskeleton
Throughout history, inventors and medical researchers have used a variety of materials to create prostheses for people with missing or damaged limbs. But for most of that time, impressive as the results were, they could only function by relying on the rest of the wearer's body to do all of the work. For people confined to wheelchairs for a variety of reasons, that meant options were limited.
Now, however, it's possible for people suffering from varying degrees of paralysis to get up and walk around without assistance. They can do so thanks to an innovative lightweight solution called the PHOENIX Medical Exoskeleton. It's a modular device that a paralyzed user can put on without help, which provides them with up to eight hours of walking time on a single charge. It's a breakthrough technology that has the power to change lives in ways thought impossible. While the system's still undergoing continuous development, it's already at the point where it's delivering results for early users, which border on the miraculous.
Making Lives Better
The most amazing thing is that the five products covered here offer just a small glimpse of the myriad ways that assistive technologies are making disabled people's lives better. And they cover everything from adapting everyday items for use by the disabled to giving people the freedom to come and go under their own power – sometimes for the first time in decades.
As the years go by, there's bound to be even more breakthrough technologies that will improve the lives of disabled persons. In fact, major advances in implantable neural interfaces mean that we may be close to seeing technologies that allow users to replace damaged parts of their bodies with hardware wired straight into their brains. It's a scenario that used to be in the realm of science fiction but that could become real soon. And it promises a day when nobody will have to remain bound by the limitations of their own body – which will be a great day indeed.