We've compiled a list of the most efficient and accessible torrents that work well with Linux, so you don't need to waste time through trial and error.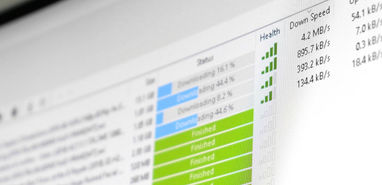 Torrents are known for having had a very sinuous history throughout time, yet they're still a very efficient way to share and distribute data among people. The way they work is that they need a third party, BitTorrent, for instance, whose protocol facilitates this file-sharing, making torrents a unanimously accepted element of the open-source environment. When it comes to Linux distributions however there will be an issue with the server bandwidth that does not allow much in terms of downloads.
1. Transmission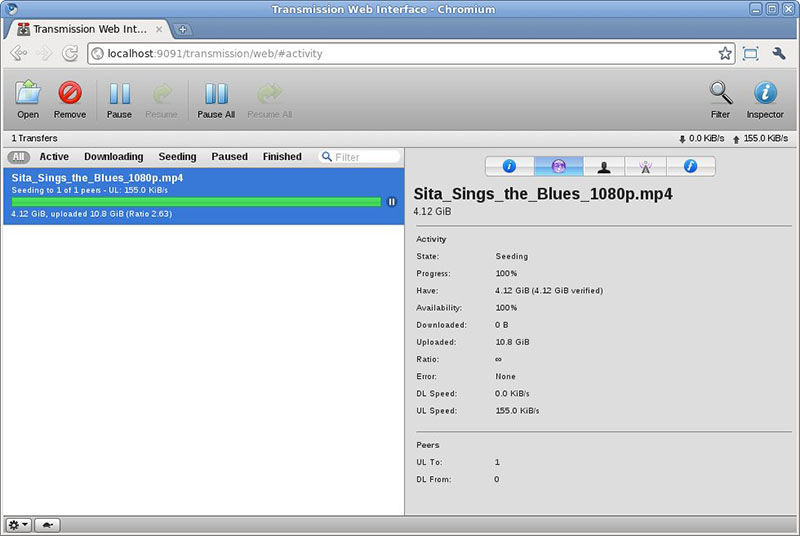 This has been one of the most long-standing free software apps that acted as the go-to torrent client for a lot of Linux distributions. And for good reasons too. It's been created especially with ease-of-use in mind, making it a great find for those who are only delving into the torrenting world. The fact that it has been around for so long also speaks volumes in terms of its reliability and user satisfaction.
One of the best parts about Transmission is how versatile it actually is – you can use it just as easily from inside a web browser and from a command line, depending on your preferences. Additionally to this, it is meant to be run across several platforms, even though it seems that Linux adopters have embraced it full-on.
If you're working with the MATE desktop environment, know that Transmission has the GTK design language straight out of the GNOME 2 period, making it an ideal fit. Cinnamon and Xfce, the other similar interfaces work the exact same way. However, it's recommended that you use GNOME Fragments if you use a Linux distribution that has adopted GNOME 3.
With the default Linux Transmission app, you can expect GTK+, but there's also the Qt version. As a bonus, the developers have really outdone themselves by making the macOS version look like an actual native app – a true delight for macOS hardcore fans.
2. qBittorrent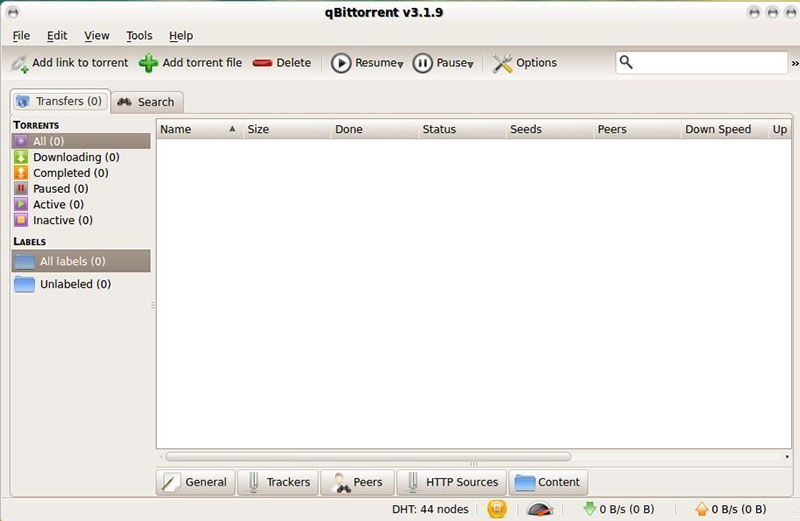 QBittorrent appeared just as uTorrent was conquering the market, as a welcomed addition to what this classic torrent client could offer. It was meant to be a version of uTorrent that will actually work on Linux as well. Actually, you don't even need to be a verified expert in torrents to easily spot the striking interface similarity between these two. Even the features of the qBittorrent client are the same as those of uTorrent, which could make it a very easy transition for you from uTorrent to Linux.
If you're a Linux user who doesn't run GTK-based desktops, it's all for the better with this torrent client, since qBittorrent is actually written in Qt. Just like Transmission, qBittorrent is also very versatile and you can use it across many operating systems. When switching between operating systems, you'll notice how the features stay the same – an app that promises continuity through and through. This is actually one of the best features a Linux torrent app can have since being on Linux itself creates a strong delimitation in itself.
3. KTorrent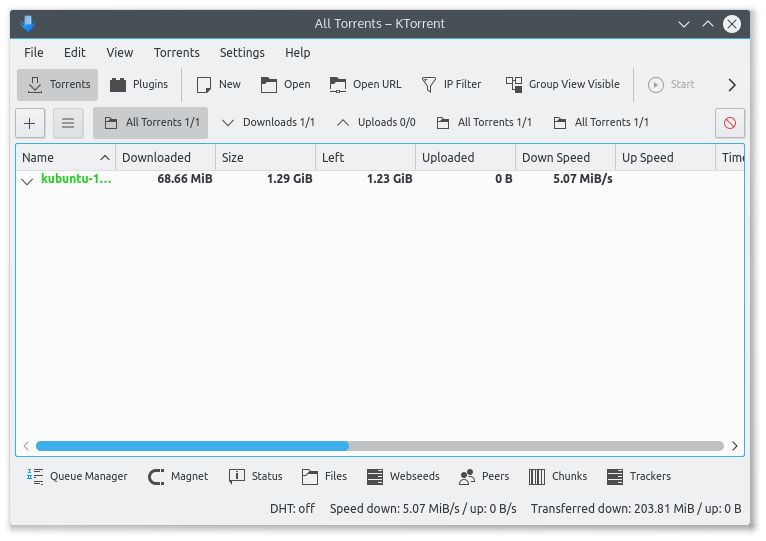 So many of the Linux torrent apps were designed using GTK+, which won't work with your KDE Plasma desktop or LXQt. However, the good news is that KTorrent was designed especially for KDE Plasma desktop users, complete with features that don't leave you wanting or needing more. It's not that it doesn't work the other way around, but paired with the KDE Plasma desktop, this KTorrent torrent client will require fewer libraries downloaded in the background.
When you go with KTorrent you also need to embrace its more cluttered interface, but at the same time, you get to enjoy more features displayed upfront. This torrent client has a lot of built-in features that enable you to play more with your torrents, depending on your needs. For example, you have one feature that allows you to group more torrents together, which is ideal when you have heavy torrent download traffic. Whenever you feel like you need even more features that you can't find from the get-go in this app, you can always opt for a plug-in system that can add more for you. This app is the perfect choice for those of you who appreciate the detail and complex functionality.
4. Deluge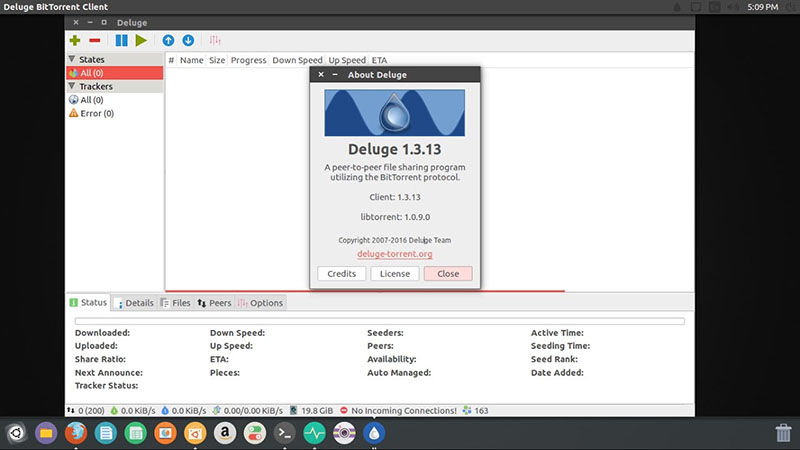 As we've talked about qBittorrent closely mimicking uTorrent, it's important to note that Deluge is also one of its powerful competitors. With qualities that span from speediness of use, lightweightness and abundance of features, Deluge is one of the most sought-after Linux torrent clients on the market.
Some of its features enable you to protect your password or set speed limits according to your needs. What you can get out of Deluge doesn't stop here, since you actually have the option to install a plug-in to bring in even more awesome features.
Versatility is one of Deluge's most appreciated features, since it works well cross-platform, making it easy for you to switch between operating systems. It also works just as well from a terminal or from within a web browser. In many ways, it's just as equipped and versatile as other Linux torrent clients out there.
However there is one technical aspect setting it apart from its competitors and that is the fact that Deluge has been written in Python, not in C. While QBittorrent's interface is Qt, Deluge's interface is exclusively GTK+. If you're looking for an interface that's Qt, you may need to choose a different torrent client option.
5. GNOME Fragments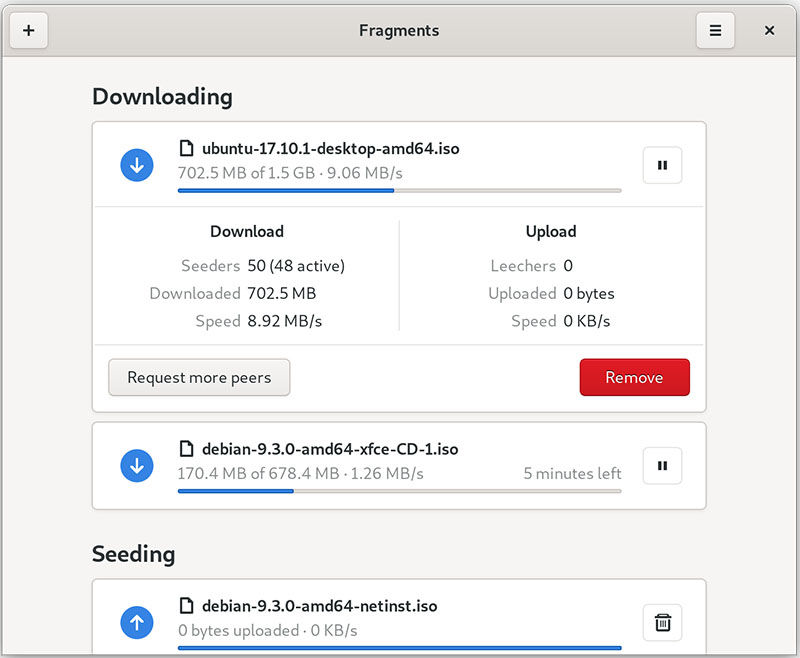 GNOME Fragments is perhaps the most basic out of the entire list of Linux torrent clients, which is not to say it's a bad thing, but rather that it strives to eliminate all unnecessary complications and make it easy to use for just about anyone. Even as you enter the app, you'll be met by an instructions screen that gently guides you towards the next steps in the torrent downloading process.
The beauty of this torrent app is that it focuses on its main purpose, which is downloading torrents, without any additional ornaments. Although we're living in a world that constantly craves more and better features out of everything we consume, GNOME comes as a refreshing and charming breath of air amidst all the clutter and richness of the torrent environment.
Having said this, GNOME is not only an endearing app but also an app that can actually bring effortless value to those looking to get accustomed to the in's and out's of the torrent downloading environment on Linux.
Ultimately all Linux users will choose the torrent client that best suits their needs. The best part about this is that the offer is rich, spanning from basic apps, such as GNOME, meant to be a starting guide to the uninitiated, all the way to more complex apps, such as KTorrent or Deluge that will impress you with their vast offer of features.
Not all apps are created equal, just as not all Linux users are created equal and that's just the beauty of it all. Web developers will keep striving to come up with versions to satisfy all needs and tastes, so you won't feel cornered by a limited offer in torrent client apps, features and interfaces.