The AMD Threadripper series of CPUs are showing promise in the realm of mining and have already drawn interest from HardOCP after being queried by AMD directly.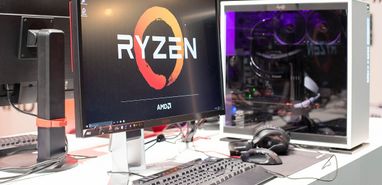 If you have even a passing interest in keeping up with hardware and technology news, you've doubtlessly seen how steadily GPU prices have been rising. It's not a small spike, either, pushing up prices up nearly twice as high as their MSRPs would otherwise command. Stocks are low, demand is high and neither AMD nor Nvidia are capable of turning out enough cards to keep up with the current cryptomining boom. This isn't the first time GPU prices have experienced a period of unquenchable growth, considering prices peaked back in 2013 in a similar rush.
The potential shift from GPU to CPU
The AMD Threadripper series of CPUs are showing promise in the realm of mining and have already drawn interest from HardOCP after being queried by AMD directly. As it turns out, AMD was curious about the performance metrics of their Threadrippers when pointed at CPU-based cryptocurrency mining. This isn't the first show of interest in crypto mining that sidesteps the need for powerful GPUs, as there have been several currencies founded solely on CPU-based mining.
In fact, you may have been introduced to CPU mining through browser hijacks and other unfortunate examples of human greed creeping into the new technologies. Though the trend of drive-by cryptomining bugs hasn't been completely sidestepped, it's no longer an unknown threat but rather something to be studied and better understood, doubtlessly leading to AMD's interest.
The sudden rise of AMD
The past decade has been an interesting period of growth for AMD. After spending almost ten years trailing behind Intel, they finally managed to reach Intel-level sales after what seemed to be an almost insurmountable period of attempting to play catch-up. When it comes to mining, AMD is doing fairly well with hash rates for Minero as shown in HardOCP's report, suggesting a Threadripper may be able to pay for itself within the next 1.5 years assuming near-constant mining use. The best part is that it doesn't totally lock out the PC's use, either; It's been demonstrated that high-resolution movies and other casual uses are still possible while mining.
The hard numbers HardOCP reported are promising, showing only 246 watts of power used, which peaked at 350 or so watts being taken up when the system's GPU was added to the mix. Considering the 1950x they tested idles around 108 watts by default, adding a fairly reasonable 138 watts takes the CPU up to a hash rate of 1483 when mining for Minero, while adding in the GPU only takes the hash rate up to 2005. Adding the GPU's wattage to the mix cuts potential profit off at the knees, making the small power boost a shoddy proposition at best.
Downsides start to pile up when you look at the price of CPU mining versus GPU, considering how the 1950x's suggested retail price hovers around £999, making it nearly twice as expensive as most mid-range GPU options, stacked on top of the fact that one's system cannot take advantage of more than one CPU at a time. Essentially, each mining rig you build has to support the CPU and provide its own cooling per unit as compared to a multi-GPU box that can roll all of its cooling into one central box.
With AMD and Nvidia unable to do much to stem the tide of cryptocurrency's meteoric rise to social prominence, any hope of catching a GPU on sale in the next few months seems unlikely at best. Those interested in joining the train before it pulls past the station entirely might be wise to look to the future of mining rather than joining what is currently trending and CPU-based mining could be the bit of future-proofing needed to keep profits rolling in reliably after the hype around GPU-based mining dies down.