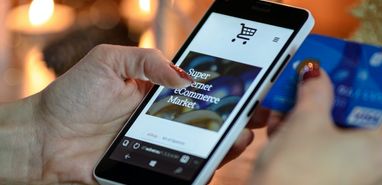 B2B businesses are increasingly following the lead set by B2C companies by transitioning online. Statistics show that around half are already doing so, a figure predicted to approach 100% over the coming five years.
If your business still hasn't made the move to selling online, now is the time to consider doing so. The most effective way to achieve this is to use one of the proprietary B2B e-Commerce solutions available specifically for the purpose.
This article shows you the features you need to look for when searching for a B2B eCommerce platform solution for your business. We also show you six of the most popular ones currently available, so let's dive straight in.
What Features Do I Need to Look for in a B2B eCommerce Solution?
The secret here is not to rush into buying the first B2B eCommerce solution you see or to use one that your competitors happen to be using. That's because each platform comes with its own feature set, and they also have their own pros and cons, too. Furthermore, it goes without saying that your chosen solution also needs to fit into your budget. The key is to opt for one that (a) meets the needs of your business, (b) presents your brand to online customers as effectively as the more traditional methods you are already using, and (c) won't break the bank.
The following are the essential features you need to look for in a B2B eCommerce solution:
1. Personalisation Options
B2B customers increasingly demand the ability to personalise their experience on the platforms they interact with. Keeping them happy and delivering or exceeding their expectations on every level can pay dividends. Therefore, be sure to choose a platform that gives you the ability to present your storefront in their language, using their currency and time zone. Furthermore, customers are more likely to gravitate towards businesses that offer them ordering, checkout and shipping tailored to their specific needs, so be sure to opt for a B2B eCommerce solution that provides that too.
2. Ability to Deal with Multiple Roles
A good B2B eCommerce solution will enable you to work with a range of individual roles within both your and your customers' organisations;  vendors, buyers, managers, and purchasers, to name but a few. Moreover, it is highly beneficial to have the ability to define specific rules for each of those roles.
3. Custom Pricing, Payment and Shipping Terms
While B2C businesses generally have the same set prices, payment terms and delivery arrangements for all customers, these factors are more complex in B2B.
For example, negotiation is typical in B2B, and you probably have different pricing arrangements for each customer. Therefore, your chosen solution must allow you to offer individually tailored price lists and catalogues, while the ability to negotiate with customers directly through your interface is highly desirable, too.
Moreover, unlike B2C, B2B businesses are likely to offer individualised payment and shipping terms that are specific to each customer, and your chosen solution must also be able to accommodate those.
4. Extensive Customisation Options
We've already mentioned custom pricing, payment and shipping, as well as personalisation. However, your chosen solution should also permit other customisations for you to tailor it to the needs of all users, both internal and external. This will not only make everyone's lives a little easier, but it will also increase productivity and provide the best possible user experience.
5. Business Automation Features
All businesses know the importance of streamlining, and you certainly don't want your B2B eCommerce solution to create more work; instead, it should improve efficiency. Therefore, look for one that helps automate as many processes as possible, such as letting users create custom ordering and invoicing workflows.
6. Integrations and Scalability
Under no circumstances do you want a stand-alone eCommerce solution that doesn't work with your (or your customers') systems – you want to reduce your workload, not increase it! Therefore, it figures that the one you choose should integrate as much as possible with the platforms and systems that you are using now or might be in the future. These include things like procurement, accounting, CRM, PIM, etc.
Additionally, your chosen solution should be capable of handling increasing traffic volumes as your online presence grows.
7. Device and Browser Responsive
B2C customers have been shopping from mobile devices for some time, a phenomenon that is increasingly spilling over into B2C. In fact, it's now common for people to work 'on the go' using a laptop, tablet or even a mobile phone. Therefore, your chosen B2B eCommerce solution should automatically adapt to any type of device and browser that your customers happen to be using.
6 Popular B2B eCommerce Solutions
The following is an overview of six of the most popular B2B eCommerce solutions currently available which would be a good starting point in your quest to find the right solution for your business.
1. OroCommerce
Kicking off our list of B2B eCommerce solutions is OroCommerce, a platform created specifically for medium to large B2B businesses. Built by the same people who made the Magento platform (now called Adobe Commerce), OroCommerce is a comprehensive, all-in-one solution for companies with a diverse range of requirements.
This feature-rich platform includes customisable dashboards for creating multiple pricing and shopping lists, catalogues, reports, etc., for each customer. Furthermore, it integrates seamlessly with many third-party apps, plus it includes a CRM solution for free.
2. SAP Commerce Cloud
Previously known as SAP Hybris, SAP Commerce Cloud is an established B2B eCommerce solution popular with businesses that already use the SAP infrastructure. However, don't think that it only works with SAP software packages – it also seamlessly integrates with many others. Establishing new or alternative sales channels is simple, and the platform is highly customisable to the needs of you and your customers. Furthermore, robust content management allows for the real-time development of consistent content across multi-faceted selling platforms.
3. Oracle NetSuite SuiteCommerce
Probably better known for their database expertise, Oracle also produces NetSuite SuiteCommerce. This solution boasts excellent out-of-the-box functionality, with a heavy focus on providing the best possible customer experience by allowing businesses to offer channels and websites in multiple languages and currencies.
NetSuite SuiteCommerce includes excellent workflow and pricing engines, along with a robust API for integrations. However, it is best suited to medium to large enterprises, as many of its features will be redundant in smaller ones.
4. Salesforce Commerce Cloud
Another respected name in B2B eCommerce circles is Salesforce. They offer Commerce Cloud, an excellent solution for businesses looking to establish a robust online B2B presence. The platform comprises two main elements: the Marketing Cloud and the Sales Cloud. Furthermore, Commerce Cloud is highly flexible regarding personalisation, plus it integrates seamlessly with many other solutions, including Salesforce's own CRM platform.
The main downside of Commerce Cloud is the cost of the additional products needed to get CRM and marketing functionality which can push the overall price beyond the reach of smaller businesses.
5. Adobe Commerce
Previously known as Magento, Adobe Commerce is the eCommerce solution offered by the company that is generally associated with creative apps and PDF readers.
Adobe Commerce originally evolved as a B2C eCommerce solution, but a range of extensions and add-ons are now available to adapt it to some B2B applications. It has a robust API for integrations and excellent marketing and multichannel capabilities. Furthermore, Adobe is renowned for offering excellent support should you run into difficulties.
Unfortunately, as Adobe Commerce started life as a B2C platform, it does lack some of the B2B features offered by purely B2B-specific solutions. Furthermore, the integrations and plugins needed to use it in B2B can significantly increase the overall cost.
6. B2B Commerce Cloud
B2B Commerce Cloud is a solution predominantly aimed at industrial B2Bs. It is suited to businesses looking to sell across multiple channels which need to integrate with their own product information management (PIM) systems. It has extensive out-of-the-box functionality, including backend and catalogue management features. Support is known to be excellent, although upgrades can prove rather expensive.
A Few Final Words
Nowadays, a robust online presence for your business is no longer a luxury but a necessity. Carefully choosing your B2B eCommerce solution is crucial to achieving that online presence. By taking the time and effort to match your business and customers' current and future needs to the available platforms, you are more likely to find the most suitable solution than if you were to try and mimic what your competitors have done. Furthermore, avoid the temptation to buy the cheapest solution available and instead invest in the best your budget allows, as it will save you considerable time, money and frustration in the long term.