High-quality images are essential for any website. Here are the top 10 sites for copyright and royalty-free images and photos where you can find high-resolution content for your platform entirely free of charge.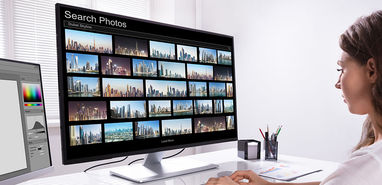 The online medium is governed by memorable visuals. Regardless of the type of website you are working on, it is absolutely crucial that it is visually pleasing for the users. To this end, you use have high-quality photographs that dazzle and make a strong impression. This is what makes a website stand out in this competitive market. But can you get these visuals without hiring your very own photographer? Yes, you most certainly can, by using stock photos.
Over the past few years, the websites offering royalty-free images and photos have been developed tremendously and today, they are an extensive resource of high-quality photographs. Long gone are the days when free photos were just low-quality amateur photos. The stock photo websites of today have content that can make a difference. That's why we have compiled a list of the top 10 sites for copyright and royalty-free images and photos to ensure that you have access to millions of free stock pictures and photos instantly.
Are stock photos actually free?
The short answer is that it depends. The vast majority of stock photo websites do offer an extensive collection of free photographs, which you can download from their site free of charge. However, most of these websites also offer paid content, photographs that you can download from their site by paying the enlisted price. They offer subscriptions as well as single-use payments for these photographs. Other websites require payment for the high-resolution version of their photos.
The important aspect to keep in mind is that stock photo websites offer extensive collections of royalty-free images, which you can download in high resolution. Another aspect you should be aware of is that some websites allow the download of their content for private use only, such as the background on your personal computer or phone, but do not permit the commercial use of these images, such as the homepage of your e-commerce website.
To make sure you are fully aware of the limitations of using them, we recommend that you read the Terms and Conditions page of the photo platform. Some websites advise users to offer credit for the images that they use, the main purpose being the promotion of the platform, but also offering the photographer more visibility. Other platforms have a Donation system so that their users can help support the development of the platform.
Now that we've covered the limitations of royalty-free stock content, let's proceed to our list of the 10 best websites for copyright and royalty-free pictures.
1. Pexels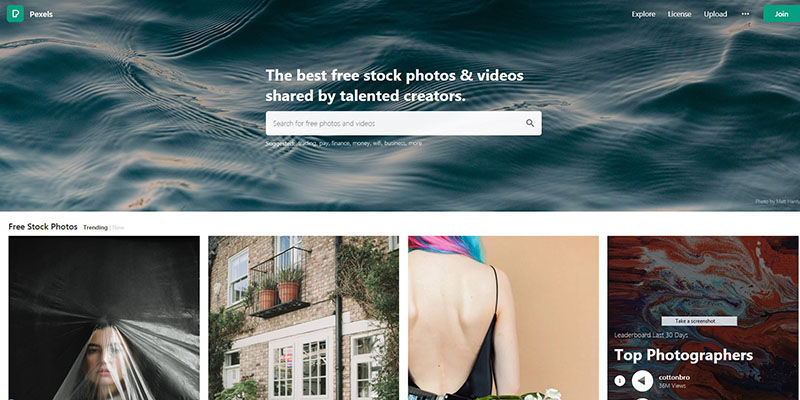 Pexels is the stock photo platform that has grown the most in the last couple of years. Dating from 2015, the site's photo database has been significantly developed in the past few years. They have a search bar, where you can look for the photographs you need by using keywords. Each photo on their site comes with a list of tags that help you find the images you need quickly and efficiently.
The quality of the images is outstanding, both artistically and in terms of clarity, technique, and image resolution. Each image is free to download in various sizes, as well as in custom sizes. You can get the image you want in the size you need it in, directly from Pexels. The platform offers photographs in a great variety of categories. Moreover, the platform has recently included stock video content as well.
On Pexels, you are also connected to the photographers. For each photo, you can see the artists' profiles including all the other photos they have on the platform, as well as their Instagram profiles. When you download a photo, you can also give them thanks directly via Instagram.
Website: Pexels
2. Pixabay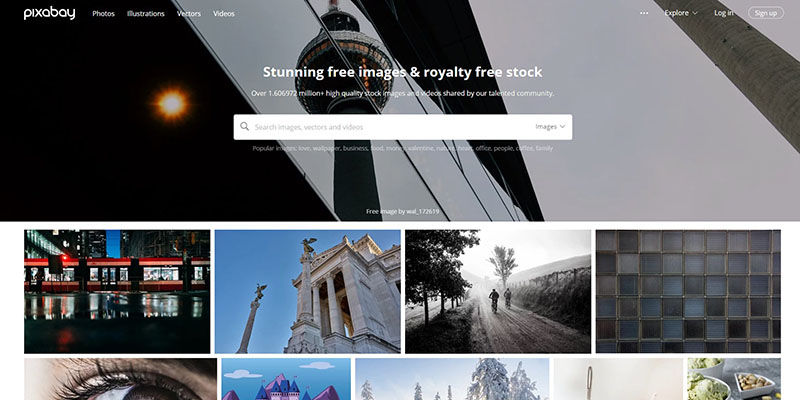 Probably one of the best-known stock photo platforms on the Web, Pixabay has a lot of years of experience. During this time, it has extended its online collection of free photographs and it now offers high-quality images from a long list of categories.
The interface is now extremely similar to that on Pexels, which is why we have included Pixabay on the second spot on our list. The two platforms are extremely similar in range, as well as content quality and they both provide excellent photographs.
Website: Pixabay
3. Unsplash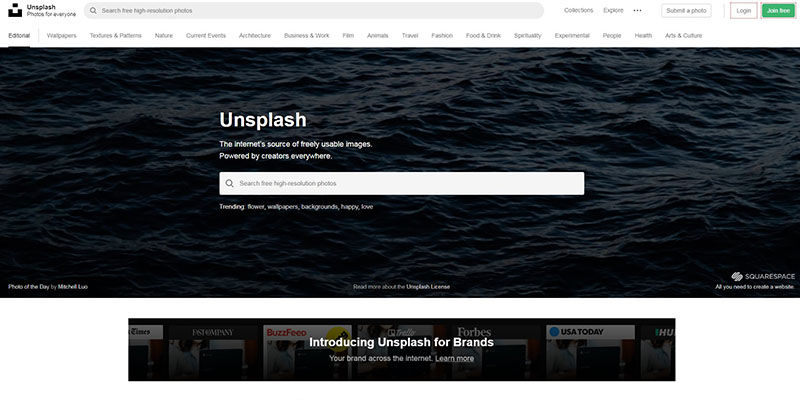 Unsplash offers an extensive collection of stock photographs on a platform similar to Pexels. What makes Unsplash stand out is the quality of their content, which does not look like typical stock content, but rather an artistic collection of photographs.
Their content is searchable by category as well as keywords and the results are extremely impressive. Unlike Pexels, Unsplash has fewer options in terms of sizing the image, but they do offer an easy way to connect with the artists.
While all their images are free of charge and copyright-free, they leave it up to you to include the credits to the author of the picture. To this end, they provide an embedded credit badge including the name of the photographer and a link to their page on Unsplash, which you can simply copy from their platform.
Website: Unsplash
4. Life of Pix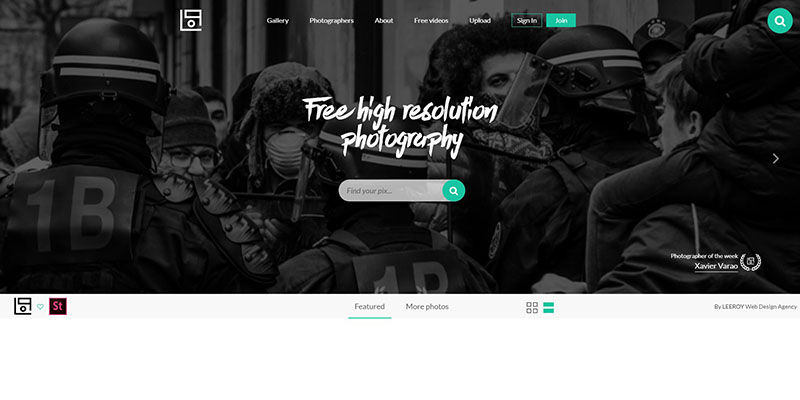 One of the negative aspects of stock photo platforms used to be that their content was not available in high resolution. Life of Pix has aimed to resolve this issue and they have created a platform with high-resolution content only. This is their signature feature and it certainly makes a difference from the very first glance.
All the photographs on Life of Pix must be in line with their quality guidelines. The result is a platform that offers free photography and not just stock photos. Every single one of their images is outstanding. Their photos are searchable by keyword, category, colour, and orientation.
You can also do your photo search by photographer by browsing their contributor list. The only drawback of Life of Pix is that the photos can only be downloaded in a single size, but this is always in high resolution.
Website: Life of Pix
5. Flickr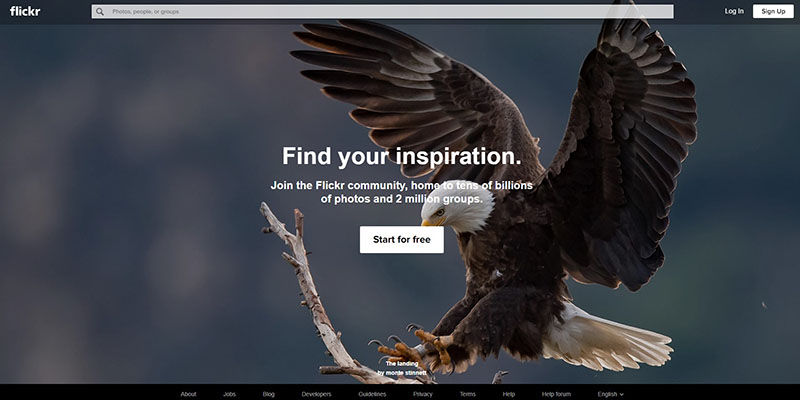 Flickr was once the most extensive collection of amateur photographs on the Web. Up to this day, it remains a solid resource of high-quality photographic content. It is different from the other platforms on our list because its database is much more comprehensive than the others. With content uploaded by millions of users over the years, Flickr is an excellent resource for those looking for niche content.
The main drawback of this platform is that not all the content is free of charge or copyright free. The photographs are uploaded by the users and each of them has individual requirements for the content they provide. However, what most Flickr users want is to be credited when their work is used.
To simplify things, Flickr has a search bar where you can include the keywords that are representative of the content you need, as well as your requirements in terms of copyright and usage. This way, you can quickly get to the content you need. The essential advantage offered by Flickr is that you can find niche images that are less likely to appear on other websites. You do need to have the patience to search for them, but you will find excellent results.
Website: Flickr
6. StockSnap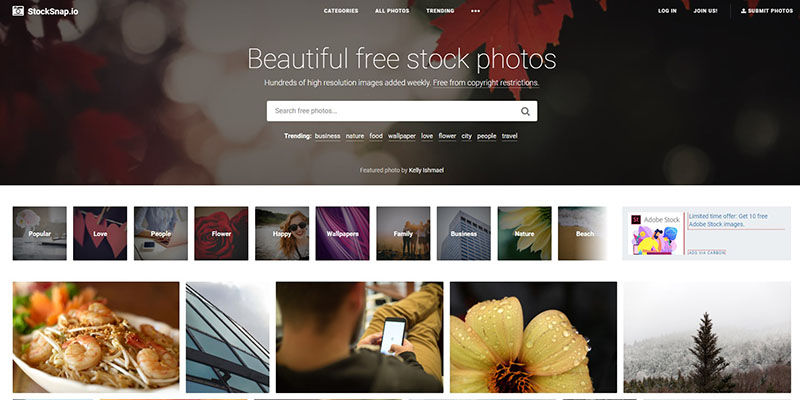 This platform is similar in quality and user experience to an older version of Pixabay and it offers an extensive collection of images from a wide variety of categories. In the searches you make on their platform, you get two types of results for your queries – free images, as well as paid content from Shutterstock. The advantage is that the free content they have on their platform is of good quality and you are in no way obligated to switch to Shutterstock.
Website: StockSnap
7. Burst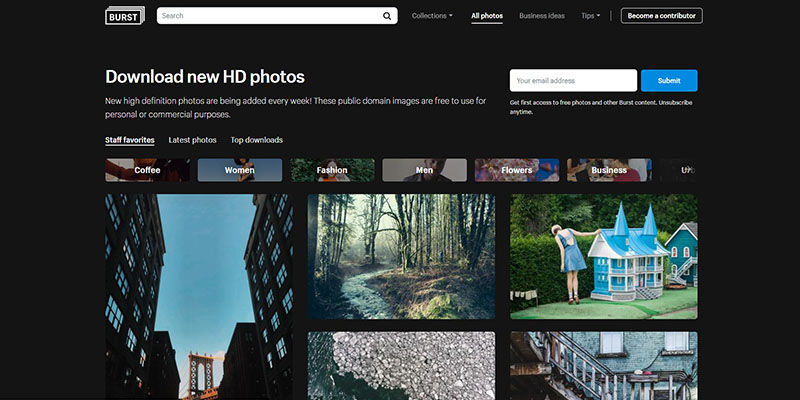 Burst is a vast online repository of high-quality images that has grown significantly over the past few years. They have a user-friendly interface, with an intuitive search process. The photos are searchable by category, as well as keyword and photographer. The results are available for download in high resolution, as well as low resolution for small web graphics.
Website: Burst
8. Wikimedia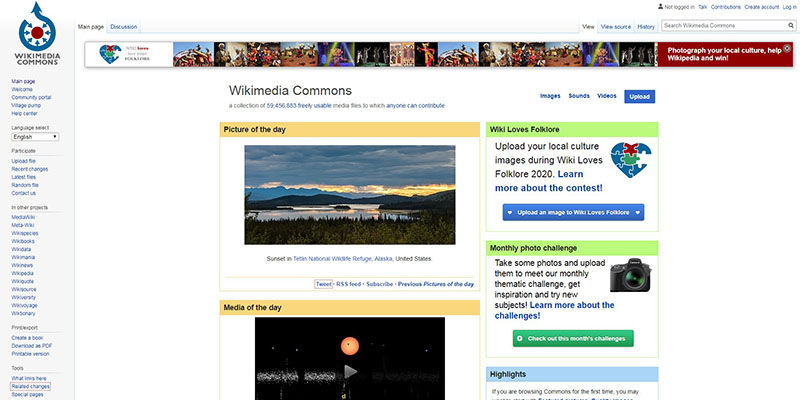 This is another one of the classic platforms for stock photos. On Wikimedia, you can explore all the content labelled free for reuse on Wikipedia. As you can imagine, the database is absolutely enormous. The main advantage of this platform is clearly its range, which makes it possible to find very specific content.
However, the quality of the images and the photography technique is not as good as that on some of the other platforms. This is the biggest drawback of Wikimedia, but even in spite of this, it is an excellent resource.
Website: Wikimedia
9. Kaboompics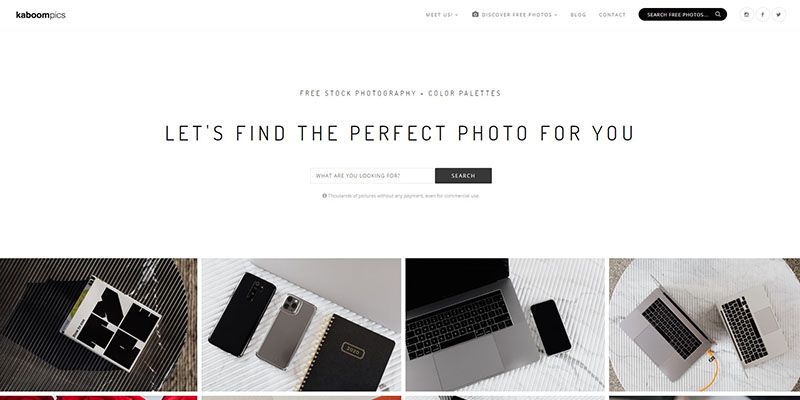 Kaboompics offers free photographs with a visible human touch. Unlike platforms that offer pictures that are easily recognizable as stock content, this platform has high-resolution photos made by real people. It is an excellent platform if you are looking for content that looks raw and real. Some of the pictures may require further editing, but they are an excellent base for any project.
Website: Kaboompics
10. Freerange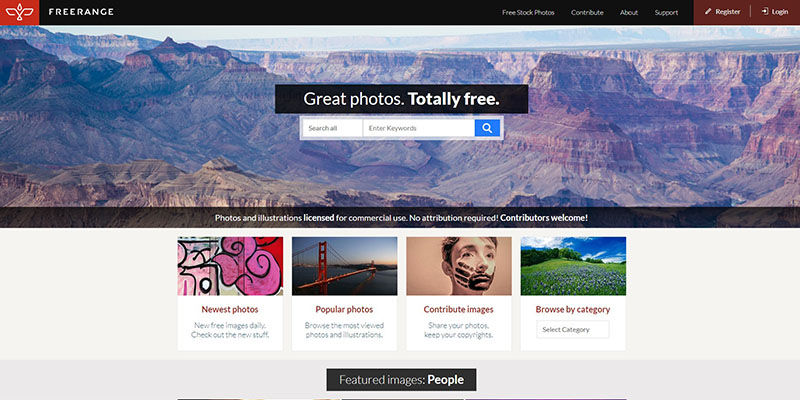 On Freerange, you have to register as a member to gain access to their content. The registration process is simple and it is entirely free of charge. Once you have an account, you can download the photographs on the site in high resolution.
Freerange allows both personal and commercial use for their photographs, so once you download the image, you can use it wherever you want, all entirely free of charge. You should know that Freerange provides Google AdSense revenue to its contributors.
The photos on the website are searchable by keyword so that you find the images you need easily. All you have to do is enter your keywords and you will be presented with an extensive list of options for your query, as well as suggestions for further research.
The Freerange team has also created a few other projects, such as Vintage Stock Photos, where you can find a vast collection of royalty-free vintage photographs, or  Free Stock Textures, for those looking for texture photographs. This platform features a collection of macro photography searchable by category.
Website: Freerange