Are your holiday photos looking dull? Well, make them better by changing up the background using these simple Photoshop steps.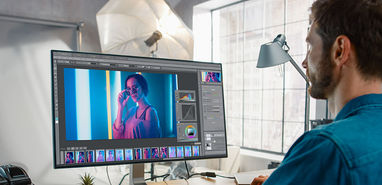 Changing the background in a photograph has a lot of very useless uses. Perhaps you went to the beach on a dull day and you'd like to add a brighter background. Or, maybe you're artistic and you'd like to have your background in space or even underwater. You could even take away a busy background to make a business photograph look more professional.
Whatever your reason, the fact that Photoshop allows its users to change the background of their photographs is one of the software's best features. Particularly when it makes the process so simple with lots of extra tools – such as hair and colour-matching tools – to make your finished photograph look flawless.
So, rather than living with that dull background on your favourite smartphone selfie, here's how to change the background of your photo in Photoshop:
1. Separate the background and the foreground
For the best results for your finished piece, you will first want to separate your foreground and background using something like the Quick Selection or Pen tool. In this step, you will be looking to distinguish between the part of the photo you wish to keep (your foreground) and the background you wish to replace.
Using your tool of choice, roughly click and drag your foreground area. Here Photoshop will help you out by predicting which parts you're trying to keep based on contrast. However, this will need finer tuning, as it won't be able to pick up some areas such as wisps of hair.
2. Fine-tuning your foreground selection
Once you've roughly selected the foreground using a larger brush, it's time to fine-tune that selection. Here, the finer you work on your foreground, the better your final product will look. So, zoom in on the photograph and, using a finer brush, take your time to fine-tune the selection. You can make your brush small using the left square bracket.
If you make a mistake, simply press Alt and drag the position backwords. Plus, don't worry too much about strands of hair, as this will be fixed using another tool.
3. Select and mask
Once you believe that you've fine-tuned your photograph enough, you should go to Options and choose Select and Mask. A screen will open and allow you to see if you need to further tune your foreground image.
It's a good tip to go to the Properties section and using View Mode change the colour of your background using Overlay. Scroll through various colours, as different shades will highlight any issues that you may have and that need to be tuned further.
4. Keep refining your image using different tools
So far, you might have been using either the Brush or Quick Selection Tool, depending on what you were comfortable with. However, to make sure that you've split your foreground from your background completely, you need to use more than one tool. Such as some of the following for different parts of the image:
Brush Tool – Ideal for harder edges.
Quick Selection Tool – Perfect for fast selection of larger areas.
Lasso Tool – Lets you manually add and remove areas from your selection.
Refine Edge Brush Tool – Ideal for soft edges and working on hair.
To make the most of these tools, continue to zoom in on your image, checking every little square for signs that you might need to further work on that area.
5. Adjust your settings
Once you're happy with the brush tools, you'll want to explore some of the settings available in the Select and Mask option. These include:
Shift Edge – Here you can use a specified number of pixels to move your selection, which will give you a very precise area to work in.
Smooth – Often when you remove a background, you get a lot of jagged edges, which look unprofessional. Your Smooth tool allows you even these out to give a realistic finish.
Contrast – To harden any selections, use the Contrast tool. Like Shift Edge, you can move this using a chosen number of pixels.
Feather – Sometimes areas – such as hair – need blurring a little. Which is what your feathering tool does.
Remember, there is no time limit to how much you work on your foreground image. So, take your time and really work on it until it looks perfect. This will take longer on your first few images, but once you're practised, you'll find that you work far faster – even instinctively – in the future.
6. Remove the colour background
When you're finally happy, it's time to remove the colour Mask that you added earlier. To do this, go to Output Settings and click Decontaminate Colors. This will remove the colour fringe, from which you can add a New Layer with Layer Mask from the same Output Settings. From here, you will be ready to add in a new background to your image. You can also try out the free image background remover powered by Adobe Photoshop.
7. Add in the new background
Now that the hard work is complete, you can paste in your new background as a layer under your new foreground. Here you will want to make use of the Hand tool to shift the background position until you are happy that it works with your foreground. You can also use the Free Transform tool to resize it if necessary.
8. Fix the colours to match your foreground
It can be tempting to finish your photograph here as, yes, it will be looking almost complete. However, there is one last stage you can complete that will really give your photograph that final boost into looking like your new background was the original – you need to match the colours! As this will blend everything together.
To do this, make sure you've selected your foreground later first, then go to Image Settings, select Adjustments and then Match Color. This will open a new window for you, click Source and then decide whether to match the colour of your foreground to the background or the background to the foreground – depending on your own preference.
You can fine-tune your colours even further by checking the Neutralize box. This will take away any unwanted colour casts. Again, working with the Luminance and Intensity options will let see if any other slight adjustments will make your photograph look better, particularly when used alongside the Fade slider. You can even use the Preview selector to work easily click your previous changes.
9. Save your work correctly
Once you click that OK button, your image is now complete and should look wonderful. Remember to save it as a PSD file in order to keep all your layers intact. This is very important, as by keeping all your layers, you will be able to edit your image again easily. You could even add a different background if you like.
If you want to share your image, you will need to save a copy as a Jpeg. You'll be able to use this format on social media or photo-sharing sites.
Many people are nervous to use Photoshop as it can feel very complicated. However, like anything, the more you use it and the more guides you follow, the easier you'll find it. You could even use an online photo platform to find professional photographs to practice on before working on your photography.
Whatever you choose, don't take your work too seriously. Instead have some fun and play around with different effects. You might just be surprised at how good the end result is!