Does your social channel boast a bespoke logo? If it doesn't, get started on one today! Find out how and why you should create a social media logo here.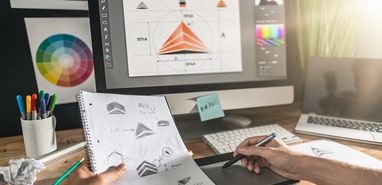 Social media is a tool not to be underestimated. Whether you're running a business or creating online content, social channels are one of the best tools to boost your outreach and connect with target customers.
But, like any business, a logo will improve your performance and add credibility to your work. If you're trying to expand your online network, the next step for you might be a custom logo.
Don't worry, though! There's no graphic design experience needed here; in fact, creating a bespoke logo is easier than ever. You can add professionalism to your business without stress, thanks to logo makers and online tools. Are you ready to complete your online branding? Find out everything you need to know about creating a logo for social channels in this article!
Why Do You Need A Unique Logo?
Let's face it; we're all more likely to trust a business with a logo.
Who are you more likely to check out when you're scrolling down your social feed? A business with a cohesive look and a sophisticated logo, or a page with blurry home photos and no logo?
Adding a professional logo to your social media channels has a long list of benefits for you and your audience.
Let's dive into the perks of creating a logo for your social channels.
Benefits Of A Bespoke Logo
Visual space
Social media is a visual space! When you scroll on Instagram or Pinterest, you enjoy the images more than reading the text. The only current exception is Twitter, but this platform still relies on profile photos and header images. Make the most of this visual medium with a modern logo to match your brand.
Brand identity
Logos also strengthen brand identities. Brand identity refers to how you present your business to the public and their associations with your brand. For example, your logo, color theme, and general design all make up part of your brand identity. This is crucial across social media channels, helping followers identify you and set you apart from competitors.
Trust
Did you know logos can also establish trust between you and your viewers? If you've added a detailed logo and additional brand identity theming to your social media accounts, it will show viewers that you're a detail-oriented brand that cares about its visuals. Logos separate the serious creators from the rest, showing your customers you mean business.
If you want to take the next step towards being a serious business or content creator, it's time to transform your social channels. These are often the first point of call for your customers and viewers, almost like the modern shop front. If your business is ready with a professional logo, you'll look more reliable, and customers will remember your image.
How To Create A Social Media Logo
Is it time to take the next step and get creative? If you're ready to add a logo to your platform, here are the steps to take.
Research Your Market
Firstly, make sure you think about your account, the services you provide, and what your brand identity is. If you're unsure about your aesthetic, check out competitors and see if your industry has any common themes. Use your findings to decide whether you want to fit in with the crowd or go against the grain.
Think about whether you want an abstract logo or a text-based design. Both types are widely accepted but remember you want an eye-catching and easy-to-identify design. This means you might want to avoid lots of text!
Another tip is to take inspiration from similar brands but don't create a complete copy of another. You want your viewers to be able to distinguish your logo from others in your field. Don't blend in with the rest!
Get Creative
Once you've completed your research and reflection, it's time to start the work!
Thanks to online logo makers, making a logo isn't hard work. Instead, you can use an optimized AI-based site to create a unique logo for your social channels. Many logo makers ask you to add details about your business, including potential fonts and styles.
Once you've entered your details into the logo maker's website, it's time to generate the image. Now you can sit back and relax while the website does the job for you. When it's complete, you can customize the logo, try again, or start using it!
Download The Logo
When the logo is complete, download and save it to your computer. This is a simple step, but make sure you download the right size for the specific social media channel. Some platforms don't accept large images, so double-check which size you need before uploading. This is essential to ensure your new logo appears at a high resolution.
The Best Logo Makers To Consider
We've got your back if you're looking for reliable logo makers to create a bespoke image for your social media. Here are some of the best logo makers available online right now.
Squarespace – Free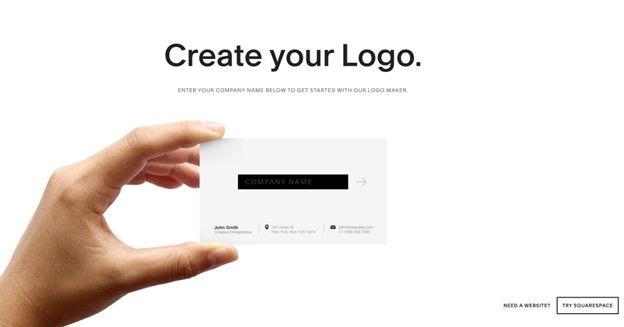 Interested in a free logo? Consider working with Squarespace's online logo maker.
Known for website design, Squarespace is all about building your brand. The company is here to help all professionals, especially if you don't want to break the budget with a high-cost logo. Choosing the first logo can be difficult, and many don't want to spend money on a design they're not sure about. This is where Squarespace's help comes in!
When you use this logo maker, you have access to a large icon gallery, leaving you in control of the design. It also allows you to add a tagline and a customized color scheme. Black and white logos are available too, ideal if you want to re-brand the design in the future.
Alongside a free service, Squarespace also provides tips and tricks to assist your logo design process. Don't worry if you're not a graphic designer, this website is here to guide you along the way!
For a free logo maker, consider working with Squarespace.
GraphicSprings – Low Budget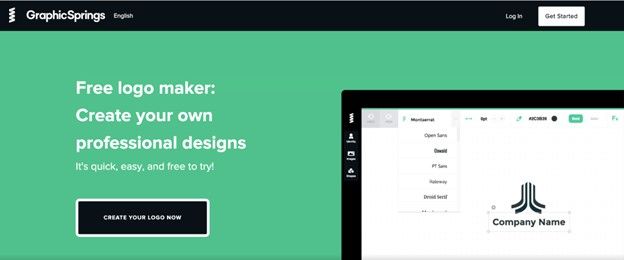 Are you ready to create a high-quality logo? If you've owned your business for a while and you're ready to spend some money on a logo, consider GraphicSprings as a medium-budget option.
When working with GraphicSprings, you get access to a web-based graphic design suite with an easy-to-use interface. Plus, this system is designed for quick options, meaning you won't have to wait around for hours to see your final design.
Creating a logo with GraphicSprings allows you to control the colors, shadows, fonts, and more. This is a fun way to get creative with your brand, plus you receive a high-quality graphic at the end. The initial steps of this process are free, however, to download the official high-resolution files you'll need to pay $19.99.
Once downloaded, you can start uploading your new logo to your social media and branded items in minutes – all thanks to this handy app!
GraphicSprings is a quick and easy logo maker that costs $19.99 to use.
Tailor Brands – Medium Budget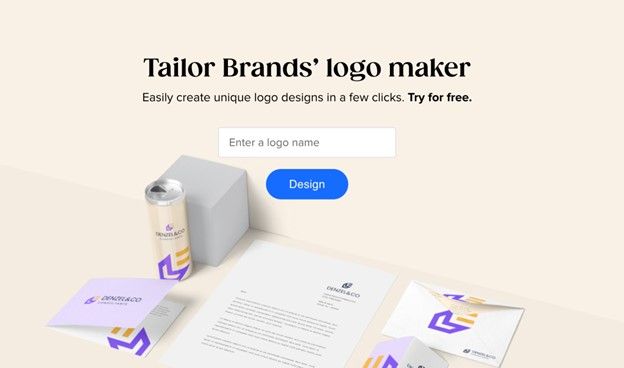 Want a high-quality logo without fuss or stress? Meet Tailor Brands.
This online logo maker strives to make great logos accessible to all via AI technology. The team understands that creating your own business can be stressful, so they ensure their online logo maker is simple and effective.
When working with Tailor Brands, you only need to complete six steps to get your logo. First, provide business details, then choose your style, select any fonts, generate the logo, customize it (if needed), and then you can download and get started!
Another perk of working with Tailor Brands is that you can try the process today for free! That's right; you can get a free first-time logo, accessible for all. Alongside this, Tailor Brands also offers social media formats, branded assets, high-res logos, hundreds of designs, asset storage, and high-quality customer support.
If you choose to work with Tailor Brands, after your free preview, their full packages range from $3.99 per month to $12.99 per month.
Freelancers & Graphic Design Professionals – High Budgets
Have you owned your business for some time? If you're well-established, it might be time to think about choosing a logo from a professional designer. While logo makers are helpful, a professional designer can use their years of experience to create an unforgettable logo at a premium standard.
The best way to obtain a professional logo is via freelance websites, such as Upwork or Fiverr. These channels allow you to connect with designers and send them a brief for your idea. Alternatively, you can research graphic design professionals on Linkedin and reach out to them for some work.
Working with a freelancer does come at a higher cost, but these costs are very varied. Some freelancers will offer logos as low as $5, however, these are likely to be low resolution or plagiarized. The price can go up to $2,500 for a logo, so make sure you vet the freelancer and explore their portfolio before making a payment.
The best way to find a freelancer or professional is via a referral. Ask clients or friends whether they've worked with a designer before, and gauge prices based on research and word of mouth. You can also read reviews on freelance platforms to see what previous clients think.
For a high-quality and unique logo, don't be afraid to spend a little more!
The Bottom Line
Are you ready to take your social channels to the next level? A logo is the icing on the cake for your business. Whether you want a colorful design or a minimalist aesthetic, these logo makers will help you create the logo of your dreams. Make sure you read the steps carefully and research your market before jumping in for the best results. Good luck!