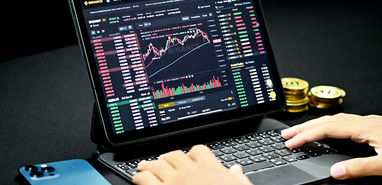 People have always been familiar with investments, but cryptocurrencies are a game changer. Unlike traditional investments such as stocks, cryptocurrencies operate in a decentralized structure.
Their volatility makes them hard to predict, which is why confusion arises among investors. However, volatility isn't always negative and can create profitable investment opportunities.
The cryptocurrency market is expected to reach $5,190.62 million by 2026, which will potentially lead to an increase in adoption over time.
Although it's impossible to predict their future value with absolute certainty, whether you're a novice or an experienced investor, creating a proper strategy before investing in cryptocurrency is a must, and let's see why!
5 Reasons to Create a Crypto Investment Strategy
Crypto investing can be a wild ride. Price fluctuations can easily scare away investors, which is why being prepared in advance is important.
Below listed are five reasons why you should always take a strategic approach toward crypto investments.
1. To Help You Deal With Volatility
Cryptocurrencies are volatile by nature. They've shown significant upward and downward movements over shorter periods of time.
Let's take Bitcoin as an example. In January 2013 Bitcoin's opening price was $13.51 and by April managed to reach almost $250. In December 2016 it ended the year at $963.74 only to reach a staggering amount of $20,000 by the end of 2017.
Taking this into account, it's safe to say Bitcoin is one of the most volatile assets. That's why learning how to handle it is of the utmost importance.
By developing an investment strategy you're focusing on long-term gain, rather than the daily bumps. Short-term losses are common when it comes to cryptocurrency, but having a goal-oriented strategy won't let your emotions control your investment.
Furthermore, an investment strategy can help you better understand your risk tolerance. Money is important, but so is your well-being, and maintaining it during the process is crucial.
2. To Overcome FOMO
Fear of missing out is a real problem and can seriously affect your mental health. With such a volatile market you never know what the next day will bring. Significant price fluctuations have happened overnight causing investors to gain, or sometimes even lose big amounts.
Fearing you might miss out on a great opportunity will probably cause you to make impulsive decisions and when it comes to investments, this is unacceptable. A strategic approach is your best way of learning how to take things slow, think rationally, and focus on the important stuff.
3. To Identify Your Goals
This is usually overlooked by novice investors. Constantly hearing stories about people getting rich from crypto investments makes people greedy, causing them to invest more than they can bear. Such impulsive decisions can lead to serious consequences.
You can't jump into investing, just because you heard it turned out to be profitable for some. This is your money, your future, and your journey. You're the one who sets your investment goals, but a strategy will easily help you achieve them.
Before investing in crypto, there are a few questions you can ask yourself:
How much can you afford to invest and lose?
Are you interested in long-term or short-term investments?
Do you want to diversify funds or focus on one asset only?
Why did you lean toward investments, what are you expecting to achieve?
Keep in mind that everybody has different goals and expectations and your investment gains depend greatly on them.
You'll be ready to invest once you understand that crypto investment isn't an instruction guide you can learn by heart and every investor should have their own strategy.
4. To Reduce Investment Risks
Cryptocurrencies have proven to be worthy, but risky investments. 2022's crypto winter proved that even more. However, with the right strategy, your chances of earning are significantly higher.
By doing so, you'll calculate your risk tolerance and even though cryptocurrencies are impossible to predict to the fullest, you won't risk losing everything.
It's important to remember that every crypto investment carries a risk. However, with an investment strategy this risk can be calculated and significantly reduced. That way, you'll always know what to expect and the unexpected won't seem so scary.
5. To Better Make Investment Decisions
The decision-making process is the most important, mainly because the outcome depends greatly on it. You can research, make predictions, and calculate risks as much as you want to, but at the end of the day, it's your decision. That's why you have to make sure it's a rational one.
An investment strategy is based on your age, risk tolerance, goals, and expectations, and the capital you're willing to invest. It's designed for your needs and will most probably work only for you. Based on personal calculations, you'd better make investment decisions.
Types of Cryptocurrency Investment Strategies
Below listed are the best crypto investment strategies to take into account before embarking on your new journey:
Dollar-cost averaging. This strategy is the definition of going slowly but surely. If you're not one to take enormous risks, this is the right strategy for you. It helps you to buy smaller crypto portions on an ongoing basis, instead of investing the total sum at once, meaning you're not risking great losses.
It's an abbreviation for ''hold on for dear life'', also referred to as the buy and hold strategy. Well, the name says it all. You're basically buying the asset and holding it in your cryptocurrency portfolio for a long time. This strategy is suitable for long-term investments and is usually preferred by the majority of investors, mainly because it's easy and simple to perform.
Value investing. When the word cryptocurrency is mentioned, people automatically assume Bitcoin, but there are other coins also worth buying. The thing is, some of these might be undervalued. With value investing you're identifying these assets with the hope that they might show significant growth over time.
Buy low, sell high. This is probably obvious, but it's the main reason why buying cryptocurrencies during a bear market is recommended. Basically, you're buying an asset when the prices are at their lowest, and selling when the prices are at their highest.
Why You Should Buy Crypto in 2023
Should you buy crypto in 2023? — the most frequently asked question these days.
Due to last year's incidents, when Bitcoin lost over 60% of its value, investors are starting to doubt the credibility of cryptocurrencies and are more cautious than ever.
A few factors led to 2022's crypto winter, but the FTX collapse probably left the most scars. It was one of the most famous exchanges and it turned out to be a scheme. That's why it's important to find the right crypto exchange.
For example, if you buy Bitcoin on MoonPay, you'll know you're buying from a regulated business and therefore your information is in safe hands.
Besides last year's crypto winter causing investors to doubt cryptocurrencies, this incident has opened many investment opportunities:
Prices are at their lowest. We're getting out of the bear market, but cryptocurrencies are still struggling to keep their value. The market is poised for recovery, we're about to witness stricter regulations regarding crypto, and Bitcoin's halving is also expected in 2024 — all the more reason to invest in crypto during these peaceful times.
Crypto adoption is at the highest it has ever been. Besides many people leaning toward traditional investments, cryptocurrencies have managed to win us over. Gen Z and millennials tend to invest in cryptocurrencies the most, which definitely means crypto adoption is only going to rise with time. El Salvador and the Central African Republic have already adopted Bitcoin as legal tender and many countries are expected to do the same.
What You Should Know before Investing in Cryptocurrency
Even though buying the asset itself isn't complicated at all, preparing yourself in advance requires your time and attention.
Before buying cryptocurrency there are some things to keep in mind:
They're decentralized. This means that cryptocurrencies aren't owned and controlled by a single entity.
They're highly volatile assets. As already mentioned once, volatility is something you have to acknowledge. If we look at the history of crypto, we'll notice that they've suffered a lot of ups and downs.
Can be subject to cyber-attacks. Besides blockchain technology being relatively secure and almost impossible to penetrate, there are still ways for hackers to intervene. They can find out personal wallet information and steal money this way.
Cryptocurrency Investments Must Always Be Strategic
That's right! You've probably heard about people getting rich overnight, however, cryptocurrency investments can't do wonders every time. These people are probably highly experienced and have been studying the crypto market for years now.
Who knows, maybe it was luck for some, but that still doesn't justify the fact of someone investing large amounts of money without thinking it through beforehand.
Remember, creating a good strategy before investing in cryptocurrency should be on every investor's list and should never be overlooked.