More and more startups are bringing blockchain-based solutions to market and achieving success. Here's why that is and a look at some of the standout blockchain startups to watch in 2022.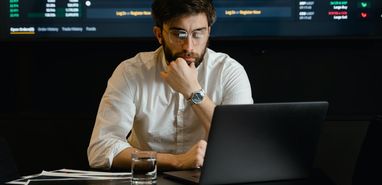 Most startups enter their chosen market with a unique idea but don't have strong support behind them. They're known for having tight budgets and rely on innovative technologies to attract customers interested in what they have to offer. And the key to their survival is to offer a unique product that customers can't find anywhere else. If their product's good enough – they'll end up thriving and achieve steady growth.
It's important to note, however, that a startup doesn't have to invent something new if they want to succeed. Just finding a new way to use existing technology, or a new slant on an existing service can be enough to power a startup's success.
And that's exactly what's been going on in the world of cryptocurrencies for some time now. One after another, startups are dreaming up novel applications for blockchain technology – which underlies all cryptocurrencies – and riding them to success. Here's a look at why blockchain technology is so hot right now, and some of the blockchain startups worth keeping an eye on in 2022.
Why is Blockchain Technology so Attractive to Startups?
The main idea of Bitcoin, which introduced the first working blockchain, was to create a decentralized financial system free from the influence of big banks and other moneyed interests. But creating such a system meant deploying a technology that could authenticate transactions without direct human intervention. And that's what the blockchain is – a combination of cryptographic algorithms and mining processes that processes and records transactions.
Note:
Although Bitcoin represents the first known use of blockchain technology, its developers didn't come up with the idea. That distinction goes to Stuart Haber and W Scott Stornetta, who proposed it as a way to add secure timestamps to digital documents back in 1991.
Later, the creators of the Ethereum network added even more features to existing blockchain technology. They invented software for automated execution of a predefined set of conditions, which they called smart contracts. That turned their blockchain into a massive decentralized programmable computer. That meant any developer with the skills to do so could use Ethereum's blockchain to run almost any kind of application they could imagine.
And that's just what happened. Almost overnight, the Ethereum blockchain spawned a whole new startup market. And because the technology is open-source, startups can build on it with very little upfront investment. All they need to do is find a way to leverage blockchain to make people's life easier — and they'd have a near-perfect product for a startup.
The Blockchain Startups (and Trends) to Watch in 2022
Trend: Optimising business processes
TraDove uses blockchain to help businesses accelerate their sales. They've built a network that connects buyers and sellers, using blockchain technology to authenticate users and secure transactions. Their solution is unique in that it uses blockchain both for its security features as well as to provide simple cross-border payments to facilitate simple international trade.
The company's blockchain platform also uses AI to connect the right buyers to the right sellers, tracks the supply chain, and acts as a communication tool for potential customers. It's a solution that works so well that big companies like Amazon, John Deere, Lowes, and IKEA are already using it to power parts of their respective operations.
Indian startup TimeChain focuses on educating enterprises looking to transform their current business and IT systems to take advantage of blockchain technology.It provides research & development services, builds proof-of-concept (POC), and prototypes of end products with full-scale development plans. Additionally, the startup helps companies to find and hire the right talent.
Founded in 2016, Berlin-based fintech startup Neufund connects investors and entrepreneurs around the globe. The project has already carried out an equity public offering (EPO) in addition to the digitization of their capital.
The platform's blockchain links on-chain tokens with real capital to comply with local laws. That makes it possible for startups to conduct an IPO on the blockchain while still meeting their local regulatory requirements. It's a ground-breaking concept that bridges the worlds of traditional finance and cryptocurrencies in a novel and useful way.
Trend: Automated compliance checks
Chainalysis is a blockchain data platform aiming to help banks, businesses, and governments gain a clear understanding of how people use cryptocurrency. They provide software for investigation and compliance processes to help institutions identify and prohibit funds connected to illegal activity. At the time of this writing, Chainalisys has already helped to uncover many of the world's most high-profile cybercrimes. The platform is also contributing to improving trust across the ecosystem and encouraging blockchain acceptance worldwide.
Founded in early 2016, Coinfirm is a blockchain analytics platform providing AML solutions worldwide. The company performs over 270 crypto user activity checks to establish each user's digital reputation as well as classify their risk status. But because it relies on its own curated data sets, it doesn't require crypto users to divulge any personal information to perform its analysis.
Given the fact that cryptocurrencies are regulated commodities included in the EU's 5th AML directive, Coinfirm's services represent a much-needed compliance solution. But their technology also has applications in the traditional financial industry, where AML regulations are just as strict, and just as difficult to comply with.
Fetch.AI is a Cambridge-based artificial intelligence lab working on building decentralized artificial intelligence solutions. Right now, it's building a blockchain-based machine learning platform that enables secure exchange, connection, and funds transferring.
The use of AI helps Fetch.AI understand the characteristics of illegal transactions. This gives its end users the foresight to raise the alarm when unusual movements occur in the system, thus effectively managing risks.
Trend: Efficient healthcare
Solve.Care is a global blockchain technology company focused on solving problems within the global healthcare system. Its healthcare platform was launched after acquiring UKRSOFT, an IT services company with 17 years of experience researching, developing, and deploying enterprise solutions for companies in different regions.
The Solve.Care team believes that bureaucracy is one of the biggest impediments to healthcare efficiency. The problem is that patients are bogged down in trying to coordinate care, payments, and benefits – instead of receiving care for what ails them.
Thus, the startup uses the blockchain as a decentralized system to administer and manage payments and benefits. Solve.Care connects clinics, healthcare providers, insurance companies, benefits administrators, and corporations together into a single, seamless healthcare management and delivery system.
Genomes.io is developing a platform that can serve as a digital DNA bank. They store users' genomic data within a personal DNA Vault, leveraging cutting-edge Secure Encrypted Virtualisation Encrypted-State (SEV-ES) and blockchain technologies. What's more, Genomes.io provides access to clinical-grade 30x full genome sequencing and personalized genomic reports based on this data.
On the platform, individual users decide on their own whether to share their genome information or not. Those that opt-in may contribute their data to help advance a variety of scientific studies. And to encourage participation, Genomes.io is now working on rewarding users with Ethereum for sharing their DNA data with verified researchers.
If you agree to share your DNA for a crypto reward, it could help to develop new disease treatments or study their origins. And you can exchange your Ethereum rewards for fiat funds if you wish.
Tip:
If you want to exchange cryptocurrencies for fiat currency, it's best to do so
using a reputable exchange
. For instance, you can sell Ethereum (ETH) for dollars on the regulated CEX.IO Exchange and then withdraw these funds to your debit or card, bank account (via SWIFT, SEPA, etc.), and digital wallet (Skrill, Epay, Advcash).
The Bottom Line
As the above examples make clear, blockchain technology is a flexible solution that startups can use to build almost anything they can imagine. It's so broadly applicable that there's almost no end to the industries that may benefit from its use.
And the startups mentioned here are just the tip of the iceberg. Developers are just beginning to scratch the surface of what blockchain technology can do. So, it's likely that it will form the foundation of countless more startups in the near future – and power them to success.