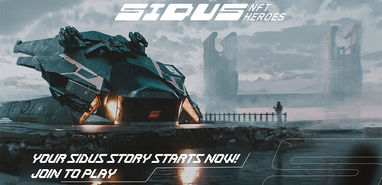 The cryptocurrency industry has remained red-hot for investors almost since its inception. But it's not homogenous. First, it was the currencies themselves that powered the highest returns. Afterward, the DeFi boom became the next big thing. And now, there's a new sector heating up that's primed to assume the mantle of the cutting edge in crypto. It's called GameFi, and contrary to its name, it's not all about fun and games.
Instead, it refers to a growing number of blockchain-based games that embrace a play-to-earn model. They allow players – often for a minimal upfront expense – to earn crypto rewards just by playing a game. The concept of crypto games isn't new, as blockchain games have been part of the industry for a few years now. But what is new is that the latest GameFi entries are beginning to look and feel like the AAA titles mainstream gamers have come to expect.
And there's a new game on the way called SIDUS HEROES that looks like it's about to set a whole new standard for excellence in the GameFi sector. Here's a little bit about the game and why it has so many gaming enthusiasts – inside and outside the crypto world – so excited.
An Enormous Open-World Sandbox
SIDUS HEROES is unique among crypto games for a few reasons. One is that it's a massively multiplayer online role-playing game (MMORPG) that takes place in an open-world sandbox metaverse. It's one of the most ambitious crypto games ever attempted, making earlier titles look like little more than one-trick-ponies.
But the scale of the game isn't even the most impressive part of SIDUS HEROES. What truly sets it apart from its would-be competitors is that it's visually stunning. Its developers are pushing the cross-platform WebGL API to its limits to create a smooth and immersive 3D world players can access from almost any modern web browser.
All players will need to get started is to purchase an NFT Hero from the game's Genesis Collection. Players will also be able to enter the game via the Academy Collection that will be launched soon and will only provide access to the game without the features offered in the Genesis Collection. Anyone that owns one of the NFTs will have the ability to create a character in the game world. And from there, they're free to engage in the game's myriad activities, earning rewards for doing so.
The Play-To-Earn Model
There are countless ways for players to participate in the SIDUS HEROES metaverse. And almost all of them provide the ability to profit. The focal point of the game itself is a battle arena, where members of the game's twelve tech-inspired species meet to engage in combat. And that's only the beginning.
Important:
The SIDUS HEROES battle arena is already playable in SIDUS HEROES' demo version. You can
try it out
to experience the game's top-notch graphics and get a feel for what the completed metaverse will be like.
Players can also take on a variety of in-game professions, which allow them to produce goods like consumables and foodstuffs. Those items are sellable on the in-game market, which is a key part of the game's play-to-earn model. And almost everything else in the SIDUS HEROES metaverse is commoditized, too.
That means players who choose to explore the metaverse can collect rare artifacts, pets, and other items and sell them to others. And property owners can rent out their space for use by others if they wish. Essentially, if you own something in the game, you'll have some way to profit from it, making the SIDUS HEROES play-to-earn system one of the most comprehensive of its kind.
Note:
Most in-game transactions require the use of the game's native SIDUS token. But there are exceptions. Property purchases, spaceship purchases, and buying space station modules require players to spend another token, called SENATE. Holders of SENATE also get to vote on game developments, with their say being proportional to their holdings.
An NFT-Focused Property System
Interestingly, the game's developers haven't chosen to lock players into their private ecosystem. Although the in-game market is the preferred place for players to buy, sell, and trade their SIDUS HEROES items, it's not the only place.
That's because every piece of player property in the game exists in the form of a classic NFT. And like any other kind of NFT, players are free to sell them on the open market if they wish. That means a player that goes the extra mile and ends up owning a private planet within the game can sell that planet for whatever currency they prefer on any NFT market they want to use.
It's yet another example of how much thought and care the game's developers are putting into its economic model. They're creating a game that will be equal parts fun and profit, and that allows players to control almost every aspect of how they interact with its metaverse. And that's yet another major aspect of SIDUS HEROES that sets it apart from any blockchain game that's come before it.
A Major IDO Event
Before the game can launch, however, the developers are holding an IDO event to get the game's two tokens, SIDUS and SENATE, out onto the market. The IDO's happening on December 15th, 2021, and will occur simultaneously on seven major launchpad services.
True to the ethos that informed the game's design, the developers chose to execute the multi-launchpad IDO so that supporters can participate using the platform that suits their needs best. And once the event's over, there are even more exciting developments to come.
By early January 2022, the developers expect to have a beta launch of the game, which owners of Genesis collection NFT Heroes may participate in. And a few weeks later, the beta will open up to additional participants.
The goal is to have the complete game ready for a wide launch by the end of the first quarter. If the developers pull it off – and there's every reason to believe they will – gamers both inside and outside the crypto world are all but certain to flock to the game. And when that happens, it'll signal a sea change in GameFi, setting a new standard of quality and play-to-earn functionality that every other GameFi developer will soon aspire to.