For 25 years now, massively multiplayer online role-playing games (MMORPGs) have remained a staple of gaming. And now, as blockchain and NFT-powered games begin to put a new spin on the genre — they're more popular than ever before. But while the new entries get the bulk of the attention these days, they're not the only games in town.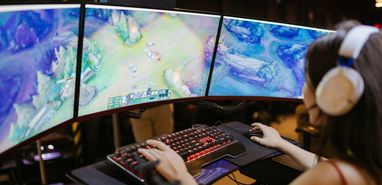 On the contrary, some of the most popular MMORPGs today are games that have been around for many years. And some of them have roots dating back to the genre's birth. For gamers, these elder statesmen are not only still compelling games but may also be better than many of the newer options now on the market. Eight MMORPGs have stood the test of time and are still worth playing in 2022.
Old School Runescape
When it comes to MMORPGs, there aren't many titles with a history longer than that of Runescape. The original version appeared in beta form way back in 2001 and has existed in various forms ever since. Old School Runescape (OSRS) is a version of the original game that dates back to 2007 — when the game's developer revived it after fans gave the latest mainline version a cool reception.
But it's worth noting that OSRS now has a user base that exceeds the mainline version, with 1.29 million active players. Back in 2020, the game even had over 150,000 players online at once — a feat it had never managed before. And that's not the only sign of its enduring popularity. The game's currency, OSRS Gold, still fetches a high price for traders, feeding a vibrant in-game economy that's as strong as ever.
Note:
For existing OSRS players, it's worth noting that the mainline version of the game has been gaining traction of late, too. It recently registered an all-time high of over 125,000 players online and is worth checking out for those who love Runescape's mechanics and lore.
World of Warcraft
Dating back to 2004, World of Warcraft (WoW) is one of the best-known and best-loved MMORPGs in the world. Its name is synonymous with the genre, and its lore is embedded in pop culture like no other game before or since. The game was even the subject of an Emmy-winning episode of the long-running American cartoon South Park, which lampooned how addictive and engrossing (quite literally) the game can be for its players.
And that's not its only connection to present-day culture. WoW was the beginning of a game universe that eventually spawned the massively popular card game Hearthstone. The latter owes much of its artwork, creature concepts, and battle mechanics to WoW, proving just how important WoW is to modern gaming.
To this day, WoW has over a million daily players and continues to be one of the most popular MMORPGs going. And now, as Microsoft takes the helm as the new owner of the game, fans expect WoW to get even better. In the coming months, a mobile version will be released, and an expansion into the Xbox ecosystem may even be in the cards. Not bad for an almost 20-year-old game, eh?
MapleStory
One of the things that most MMORPGs have in common is that they use 3D graphics to create immersive worlds for gamers to get lost within. But that's what sets MapleStory apart from the pack. It's a rare 2D game with a side-scrolling interface that seems like it'd be more at home among the legendary games of the 1980s. But don't let its retro aesthetic fool you. It's one of the most popular MMORPGs of all time.
Launched back in 2003, MapleStory boasts over 180 million registered users, a great many of which still play the game to this day. And it's still under very active development, with new quests, items, and events added periodically to keep players engaged. Given that many new games don't see the level of care and attention that goes into MapleStory's constant updates, it's easy to see why it's still going strong after all these years.
EverQuest
As MMORPG fans of a certain age can tell you, there's a kind of magic that early entries in the genre had that newer games can't quite recreate. Maybe that's why EverQuest is still attracting gamers, despite making its debut back in 1999. Today, it's something of an elder statesman in the MMORPG market, and it still has a very active regular player base. According to a report, when ownership of the game changed back in 2020, it still drew around 88,000 monthly active users.
It's fair to say that part of the game's enduring success owes to the nostalgia factor — with some older gamers calling it "the greatest MMO ever made." But its staying power is really due to the fact that it's an unapologetically great game. It's also the game that set the standard for almost every MMORPG developed since. That's why new players often comment on how its mechanics and gameplay features don't feel dated. But that's because EverQuest is the originator — and it's a tour-de-force that's worth checking out for any fan of the genre.
Final Fantasy 14
The first version of FF14 was a complete failure when it launched in 2010. The game's poor performance and limitations suggested that FF11 had lost the lessons of its predecessor. Developer Square Enix took the title offline due to its flop performance. The company decided to rework it. They redesigned FF14, fixed all the bugs, and launched it in 2013 as FF14: A Realm Reborn. Finally, players can compete, cooperate, and dominate the landscape with their favorite Final Fantasy classes in a way that basically wasn't possible. 
Contrary to WoW, which has faced trouble over time, FF14: ARR proceeded to improve. With Endwalker now hitting the shelves, the game has become arguably the most popular MMORPG in 2022, surpassing WoW.
New World
Being set on a fictional island in the Atlantic Ocean, New World is taking on a more realistic themed than ever before. The title makes the player experience like an old-time explorer, which involves exploring the unknown land while facing unknown dangers. 
These are the best MMORPGs of 2022 with the best quality and experience. Players advance and improve their gear in battle with imaginary and real animals along the journey. As for the overarching story, every player finds himself grab between the actions of three factions. Each of these factions fights, planes, and tries to capture as much of the new land as possible. The avid player should keep in mind that not everything in the new world is as natural as you think.
Guild Wars 2
The first guild wars proved to be a turning point in the MMORPG industry. It was more functional than most titles and eschewed the traditional holy trinity for diverse class options. The programmers took this idea which helped them to create unique and best MMORPGs game in 2022. 
Set in Tyria, Guild Wars 2 indicates the arrival of the five Elder Dragons, the destructive race responsible for Earth's greatest destruction. With such an impending threat, different groups and races must come together in a desperate alliance to fight for their survival. 
Guild Wars 2 is one of the best MMORPGs because there is no monthly fee, and constant attention is required. There is always something interesting to watch in this game, and this feature attracts the players more.
Lineage II
While it's not as well-known or popular as the other games on this list, Lineage II is still worth playing for players who love endless character variety and open-world PvP gameplay. Making its debut in 2004, the game is a sequel to Lineage but is set 150 years before the events in the first game. And like MapleStory, Lineage II still receives regular updates to keep it fresh and relevant.
But what kept Lineage II alive for all of these years was a decision back in 2011 that seemed revolutionary at the time — it became free to play. When the original Lineage was shut down for good, its developers decided to make its predecessor a free-to-play title. But they went further than other so-called free-to-play titles of the era by giving players unrestricted access to the game. That meant every player could participate in every part of the game without spending a dime.
And that decision kept powering Lineage II for over a decade — making it one of the longest-lived titles still operating, and a game with a hard-core following shows no signs of slowing down.
The Bottom Line
At the end of the day, there's no shortage of MMORPG titles to suit every imaginable gamer. But there are good reasons why the titles on this list have been so popular for so long. In some cases, it's because they're true ground-breakers that set the stage for many of the games we know and love today. And in other cases, they reflect some different approaches to MMORPG gameplay that today's designers tend to avoid.
Whatever the reasons, the games on this list continue to attract new players long after the competition has faded into obscurity. And they're all worth checking out for fans of the genre and new gamers looking to experience the history of MMORPGs firsthand. Plus — they're all amazing games that are just as worth playing today as the day they launched. That alone makes them standouts that gamers should love.