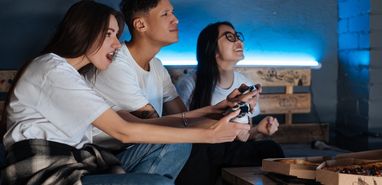 With the launch of next-gen consoles last year, and with everyone rushing to try and get their hands on the newly launched PS5 or Xbox Series X or S, you might be wondering, is it even worth getting the older gen models to play video games on in 2022?
The answer is yes! Though there definitely is a bigger push with the newer consoles, luckily enough, Xbox One and PS4s are still very much around and will be for a good while. They're still getting the new game launches that the newer gen consoles are getting and will come at a much better price point than ever before! So, if you're just starting out in the gaming world and don't want to splash out for your first console just yet, the Xbox One or PS4 is a place to start. Now the question remains, which console should you go for? Worry not! We've compiled all the info you need for both consoles to help you decide, so keep reading below.
Playstation 4
Originally launching in 2013, the PS4 has certainly been around for a while, but it's still one of the most loved consoles out there and for a good reason! With exclusive titles you can't find anywhere else, and with the PS4 Pro launching a few years later for upgraded storage and graphics, Sony gave us plenty of reasons to keep this beloved console around for the years to come.
1. Exclusive Titles
If your primary concern is how many games you can play on the PS4, then their library is one of the most extensive ones out there, with exclusive titles that you can't find anywhere else. Some of the best award-winning games are found on the PS4 platform, including The Last of Us, Ratchet and Clank, Horizon Zero Dawn, Spider-Man, and so many others! As a bonus, a lot of PS4 titles have been remastered or patched so that their graphics look even better on the PS4 Pro!
2. Playing VR Games
If you'd like to have the option to play VR games, then perhaps the Playstation is for you. With titles supporting VR play and a dedicated headset and controller from Playstation to help, the PSVR could be great to get the whole family in on the fun! With titles like Iron Man VR, Resident Evil: Biohazard, Star Wars Squadrons, and more, there really is something for everyone to choose from.
3. Better Indie and RPG Games
Aside from the big AAA titles, if indie games or RPG-type games are more your things, then the PS4 certainly has a better collection than Xbox, and there's plenty of choice on the Playstation Store that's constantly being updated. Simply buy, download and get straight to playing!
Xbox One
Also launched in 2013 was Microsoft's PS4 counterpart, the Xbox One. Depending on the sort of gamer you are, this might just be the console for you. With its Live Pass feature that allows you to access plenty of games on a monthly basis and its backward compatibility (that the PS5 has only just introduced), the Xbox One is well worth considering.
1. Better FPS Experience
Although Xbox exclusive titles aren't as extensive as Playstation's, their brand image is known for how well their first-person shooter titles play, and it's one of the main reasons that bring the Xbox community together. Exclusive franchises like Halo or Destiny are the face of Xbox, and the system is generally better suited for FPS gameplay. So if that's your main focus, then it might be worth considering the Xbox!
2. Backward Compatibility
Unlike Sony, which has only just introduced backward compatibility with the PS5 being able to run PS4 games, Xbox has been running that show from the beginning. Thanks to their Game Pass feature, it allows players to download and play both old and new titles without being hindered by which model console it was launched on and at a much lower price.
3. Cross-Play
Of course, being a Microsoft product doesn't come without its benefits, and cross-play is another area in which the Xbox One excels. Not only does it offer cross-play so that you can enjoy playing games with your friends even if they're playing on PC or the Switch, for instance, but it also offers remote play, which means that games from your console can be played directly to your PC, tablet and even your phone over an internet connection! So you really can play wherever you are.
Xbox One vs. PS4
Interface
The interface of the Xbox One and the new Windows 8 computer operating system look similar. You can navigate its interface with voice commands, Kinect, or a controller. In addition, you can open app windows during gameplay, which is called the Xbox One's "snapping application" system.
On PS4, its "dynamic" menu system lets you check your social media activity, view a profile, and select a game. Another amazing feature of the PS4 is that you can share your gameplay recordings online with just a click of a controller button. This offer is only available to Xbox Live Gold subscribers on Xbox One.
Controllers
The PS4 DualShock controls feature a built-in mono speaker and headphone jack, a rechargeable lithium-ion battery, a stereo camera interface that senses players' surroundings, a Game DVR share button, and a clickable touchpad. For connection with the console, the controller uses Bluetooth 2.1. 
There aren't many differences between the Xbox One controller and older Xbox controllers. Microsoft has added new "View" and "Menu" buttons. Also, the user can charge the controller with the help of a USB cable.
Xbox Elite Wireless controller
Priced at $149, Microsoft announced the release of the Xbox Elite Wireless Controller in June 2015. The new controller features interchangeable parts that enable players to customize it to suit their needs, play style, and preferences. It includes the addition of hair-trigger locks for more precise control and faster firing in FPS games, a textured rolling pad to replace the standard D-pad, and 4 bumper pads.
External and Removable Hard Drives
The user can upgrade the factory to 500GB if needed, as only the PS4 has a removable hard drive option. The Xbox One also has a 500 GB hard drive, but it's not replaceable. Xbox One already includes two USB ports to offer more external storage if users use all 500 GB in the case. If you're looking for more storage, an Xbox One 1TB version is also available, including the Coast $50 extra ($399 total).
The 4.50 "Sasuke" update for the PS4 and PS4 Pro consoles was announced in March 2017 by Sony. This upgrade supports external hard drives up to 8TB and allows PlayStation VR headset owners to watch 3D Blu-ray movies. You can play games on an external hard drive instead of the PS4's built-in hard drive, which connects to the PS4 via USB. Xbox cannot support external hard drives.
Applications
PS4 allows free access to Hulu Plus, Amazon Prime, and Netflix. You can't enjoy membership for free; you only get access to them. To access these apps and Skype, an Xbox One user must purchase an Xbox Live Gold subscription.
Bluetooth Capability
The PS4 only uses Bluetooth technology to connect with console peripherals. Along with controllers, PS4 headsets, and PlayStation Move, the console can connect with a Bluetooth mouse and keyboards.
Subscription Services
Both Xbox One and PS4 require a subscription before playing games on them. PlayStation Plus membership was free with the first version of the console and is a first for PlayStation gamers. A PS+ subscription charges $5 per month to run the game.
For Xbox One, you'll need to purchase an Xbox Live Gold subscription for $60 a year to enjoy many of the console's features, including free game demos and previews, face-to-face chat using Kinect, and on Includes online gameplay. At Amazon.com, you get the Xbox Live Gold service at a discount.
Keeping all of those things in mind, we hope this helps you make a more informed decision on which console you're thinking of buying! Both have excellent advantages in their own way, and each console is useful in its own right, depending on how you plan to game or your gaming habits. Happy gaming!