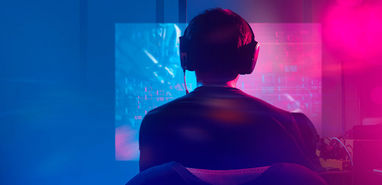 The iGaming sector has been on a steady rise for some time now. Just like any other industry, there will always be trends that come and go, which dictate how the field behaves. Here are the latest tendencies in the technology used in iGaming.
Innovations in Sound, Visuals, and Storytelling
For starters, it should be said that there are innovations in the overall quality of the available games. Developers are constantly challenged to provide players with better experiences, so they are doing their best to improve everything from the technical aspects like sound and visuals to storytelling. The technology has improved so much over the years that now the games' sounds and graphics can create a whole new level of immersion, no matter what kind of game players opt for. What is more, even the simplest games are created so that they have a narrative that will intrigue players and entice them to come back to it over and over again. A round of a certain game can be only a level to overcome in order to unlock the next chapter of the overarching story.
Augmented and Virtual Reality
When it comes to improving the user experience, iGaming developers are increasingly turning to augmented and virtual reality technology. Augmented reality can be used to further enhance the world around us, while VR is used to transport players to a whole new world. These technologies have been available for some time, but they are seeing more use once again. There are several reasons for that. For one, the equipment necessary to enjoy VR games, like headsets, is overall better nowadays as well as more affordable. Furthermore, something that cannot be overlooked when talking about iGaming is the metaverse. It has been quite a buzzword recently, mostly due to Facebook's parent company rebranding as Meta. However, the metaverse entails a lot more than just that. It basically means creating immersive, digital worlds that offer all sorts of activities. For instance, there is virtual real estate that can be purchased by brands so that they can welcome visitors. Everything from casinos to high-end fashion stores can be found in the metaverse, where users can spend cryptocurrency and buy NFTs.
Artificial Intelligence
Artificial intelligence has also found its place in the iGaming world. In a relatively short time, it has come a long way. As that includes talking to people like it was a real human, it is often used for live chat. Users will always have questions about everything from signing up and getting bonuses to depositing and withdrawing money all the way to various technical issues. If these are simple questions, that can also be found in the FAQ section, AI chatbots can easily respond. As this technology is available 24/7, there is no need for the staff to deal with these tasks and they can focus on other things. Moreover, artificial intelligence can also predict user preferences as well as reward them.
Mobile Gaming
It no longer comes as a surprise that smartphone usage is skyrocketing. That means that mobile gaming is on the rise as well. More and more individuals appreciate the opportunity to play games regardless of where they are. With smartphones being more affordable and data prices getting cheaper, it's much easier for individuals to place bets on their favorite teams or play some casino games when on the move, during the commute, or on their lunch break. Game and website developers are well-aware of this trend, which is why they are working on mobile-first designs that will appeal to all gamers that prefer smaller screens.
Omnichannel Technology
Operators are also turning to omnichannel technology these days. Experts in this tech offer iGaming companies a way to provide their users with a tailored and seamless journey through their website. More and more providers are looking to completely transform themselves digitally and adaptable omnichannel solutions can do exactly that. Interested parties can easily learn more about GiG and how they can benefit from implementing the omnichannel approach to their casino management system. By relying on this, iGaming operators are able to build loyalty, boost engagement, and retain users.
Cryptocurrency
Another trend that's been popular for a couple of years now is using cryptocurrency. An increasing number of individuals have been turning to this alternative seeing as how it can provide them with anonymity. Moreover, crypto is not related to any government and doesn't depend on current geopolitical circumstances, which makes it somewhat more stable. A big plus of using cryptocurrencies as payment is that they come with instant transactions and no fees that typically accompany bank transfers and e-wallet transactions. Finally, with many other options besides Bitcoin, people and providers have the chance to decide which ones they will use. There are online casinos that only accept cryptocurrencies for deposits and withdrawals.
Blockchain Technology
Typically mentioned in connection with cryptocurrencies, blockchain technology has many benefits for the iGaming sector. First and foremost, using blockchain for websites can significantly increase their security, which is always appreciated by users that leave their financial and personal data on them. Furthermore, this technology records every transaction in a ledger and makes payments much easier as it doesn't include any spending limits.
Digital Security
It's becoming clear that security is among the priorities when it comes to iGaming. On the one hand, players expect online operators to protect their data and not allow other parties to use it for other purposes. On the other, there are providers that are looking for the best practices to rely on. Everyone can agree that privacy is something that needs to be taken seriously, which is why SSL encryption certificates are being used more and more. They are not difficult to obtain nor expensive, so there is really no reason why a casino would not use one.
The Internet of Things
The Internet of things (IoT) has become a common term by now. It's what keeps various devices connected and allows them to communicate with each other. While it has the potential to transform many industries in the future, it has already found a place in the iGaming sector. It is currently used to provide each player with a unique and personalized visitor experience. Additionally, it can leverage big data as well as connect slot machines to gaming servers.
5G Technology
It has been a few years since 5G technology was introduced in certain parts of the world. Although it has not yet reached all countries, iGaming companies are relying on it more and more. Faster internet means faster loading websites and allows players to play games on the cloud, which is something casinos are making the most of. It offers a quick turnaround with minimal downtime, making it very beneficial for online operators.
Social Responsibility
Just like security is important, so is gaining the trust of players. That is why the online gambling industry is committed to users' well-being and safety. AI can help detect underage players and curb irresponsible habits, for instance.
The iGaming industry is here to stay, so keeping in touch with the current trends is always a good idea, no matter if you're a player or a provider. Let's see whether these 2022 trends will continue in the future.