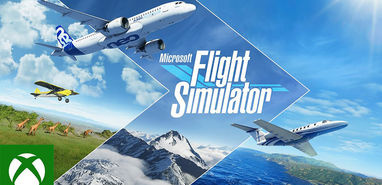 Guide Outline
A Flashback to when Microsoft flight Simulator was firstly launched
Microsoft flight Simulator 2020 Release Date
How to Download Microsoft Flight Simulator 2020
Microsoft Flight Simulator 2020: Our Take
A Flashback to when Microsoft Flight Simulator was First Launched
Microsoft Flight Simulator makes our list of the oldest PC games that are still functional till today. One would expect a 37 years old game series to have gone into extinction, but here we are, reviewing the Sublogic invention like it was developed yesterday.
The development of the flight simulator began in 1977. As of that time, it has not caught the attention of Microsoft. It was not until 1981 that Alan M. Boyd, a pioneer of the PC industry who was also affiliated to Microsoft, approached the original Microsoft flight simulator creator, Artwick. It was officially launched after a year in November 1982.
At first, it was accessible to MS-DOS and Mac OS users. Currently, the two systems that support the series of amateur flight simulator programs are Windows and Xbox One. Later in this guide, we'll reveal the requirements for using Microsoft flight Simulator on PC and Xbox.
Microsoft Flight Simulator 1.0 started out as a program that was not reliant on the PC's operating system. It was designed with its own operating system which discarded the installed OS as long as the software is on.
The game series matured commercially as newer versions were rolled out. Microsoft Flight Simulator 3.1 marked the beginning of a 3D MFS program fortified with a graphic hardware accelerator. It has only gotten better from there. Despite the poor performance of the 2012 Microsoft Flight, which was supposed to replace the Microsoft Flight Simulator series, Microsoft surprised their fans by continuing the game series 8 years after. Though Microsoft Flight is not part of the original game series, it was simple and relieved of flight simulator add-ons such as aircraft, photographic scenery, and objects.
Note:
Thirteen versions of flight simulators have been released prior to 2020.
Microsoft Flight Simulator 2020 Release Date
Microsoft Flight Simulator 2020 was released on 18 August 2020. This new version is the "next-generation of Microsoft Flight Simulator" according to Jorg Neumann, head of Microsoft Flight Simulator. The PC version and Xbox beta on PC were released together on the same day.
Microsoft Flight Simulator 2020 provides real-time weather, animals and live traffic throughout the game series.
Note:
Users can either choose the new day or night engine, meaning players are provided with a 24-hour playtime.
Microsoft Flight Simulator 2020 Price
You can choose any of the three versions: Standard edition, deluxe edition, and premium edition. Of course, the price tag is different for each edition.
Pricing
The standard edition costs $59.99 (45.81 GBP). It is designed with 20 planes and 30 airports. Airports like the O'Hare Airport (Chicago) and Schiphol (Amsterdam) are missing in the standard edition but available in the deluxe edition.
The Deluxe edition costs $89.99 (68.72 GBP) and has 25 planes and 35 airports. The Deluxe edition is lacking airports such as Heathrow Airport (London) and San Francisco.
The premium edition costs $119.99 (91.64 GBP). It has 10 extra planes and 10 additional airports.

GET THE GAME ON MICROSOFT WEBSITE
How to Download Microsoft Flight Simulator 2020
You can either download Microsoft Flight Simulator on Microsoft or Steam website. After purchasing the Microsoft Flight Simulator 2020 on Windows store, login to the Windows account you used to order it. Then, go to "Microsoft store>>my library" on your Windows system. The search results will show Microsoft Flight Simulator. Select to install the flight simulator.
The interface, full audio and subtitles are available in 8 languages including English, French, Italian, German, Italian, Spanish, Russian, and Polish. However, the full audio for Spanish, Polish and Russian are not available in this Microsoft Flight Simulator edition.
Note:
"Xbox game pass for PC" subscribers can download the Beta version for Xbox on Xbox website. Search for Microsoft Flight Simulator 2020. Download and install the game.
Microsoft Flight Simulator 2020 Requirements
According to System requirements Lab, the minimum requirements for any device for Microsoft Flight Simulator 2020 program are; 8 GB RAM, 64-bit Windows OS, 150 GB free disk space, 2048 MB dedicated video RAM, 5.0 pixel shader, and 5.0 vertex shader. The CPU ought to be AMD Ryzen 3 1200 or Intel i5-4460. Also, the video card can be GeForce GTX 770 or Radeon RX 570. Note that if you have a CPU or video card better than the ones listed above, you're good to go. Microsoft Flight Simulator 2020 size is 150 GB, but if you have other heavy software on your system, you may need more space.
Microsoft Flight Simulator 2020: Our Take
Microsoft Flight Simulator 2020 is the best version so far. The level of realism projected in the 3D graphics is outstanding. Apart from the slight glitches discovered by PC players, for instance, the huge mountainous obelisk which was reportedly placed in Melbourne, Australia does not exist in reality. The error could be as a result of the previous glitch in Microsoft Bing Map technology since Microsoft Flight Simulator gets its map data directly from Microsoft Bing Map technology.
Another interesting part of the game is that you can fly over places you know. With the help of Google Map or Microsoft Bing Map, you can fly over your house or any location in the sim program.
Note:
One missing feature is the ability to adapt Virtual reality headsets to Microsoft Flight Simulator. Microsoft plans to include support for VR headsets like Oculus and HTC.