Buying a mid-range gaming PC and building your own are both viable solutions. Discover the pros and cons of each option to maximise your gaming enjoyment.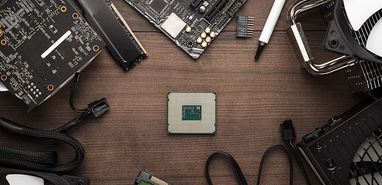 Are you wondering whether it would be better to build your own gaming PC or to buy a ready-made gaming computer instead?
There's no cut-and-dry answer to this question, but there are pros and cons to each choice.
Your first step
Setting a budget and working according to how much money you're willing to spend on your gaming solution.
Ultimately, this choice comes down to your own preferences, your budget, and how soon you need your gaming PC up and running. Building your own mid-range gaming computer can be more cost effective and provide a great learning experience. It also allows for customisation in the future.
Likewise, buying a pre-built machine is quicker, easier for beginners, and can be more reliable too—depending on how much experience you have building computers.
So, how do you decide, and when is each option a better choice?
Gone are the days when building a PC was a difficult and drawn-out process and pre-built PCs were often unreasonably expensive. Today, pre-built computers are much more affordable, and it's also easier to find and install the right components when building your own gaming computer.
Here's what you need to know to help you make your choice.
The Pros and Cons of Building a Mid-Range Gaming PC
The Pros
There are many advantages to building your own gaming computer. One of the biggest is that it gives you the ability to choose every component you add to your system. This gives you the power to custom-build a PC that fits your specific requirements in terms of performance, budget, and future upgrades.
You'll also personalise your PC to your tastes, instead of following the latest trends and fads in the industry. This will ensure that you truly enjoy every one of your gaming sessions.
Depending on how skilled you are at sourcing components, building your own PC could help you save money. You can extend your savings by purchasing second-hand, used, open box or refurbished parts instead of investing in brand new technology.
You can also mix and match components from different brands if necessary. Some companies may have comparable components at lower prices that will work just as well as their more expensive counterparts.
Note:
Building your own gaming computer will give you a sense of satisfaction and achievement when using your final product. Plus, it gives you a chance to learn more about the technology you use on a daily basis.
Sharpening your PC-building skills could even lead to a career path later down the line or help you diversify your current career if you enjoy the experience. There are always people looking for tech-savvy entrepreneurs who can build them a quality, functional PC at a reasonable price, so you're sure to find a steady stream of demand.
Once you've sourced the parts initially, you will know exactly where to do so in the future, which makes building additional computers easier.
The Cons
While building a computer is rewarding, it's also time-consuming and perhaps even a little stressful, especially if you're a beginner. If something goes wrong, you'll have to research how to fix it. And if your components are not compatible or one is faulty, you'll have to test each part individually to determine where the issue lies. You will need specialised computer building tools. These tools can be difficult to find and costly to buy, especially if you'll only be using them once.
Assembly errors can happen when buying the parts for your self-built machine. You risk spending non-refundable money on components that aren't compatible. If you want to avoid this, gather plenty of important information before you make any purchases.
You might be unlucky enough to fall victim to scams and unscrupulous parts sellers if you decide to buy secondhand components online. These parts might not have warranty cover either. Getting warranties on individual parts can also prove to be a headache as you have to work directly with manufacturers to do so.
Depending on the prices and availability of hardware like graphics cards, building your own PC could work out much more expensive than opting for a pre-built machine.
The Pros and Cons of Buying a Pre-Built Computer
The Pros
The alternative to building your own gaming computer is buying a pre-built option that adequately suits your entertainment needs.
When you invest in a pre-built computer, you'll be paying for far more than just the machine itself. Your money goes towards customer support, warranties, and the guarantee that your system has been built and tested by certified professionals in the field.
Modern PC component manufacturers may offer special features like warranty-safe overclocking and pre-installed software that you can't always buy separately.
You may find a pre-built option more attractive because of the case design and unique in-house components popular brands like Corsair and Alienware use. Many pre-built cases are modded and boast sought-after features such as RGB lighting and additional fans, and are not available for DIY builds.
Last but certainly not least, you won't need to concern yourself with cable management when buying a pre-built PC. All the cables will be neatly crimped at the right lengths and secured in place.
Note:
Many companies sell competitively priced computers that actually work out cheaper than building it yourself. If you're on a budget, it's worth doing some in-depth investigation before you make your choice.
Going the pre-built route is exceptionally convenient. All you need to do is order your PC, and your manufacturer will have to source all the parts and assemble them on your behalf. You receive a fully functioning, expertly built gaming PC that you can simply plug in and use. The only thing you'll need to do to get it fully functional is to download specific software and then get your favourite games running properly.
The Cons
Now for the cons.
Pre-built PCs don't allow for the same level of customisation as build-it-yourself options, which might pose a problem if you want a completely unique gaming machine.
Some pre-built models are also quite expensive, considering their specs, so buyers who don't research their options beforehand can end up getting a lower performance PC than they bargained for.
Buying a mid-range gaming PC is usually a better option when you don't have the skills necessary to build your own. Or if you want extensive warranties and software access that self-built options don't offer. If you find a great deal or a special, it might also be more affordable to go this route, depending on the current prices of individual parts.
Which is the Best Option?
Important:
At the end of the day, there is no 'right' choice when it comes to buying a gaming PC or building it yourself. You need to assess your requirements, expectations and skills to decide which option will be best.
Pre-built PCs are a safer option because they're covered by manufacturer and supplier warranties that protect your investment if something goes wrong. DIY builds are better suited to adventurous and tech-savvy gamers who want full control over the final result.
If you aren't comfortable building your own computer and you'd like something more personalised than a pre-built computer, you can hire a specialist to create the perfect pre-built solution for your needs.
Happy gaming!