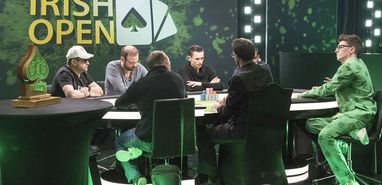 Are you a poker enthusiast? If yes, then the Irish Poker Open 2022 is calling your name! This amazing poker tournament has been the highlight of the past 4 decades, seeing thousands of poker players battling it out for the prize pool. And it has not been a disappointment. No wonder various casino websites have been quick to sign up as satellites for the event. And that gives you a chance to be part of the event for a much lower entry cost. Let's review what the event has in store for you this year!
What is the Irish Poker Open 2022?
The Irish Poker Open has been around since 1980, when Colette Doherty bagged the win. Since then, it has attracted throngs of poker fans who have played for the prize pool. For example, in 1999, there were 76 poker players at the event where Liam Barker scored a win. At the event, the prize pool was £46,500, and Liam walked away with £19,065. By 2010, the number of players had grown to 708, and the prize pool was a mouthwatering £2,265,200. James Mitchell was the lucky winner with £600,000 to his name. And by 2020, the number of players had increased to 2,945 with a prize pool of £2,945,000. This time around, Pablo Silva was the lucky winner with the first prize of £462,100.
Other previous winners include:
Ryan Mandara: £250,000,
Griffin Benger: £200,000,
Dan Wilson: £150,000,
Ioannis Triantafyllakis: £200,000, and
Patrick Clarke: £200,000.
Will 2022 be as hyped as the previous years? Of course! In the last two years (2020 and 2021), the COVID pandemic regulations necessitated an online tournament. And even then, players were eager to participate in the games, with at least 2,000 entrants in each case. Now that these regulations have eased up, there's hope that the 2022 event will be a much bigger tournament. Already, there is a prize pool guarantee of £2,000,000! And if you want to walk away with the first prize, we will let you in on how you can do so!

How Can You Play at the Irish Poker Open 2022?
The prize pool at this event is no joke! And players who have been lucky enough to bag it or get close to bagging it can attest to the same. Luckily, there is not much you need to do to be part of the event. Besides being an avid poker fan ready to play against other pros, you should pay the entry fee. The cost is £1,150 per person. And to pay, you can use cash, debit or credit cards, or Luxon. You also can score an entry ticket by using any of the satellites advertised by the tournament. These are subject to an array of rules.
Moreover, you must note that you must use any ticket you win at a satellite during the tournament. That means that if you win several seats, you can use each one to get to the highest stack possible on your day 1. From day 2, only your highest stack will be viable for use in the subsequent games.
Can you transfer your satellite tickets? The rules state that you must play all the tickets you win, which should be on day 1. But if you want to transfer the tickets, you should talk to the operator and figure out how to go about it. But note that you cannot get a refund on the said tickets, even if you cannot attend the event. If that happens, the seat you won will be considered forfeited.
Do these rules also apply to players who pay the entry fee (£1,150)? Yes! Once you get your registration, you will be eligible to participate in all the 4*1 live day 1s as you want. You can even re-enter the live day 1s if you get eliminated, allowing you to keep playing. Just like with a satellite ticket, your highest stack will move to day 2, and you will need to forfeit the other stacks.
Where Will the Event Be Held?
The event will take place from the 11th to the 18th of April. It will be at the Citywest Hotel Dublin, 25 minutes away from the Dublin International Airport, which sprawls 240 acres boasting a range of health and leisure facilities coupled with an 18-hole championship golf course. Luckily, all the tournament attendees can book the hotel at a poker rate if they use the promo code IOP2022. Moreover, those with satellite packages will have access to a double room, affording them the chance to have a plus one.
The Irish Poker Open pays out 15% of the field and awards a trophy to the ultimate winner. It's quite an eventful tournament. And if you have the chance to be part of it, you will want to keep attending future tournaments to get even better at poker. Have fun!