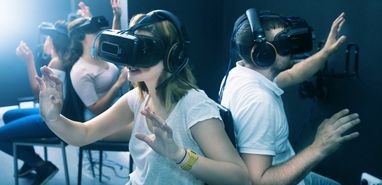 It's been said by many philosophers and maybe modern technology is proving them right. The saying of 'our bodies are merely vessels for the mind' seems to be accurate the more advanced we become as a civilisation. We know that diets have changed that help our bodies to be heavier, taller, leaner yet faster and more agile. Advanced training programs for athletes have also helped to achieve this. But maybe we're holding onto a stick not knowing what's on the other end.
In other occupations, the mind is more important than the body for ultimate performance. Being able to think incredibly quickly, process several calculations at the same time and even being able to react on pure mental feel alone is crucial. This is where the modern-day versions of simulators come in. New VR technology has transformed the way human beings train in various occupations but most notably, in high-speed sports and military vehicles.
Fighter jet pilots
The modern fighter jet literally costs over a hundred million dollars per unit. That's a lot of money for one single aircraft to be part of a modern air force or navy. Governments and military institutions are no longer opting to perform early training using human beings as instructors anymore. Take for example the 4+ generation aircraft that is the F-35 II lightning. The pilots set to fly the A, B and C versions will all go through a dedicated simulator that puts them right in the cockpit (albeit virtual) of their soon-to-be fighter jet.
They even wear the exact same helmet that is interlinked with the simulator so it feels natural. Pilots can now get as many hours as they want in simulators rather than having to potentially risk an extremely expensive jet to a rookie mistake. The cockpit features all the buttons and computers the real jet will have, immersing the pilot as much as possible so they can treat virtual missions with the utmost seriousness.
High-G racing
Formula One is pretty much the most expensive sport in the world. The modern iterations of F1 cars can pull 6Gs in turns and accelerate to top speed far quicker than ever before. These machines cost millions of dollars and drivers don't have any kind of help in the car with them in terms of human input. Therefore they need to know how a particular set up will feel and do any kind of adjustment early on so before they step into the car, they will have some kind of reference.
A modern F1 Simulator does all they need by putting them in a real life-sized cockpit, along with their carbon fibre-moulded chair and their own steering wheel, and allowing them to race around a virtual track, using VR technology. The configurations can be for open wheel, space frame and even a GT cockpit. The base rotates and angles itself with each turn so the driver, gets to feel g-cueing, helping them to prepare better for high-G turns.
The more practice the human brain can get in performing high-speed tasks, the far better it is for the person's safety and performance. The new VR technology and simulators are providing the most real as possible experience so that the new fighter pilots and F1 racers of our time can keep improving without taking unnecessary risks.