To help broadband shoppers, here is an easy-to-understand, zero technobabble guide to the kinds of broadband available in the UK today.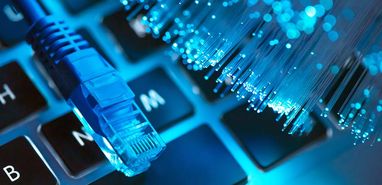 If the past year has proven anything, it's how utterly dependent we all are on our home broadband connections. And in many parts of the UK, plenty of people found out the hard way that the broadband service they had was nowhere near up to the standards they required. It should come as no surprise, then, that the government is now making moves to see that 85% of UK premises will have access to gigabit-capable broadband by 2025.
But before that happens, end-users should be taking the time to educate themselves about the different types of broadband services they already have access to. Because not all ISPs deliver internet service in the same ways, a service that makes sense today might be outmoded tomorrow. Understanding that will help them to understand any trade-offs they'll be making when they try to find the cheapest broadband deals in their area.
This guide will cover:
How to figure out how well your current broadband performs
How each type of broadband option works
How future-proof each option is
Which option makes sense for whom
By the end of this guide, you'll know everything you need to know to find the broadband that's right for you today and how it will (or won't) continue to serve your needs in the future. Let's get started.
Figuring Out Where You Stand Now
Before exploring any other broadband options available to you, you should first find out how well your existing broadband works. The first step to doing this is to check your bill and see how much speed you're supposed to be getting with your service. This will be listed in megabits per second (Mbps) for both download and upload. In general, your download speed is likely far higher than your upload speed for reasons we'll explain.
Once you know your rated line speed, the next thing to do is to see how close to those speeds you're getting with some real-world tests. Below is a list of speed testing websites – along with what real-world activity they're most useful for:
In most cases, the results you get from all of the tests above should be similar. But, if you tend to watch lots of streaming content, Fast.com will be most relevant to you. Likewise, if you use your connection for general web browsing, SpeedOf.me will yield the most useful result.
To make sure you're getting the most accurate measurement, you should run the tests using a PC or other device that relies on a wired connection to your ISP modem. This will eliminate your wireless network's impact on the test results (which is a different problem altogether). You should also run all of the available tests to get an average result to compare against your rated line speed.
Important:
It's a good idea to run the tests at different hours of the day over the course of a week. Some ISPs exhibit slowdowns during peak usage hours, which you might miss if you only test during off-peak times.
Understanding Available Broadband Types
After measuring your current internet provider's performance, you should now know a few things. First is whether you're getting your money's worth from your provider. If they're charging you for performance they either never or rarely deliver, you should consider switching providers. Likewise, if they are providing something close to the speed you're paying for – but that speed is inadequate for you – you should think about shopping around.
If you're going to comparison shop, though, you'll need to understand the different types of home broadband delivery methods. That way you'll be able to choose a provider that's suited for your usage needs now and into the future. Today, there are about five main broadband types (excluding wireless) that UK homes might have access to. They are:
ADSL and ADSL2+
This is the most widespread type of broadband connectivity in homes in the UK. That's because it's also based on the oldest technology – copper phone lines. For that reason, a standard ADSL connection can only provide maximum download speeds of 8 Mbps. And although ADSL2+ uses some newer technology to squeeze more data through those same lines, it tops out at around 24 Mbps. Both suffer from glacially slow upload speeds of around 1.5 Mbps.
The trouble is, ADSL technology also suffers from numerous performance issues. For example, your home's distance to the nearest ISP-operated exchange (a major network connection point) can affect the speed available to you. In general, the further you are, the slower your performance will be. For users that just need to do things like simple searches and check their email, ADSL and ADSL2+ should suffice. But because it relies on very old copper wiring in most places, it's a technology that will be replaced by most ISPs very soon.
Fibre to the Cabinet (FTTC)
As ADSL technology aged, many providers started to look for solutions to replace it. Many have settled on what's called fibre to the cabinet – or FTTC. An FTTC broadband line works like a conventional ADSL line, except that it uses much newer fibre optic cables to provide connectivity to cabinets located near clusters of homes. In this way, it overcomes the distance problem that ADSL suffers from, pushing download speeds up to 80 Mbps and uploads up to 18 Mbps to your home over the same copper phone lines. And, it's available to around 96% of UK homes.
Beware, however, of how FTTC internet services are advertised. Many will tout their use of fibre optic connections and gloss over the last-mile use of ageing copper phone lines. Because of that omission, many people mistake FTTC for a full-fibre broadband solution, which it's not. Still, if you're in an area with decent local copper wiring, FTTC is an excellent option that delivers speeds fast enough to handle most internet use cases. Again, though, the copper wiring is not going to last forever, so FTTC users will likely see upgrades pushed on them very soon.
G.Fast
Another modern twist on ADSL, G.Fast is an FTTC broadband solution that adds an additional bit of hardware in the ISP's cabinet to push even more data across existing copper (or coaxial) connections to homes. It's capable of download speeds of around 300 Mbps and uploads of up to 50 Mbps, which is a big upgrade over previous broadband technologies.
The downside is that your home must be within 500 metres of the ISP's cabinet to use it. On top of that, it's only an option for around 10% of UK homes at the time of this writing. That means it's a great option for those who have it, but it's really just an effort to squeeze every last drop of performance out of existing infrastructure. For that reason, don't get your hopes up if it's not yet available in your area.
Cable Internet
Although it's only available to about 45% of UK homes, cable internet is a great option for almost every current internet use case. It uses coaxial cabling, which features much better insulation than copper wires, to deliver download speeds up to about 500 Mbps. But the technology itself is capable of much more. In many countries, it's not unusual to see cable internet delivering up to 1 Gbps download speeds. It's only a matter of time before the same is true in the UK.
The other upside is that cable internet tends to feature upload speeds of around 35 Mbps. Although slower than G.Fast, this is more than enough to support things like video chat and other upload-intensive activity. If you're working from home, this will make a major difference for you. Unless something better happens to be available in your area, cable internet offers great performance – if you can find it for a reasonable price.
Fibre to the Premises (FTTP)
The gold standard of home broadband, fibre to the premises (FTTP) means exactly that – a fibre optic cable running right to your home. It's by far the fastest type of broadband available today, featuring download speeds up to 2 Gbps and upload speeds typically around 100 Mbps. In other words, it's already fast enough to handle anything you can throw at it today and is ready for anything you're likely to need in the next decade or so.
On top of that, the technology used to make FTTP work is nowhere near maxed out. Fibre optic cables can theoretically carry data at up to 1 terabit per second – that's 500 times today's speeds. So, if FTTP is an option where you live, and you're willing to pay for it, it's the most future-proof option there is.
The Bottom Line
It's worth noting that there's no such thing as the right broadband for everyone. If you never stream video and don't work from home, you can likely make do with an ADSL connection for as long as it's offered as an option. But the truth is, as more and more of our lives get digitized, there aren't very many people that fit into that category anymore.
But now that you know what your options are – and more importantly understand their limitations – you can shop for broadband with an eye on today's needs as well as tomorrow's. Whatever you do, though, make sure to always check that you're getting what you pay for. If you don't, understanding the technology is meaningless. At the end of the day, performance and reliability are all that matters when you just need your internet to work.