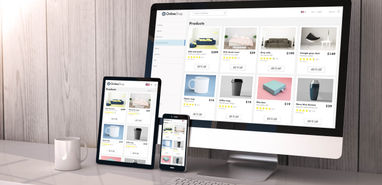 As a small business, if you were to enter international markets, this would drastically increase your growth potential. And since you are running an eCommerce business, it's only logical to want to sell globally. But before you're able to do so, you will have to face unique challenges that must be addressed with research and preparation.
To give your business the best chance for global success, here are some tips on how you can best prepare your eCommerce site for an international audience.
Invest in Localization
eCommerce businesses must provide an impeccable customer experience. Subpar translation, prices in the wrong currency, and other similar issues can be strong reasons for visitors to leave your eCommerce website right away. This is why a solid website localization strategy is key for eCommerce businesses that want to expand globally. When done right, website localization will help ensure that an international audience fully enjoys the customer experience.
Consider Language Barriers
We often say that quality products will sell themselves. In an ideal world, this might be the truth, but the reality is that with so many competitors, especially in the digital world, people need some convincing.
And once a person has found their way to your eCommerce site and decided to make a purchase, they have many expectations, the most important of which is thorough and accurate information about the product. And it's a mistake to rely on Google Translate to make your website and marketing messages available to your non-English-speaking audience. Instead, you should invest in professional translation.
Understand the New Target Market
You probably know your local market well, but when it comes to foreign markets, you'll have to take into account things you haven't considered. For example, the colors you may be using for your online store may have some kind of meaning in another culture, which may make your target audience avoid your website. Just because something works in one country doesn't mean that it will work in the other, therefore research is critical.
Furthermore, you should learn how much demand there may be for your products in the new market. Research the local competition and the prices, to make sure that your efforts are worth it, and that you can make a profit.
Through the complex process called website localization, you will essentially adapt your website not only to the language of the audience in the new market but also to their culture. A truly localized website will take into account everything about the new market, including cultural differences, legal requirements, preferred payment methods, audience expectations, and so on.
Localize Your Products
Depending on what you are selling, once you understand the market where you want to expand, you may find that your products won't sell as they are. This is why you may need to consider also localizing your products, or in other words, adapting them to the expectations of the consumers in your new target market.
Choose the Right eCommerce Platform
Before starting to prepare for international expansion, you must make sure that the online eCommerce platform you are using can handle it. The platform should also offer language and location settings that will allow you to customize the user experience based on where the customer is visiting your website from.
In addition, keep in mind that many people who shop online, use their mobile devices to do so. This is why you must make sure that your online store will work perfectly on smartphones or tablets. You can consider also selling your products on popular online marketplaces, such as Amazon to reach more international audiences.
Prepare a Detailed Shipping Strategy
You may have the best website and sales process in the world, but if your logistics are poor then your eCommerce business may end up unsuccessful. To start selling to an international audience, you must make sure that your shipping strategy is also prepared for this challenge. Make sure to find a reliable shipping carrier that caters to your target markets. Take into account everything including reliability, accountability, cost, and delivery time.
Find Proper Insurance
Selling online comes with unique risks, and every business needs insurance to protect its assets. Working with a broker can help since they will be knowledgeable about the complexities of the industry. There are specific eCommerce policies that take into account any particular risks, or problems that might come up in your industry so you can be better protected.
Conclusion
In our increasingly connected world, more and more businesses decide to sell their products online. And once you are there, going global seems to be at your fingertips. And it's true, with proper preparation, selling internationally has never been easier.