MacPaw aims to change the MacBook cleaning experience once and for all with an updated CleanMyMac X.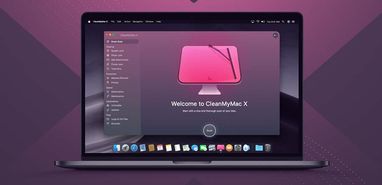 Unlike Windows laptops, Apple MacBook is known for its slim design, simple-to-use features, and, most notably, speed. No matter how many applications you work on simultaneously, it will never keep you waiting. However, with time as it gets old, you must clean it up just like every other laptop available in the market.
Laptop and computer housekeeping is important to maintain the health of your device and that doesn't just mean wiping the screen and keeping the keyboard clean. It means looking after the internal health too and that goes beyond deleting files you no longer require and regularly clearing cookies and cache etc.
Something many users are unaware of is the "leftovers" and remnants of files that you have deleted in the past. These leftover bits are hidden but they affect the performance of your MacBook.
What everyone needs is  a tool that can scan a MacBook in all possible ways and fix its speed and performance quickly without you having to do much.
There are many costly clean-up tools available but very few are able to perform the task efficiently. Most users waste a lot of time and money switching from one tool to another for different operations and unless you have deep pockets, the chances of reviving your old MacBook's health are not great.
The solution is CleanMyMac X.
Those who have used CleanMyMac X in the past have mixed reviews about the tool as it didn't have features that could fix their MacBooks completely. The latest version however, has seen significant development to offer a solution that takes care of everything users can think of.
With the newest version of CleanMyMac X, you can boost your MacBook's speed within minutes plus there are half a dozen other tasks, such as malware removal, system optimization, maintenance, application uninstaller, deep cleanup, etc. that you can run to improve your MacBook's overall health.
All this can be done without any technical knowledge — a relief for non-techies who wish to keep their MacBooks in excellent condition for years.
After much deliberation, I decided to install CleanMyMac X in my MacBook to see if it was worth the hype. Below, you can find my review of CleanMyMac X and better understand what this tool is capable of.
CleanMyMac is an excellent tool for creating additional space in MacBooks that you never knew existed. Packed with a broad range of features like cleanup, protection, speed, application uninstaller, application updater, space lens, and more, this tool works as the one-stop solution for your MacBook.
All of these tasks can be performed with a single click. You don't need any technical knowledge at any stage to use CleanMyMac X or customize its features. Everything is perfectly customized already. You simply select the function you want to perform, and this tool will take care of the rest. Here are some of its features at a glance.

VISIT THE OFFICIAL PRODUCT PAGE
Smart Scan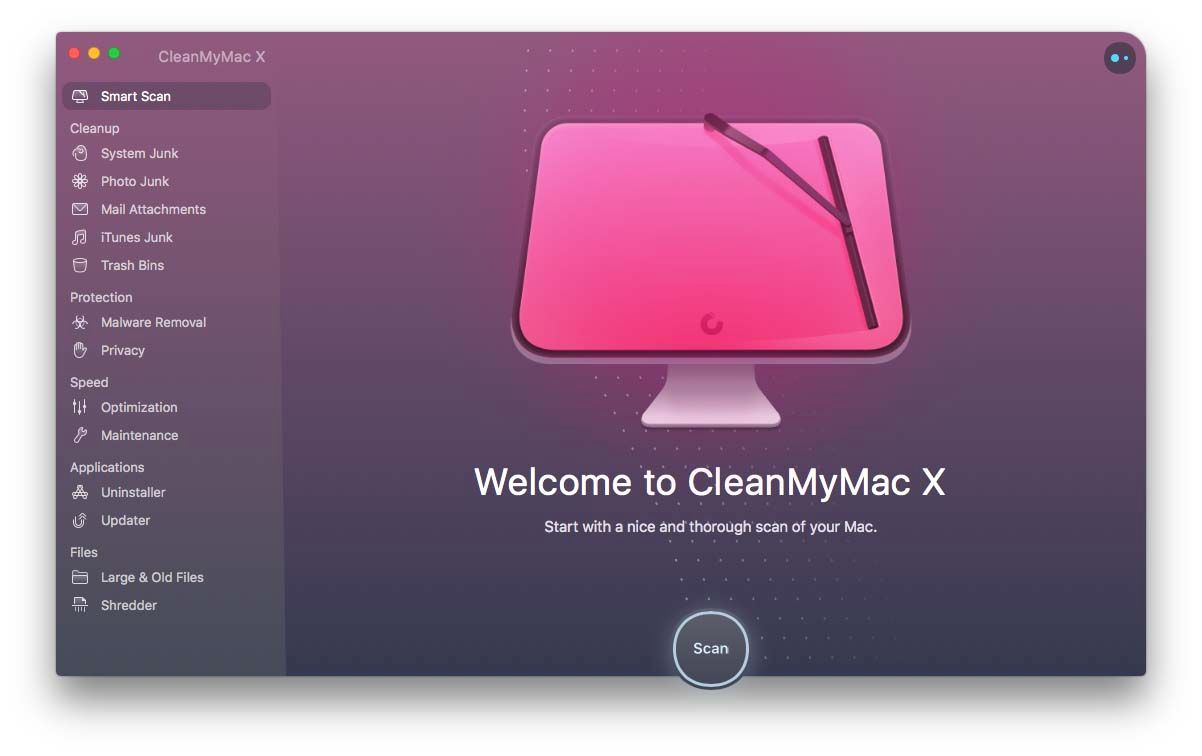 The first feature that CleanMyMac X offers is the Smart Scan. Click start and the tool immediately starts scanning your system. Within seconds, it shows you the number of junk files that can be cleared, along with potential system threats and system performance stats.
In my case, I was able to clear 1.53 GB from my system memory and found three programs that were putting additional load on the system's performance.
If you are short of time and want a quick-fix, then Smart Scan is the best way to improve your MacBook's performance quickly.
Cleanup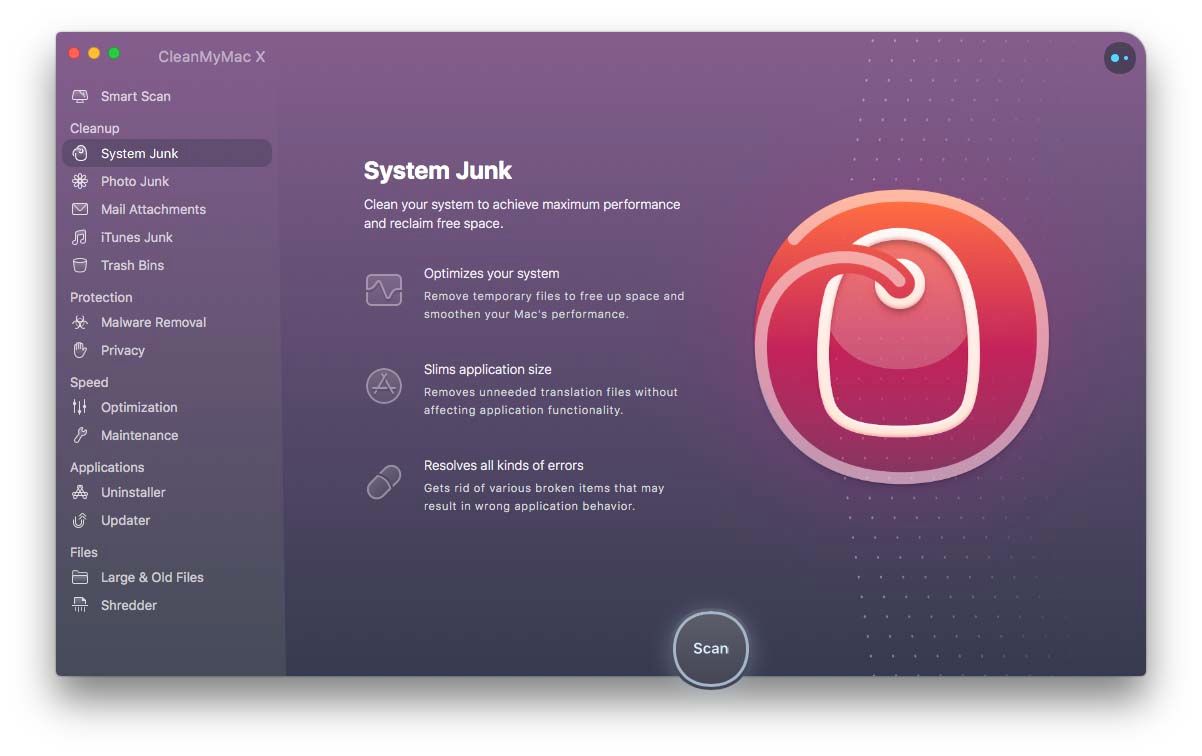 The cleanup option cleans multiple junk files at once. It covers system junk, photo junk, mail attachments, iTunes junk, and trash bins. The images below show how it looks when you select each of these options.
System Junk removes temporary files and gets rid of broken applications that affect the overall performance of your MacBook. For this, you need to grant CleanMyMac X full disk access so that it can analyze all files and fix them permanently. The tool gives you step-by-step instructions to grant the access.
The photo junk option reduces the photo library's size by eliminating random files attached to photos you take from your iPhone or save directly from the web.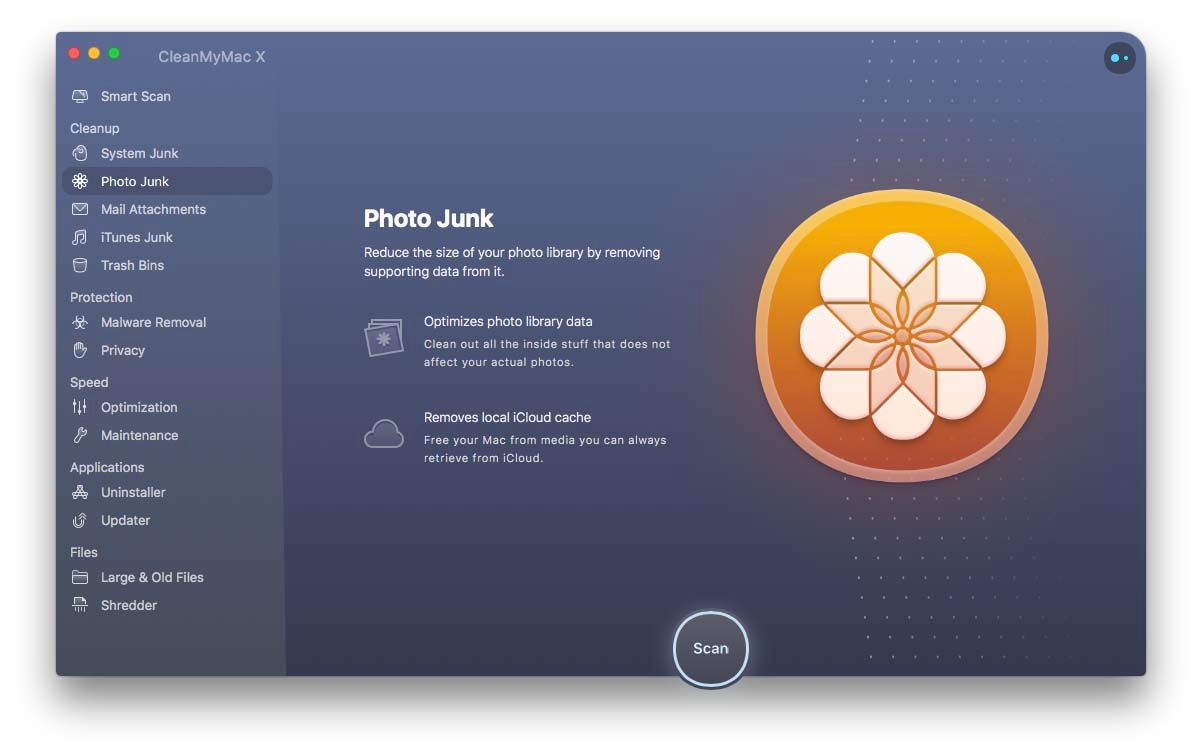 It optimizes your local storage and iCloud storage to ensure your MacBook doesn't run out of space.
MacBook enables you to integrate all your email accounts into one mailbox for a clutter-free experience. Over time, when you send and receive dozens of emails every day, your system gets filled with unnecessary mail attachments. With CleanMyMac's Mail Attachment feature, you can remove local copies of email downloads and attachments and optimize local mail data easily.
The same goes for iTunes Junk, and Trash Bins.
Since I delete my trash bin regularly, nothing was found here. But if you have been lazy and not cleared your MacBook's trash bin, this feature can save you a lot of space.
Protection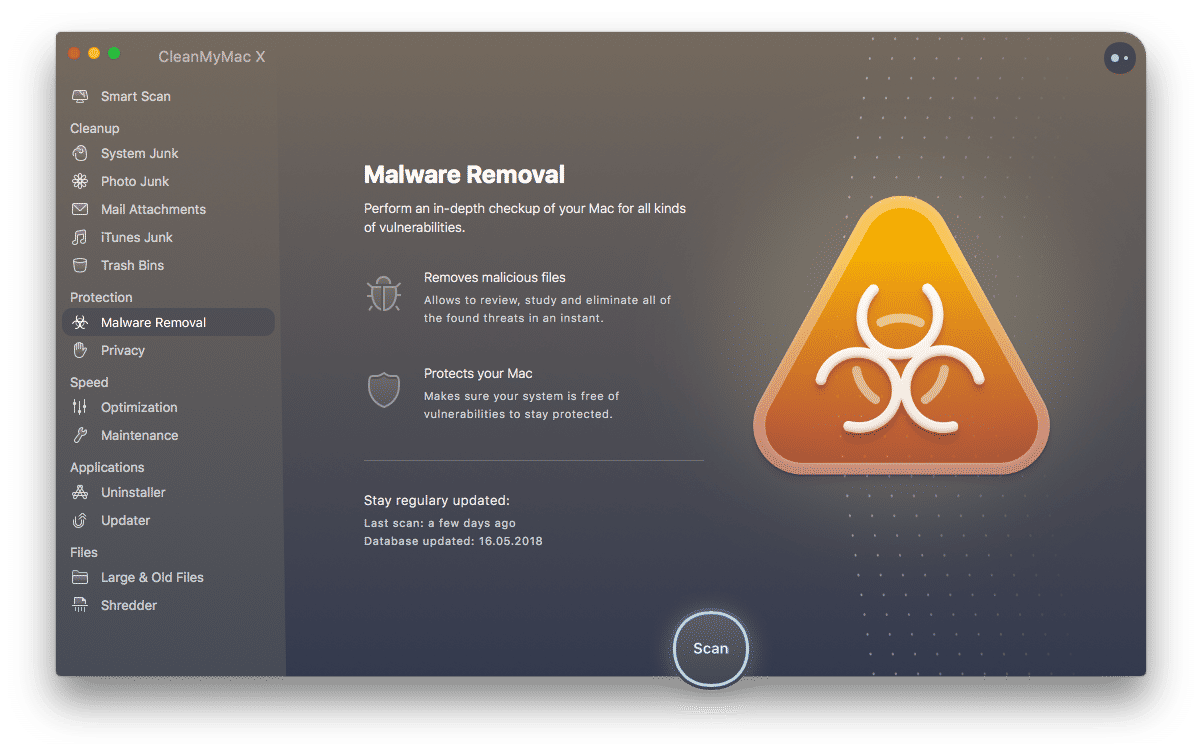 The features mentioned above clean up the MacBook and boost its speed. You can do a lot more with CleanMyMac X, such as protecting your laptop from potential malware threats.
All you need to do is press the Scan button, and it will immediately start looking for malware-infected files in the system.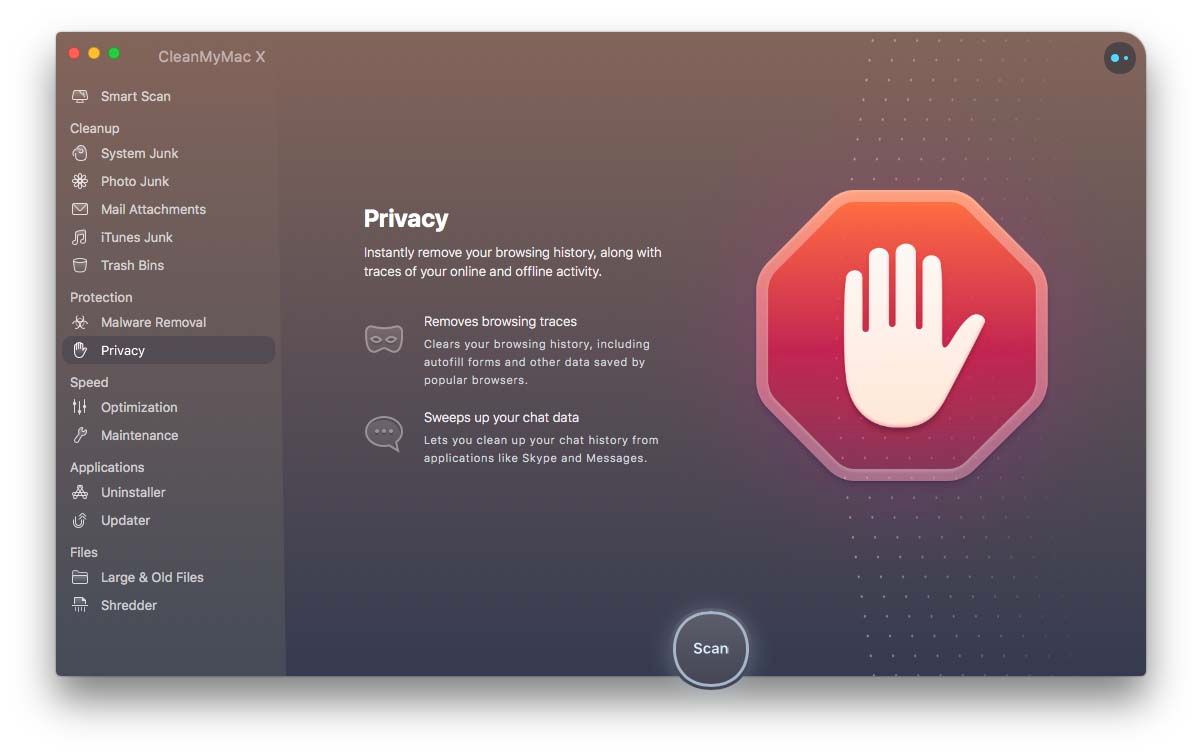 Privacy is another excellent feature of CleanMyMac X. If you are worried about someone else accessing your browsing history or chat data, use it and remove all trace data in seconds.
Speed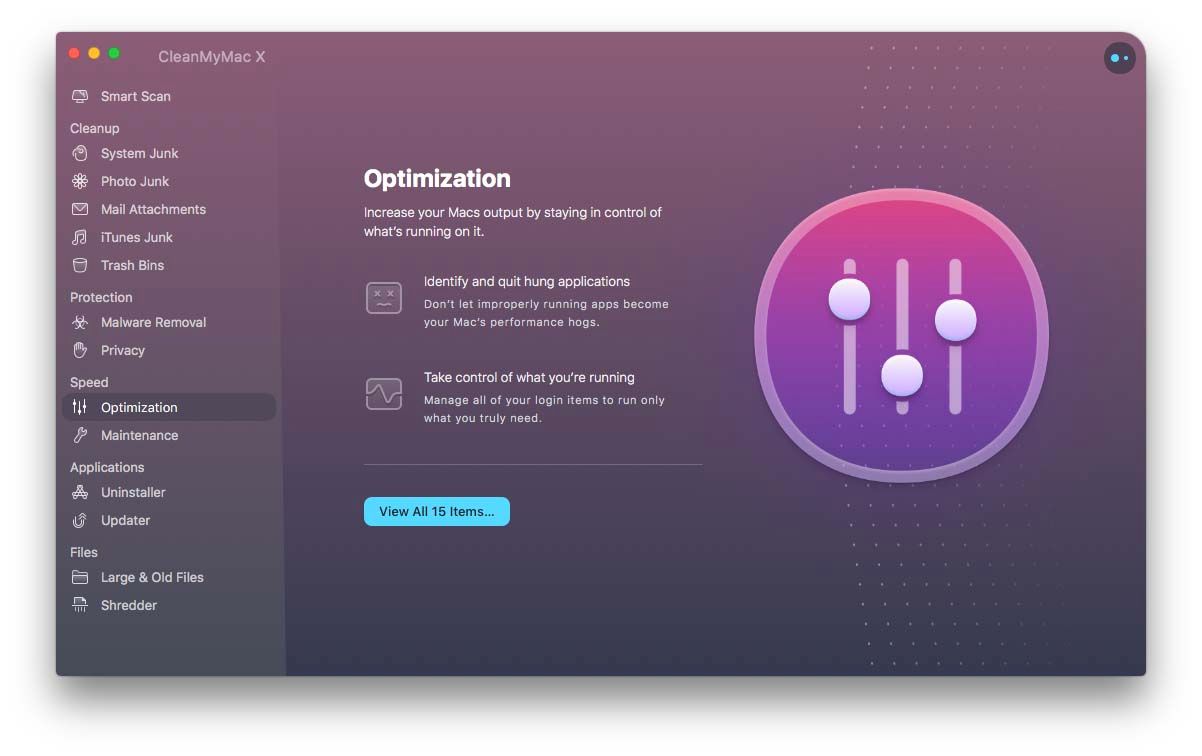 If you have noticed that your MacBook has started slowing down and requires more than just a Smart Scan, use CleanMyMac X's speed feature. It involves optimizing the entire system and running maintenance scripts to fix every possible application affecting its speed including any you aren't / won't be aware of. .
Application Uninstaller & Updater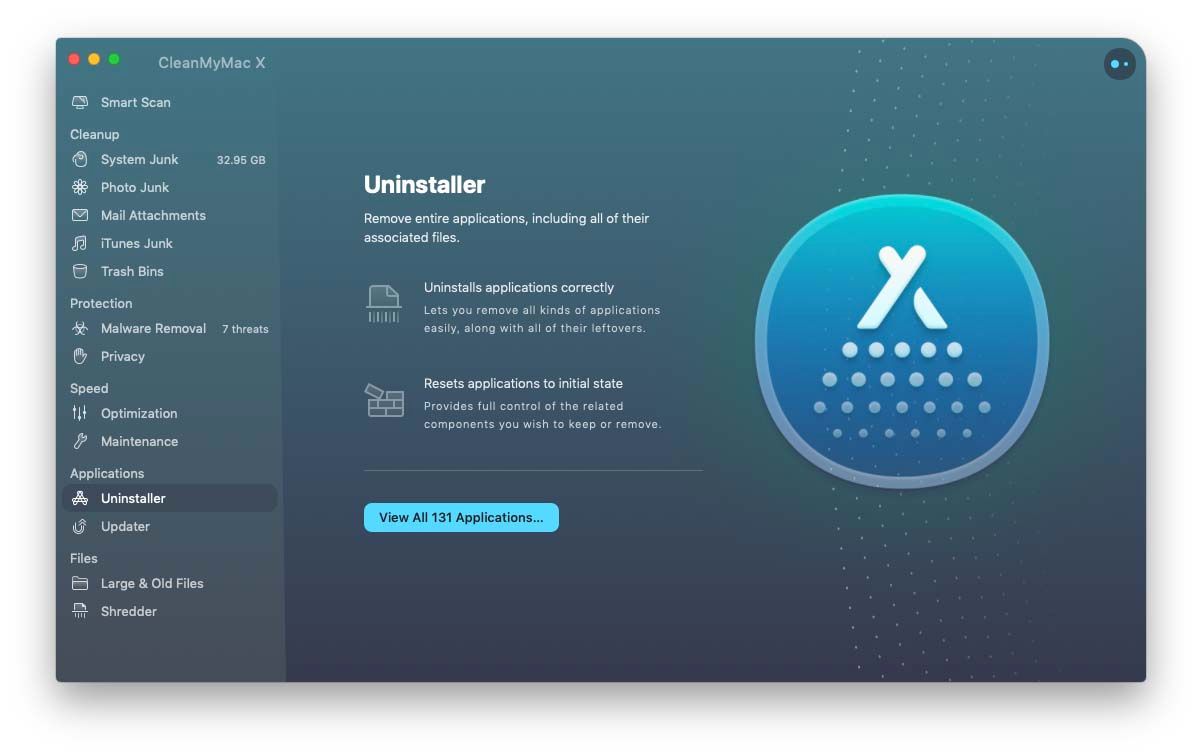 You won't be the only person who has installed dozens of applications to your MacBook and stopped using some of them over time. These sit idle in the system and use a lot of memory. CleanMyMac X allows you to update or uninstall these applications as you require. All this can be done from one place, ensuring you don't miss out on anything that requires your attention.
Files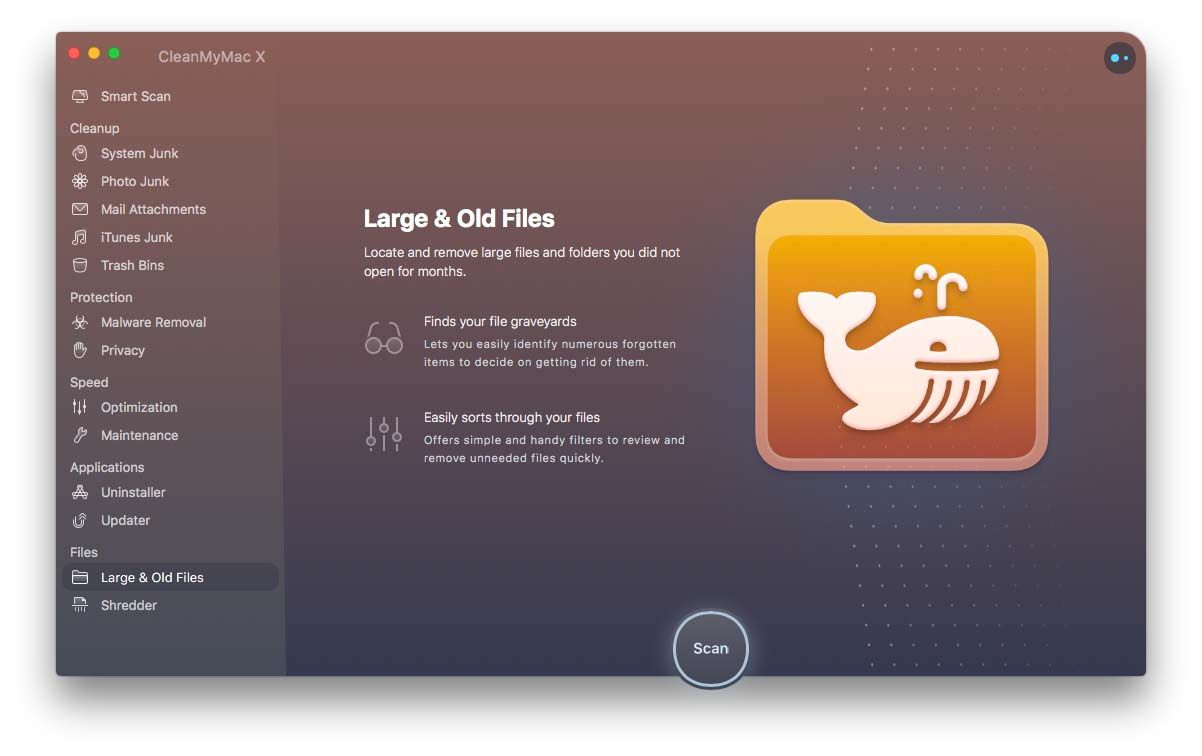 In the file section, you can find Space Lens, Large & Old Files, and Shredder options to see how much space is being used by folders and files, , files that have been unused for months and eating a lot of memory, and how you can erase unwanted files quickly to deep clean your system within seconds.
Price of CleanMyMac X
Now that you have a fair idea of how well this tool works, let's look at the cost.
Annual pricing
Annual price for a single Mac: $34.95
Annual price for two Macs: $54.95
Annual price for five Macs: $79.95
Lifetime pricing
Lifetime price for a single Mac: $89.95
Lifetime price for two Macs: $134.95
Lifetime price for five Macs: $199.95
The official MacPaw website claims to offer 40% competitor discounts to users who are currently using any other premium antivirus or Mac Cleaner and want to switch to CleanMyMac. It's a good deal if you are not satisfied with your current MacBook cleaner.
Besides the pricing options mentioned above, there is a monthly rental model for users who cannot afford to pay this much initially. They can download CleanMyMac via Setapp and use it along with more than 180 other apps. There is no additional fee charged for these applications.
If you are on a tight budget and have any doubts about CleanMyMac, opt for a monthly rental first and then upgrade to the premium version if it meets your expectations.
Pros & Cons
Have a look at some of the pros and cons of using CleanMyMac X before taking the plunge.
It has a clutter-free Interface that is easy to navigate and looks pretty clean.
Unlike many other Mac tools, CleanMyMac X doesn't lag in performance. It's speedy, easy to use, and requires no technical knowledge.
There are several new modules like extensions, updater, uninstaller, etc.
The newest version of CleanMyMac has its notification system toned down. You don't get unnecessary alerts like with many other similar tools.
The scanning process is fast and accurate – a massive relief for those users who have wasted money on such tools in the past but didn't get the desired results.
There's dozens of functions to clean and protect your Mac in every possible way packed into one single tool.
The free version of CleanMyMac doesn't have as many features compared to some of its competitors.
Its high license price can turn off some users who don't want to invest a lot of money in keeping their MacBooks clean and fast.
There is no option to locate duplicate files, which may leave many unnecessary files taking up a lot of space in your MacBook. I'm assuming (hoping!) the development team will include this feature in future updates.
Conclusion
Overall, I'd say CleanMyMac is a must-have tool if you are concerned about keeping your MacBook in great condition without wasting a lot of time on manually resolving different speed and security related issues. Try it once and you'll never want to switch to another tool in the future.

VISIT THE OFFICIAL DOWNLOAD PAGE