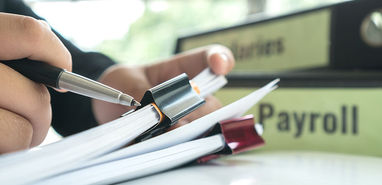 Many business owners consider the possibility of outsourcing their own payroll processing responsibilities at least once or twice. Payroll can be a very tough thing to manage, and even the best payroll software will not matter if none of your staff know how to generate a pay stub.
But how much can outsourcing your payroll processing needs help your business, and does it have any obvious downsides?
Simplicity
One of the biggest advantages of outsourcing your payroll is the fact that it is much simpler for your employees. Creating check stubs with a check stub maker can be easier than doing it by hand, but getting a third party to make paystubs for you completely removes the need to handle that part of the payroll in-house.
Not only does this make it easier for your employees to focus on more important things, but it cuts down on the amount of time they will spend using your payroll system. This can be important for a new business, since every hour spent on payroll is an hour not spent growing the business or expanding your audience.
Skill
Many businesses end up without a dedicated financial expert, and it can be hard to employ another person if you are already on a tight budget. Outsourcing gives you access to a skilled employee for a fraction of the cost, with the only real downside being that you do not manage them like you would a normal employee.
If your current team is lacking in payroll processing skills, then getting a paystub creator or check stub maker will not help them. Instead, it is often best to outsource most of your payroll work to another party, putting your important pay processes in the hands of some experts who know what they are doing.
Read more: Average Salary of Flutter Developer: A Comprehensive Guide
Competitiveness
A startup has to try really hard to remain competitive, and that can mean taking as many shortcuts as you can reasonably afford to try. The more competitive your business needs to be, the more you might want to rely on outsourcing or professional tools to make certain things much easier.
This might not apply to the payroll specifically, but you never know, and that is the risk. Even one slip-up could delay your payroll payments by a few days, which could be enough time for employees to get disgruntled or suffer a slip in productivity.
General Improvements
There are a lot of ways that you can optimize and improve your business with even a small adjustment to your payroll processing system, and there are countless other reasons that businesses will start choosing payroll outsourcing services. If you think that it would benefit your business, then there is no reason not to experiment with outsourcing.
Remember that the reasons listed here are mostly surface-level. There can be a lot of deeper reasons when choosing to outsource, ranging from financial concerns to sweeping changes in how your business operates. The most important thing is to figure out if outsourcing will work for you, then to approach it in a way that complements your business' strengths and weaknesses.