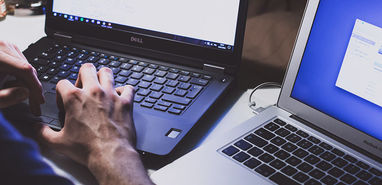 With businesses linking more and more of their activities to cyber infrastructure, it is a must to have an excellent cybersecurity strategy to protect all of their assets.
This is even more relevant for small businesses as cybersecurity is often not their top priority. As a result, 43% of cyberattacks are aimed at small businesses, and only 14% of them tend to have good cybersecurity strategies to counter these attacks.
There are a lot of cybersecurity measures you can take, such as using a reliable and secure web hosting platform like Hostinger. It does not only provide an excellent web hosting service, but it offers a wide range of domain names you can register too.
And aside from reliable web hosting and domain registration, here are another eight steps you can take to build an effective cybersecurity strategy for your company.
Let's get started.
How to Create an Effective Cybersecurity Strategy
There's no one-size-fits-all method for creating an effective cybersecurity strategy because every business is different. So in this section, we will look at eight steps you can apply to your business to figure out your own cybersecurity strategy.
1. Establish the Foundation for Cybersecurity
The first step you need to take is to determine what you need to protect. While it's impossible to protect everything, shift your focus to the most important aspects first. See which system can lead to various issues like stolen data when it's disrupted.
There are some systems that you're legally required to protect and various security compliance frameworks you should comply with. Failure to do so can result in your business not getting the necessary license and permissions for commerce.
2. Assess Security Risks
This step is required to allocate the appropriate resources and implement proposed security measures.
By conducting a comprehensive business security risk assessment, you can also determine the value of the data generated and stored in your company.
Without knowing the value of your data, it would be challenging to prioritize and allocate the proper security measures where they are needed the most.
So to accurately assess security risks, you must first identify the most valuable data sources, where they are stored, and what threats they're vulnerable to.
3. Develop Your Security Goals
One essential step when creating an effective cybersecurity strategy is making sure that it aligns with your business goals. So the next step is to create your business security goals.
When developing the goals, look at these areas of business:
Determining Your Security Maturity – Assess your current security program and look at the past and recent breaches or incidents. Then conduct a benchmark to see how well-equipped your cybersecurity is.
Set Reasonable Expectations – Make sure that you set milestones for each goal and regularly communicate them with your shareholders. Also, carefully review the results of the risk assessment and allocate the budget accordingly.
4. Evaluate Your Technology and Resources
The next step is to determine whether your current security system and resources meet the best practices. Not only that, but you should also fully understand how they work.
There are a few ways to evaluate your current technology and resources. Some of them are:
Knowing what's currently in use and seeing whether the automation process for updates and reports is functional. This is to avoid any vulnerabilities in the case you forget to update the application.
Determining whether you have enough resources to manage the security system, especially when cyber-attacks happen. You need to be able to mitigate the threat immediately and recover from it.
Make sure that your employees can identify security weaknesses and help solve any issues.
5. Educate Employees on Cybersecurity
Your employees have a broad set of responsibilities in your business, and they're the only ones you can't control even though you've set up various security measures. Hence investing in your employee cybersecurity training is mandatory.
The employees must understand your business's security policies and best practices. They should know how to keep the company data safe, create and maintain strong passwords, and understand what to avoid clicking or interacting with.
It's a good idea to have your team sign a document stating that they've finished their mandatory security training and have fully understood what happens if they fail to follow the established protocols.
6. Implement Your Cybersecurity Strategy
Once everything is established, it's time to implement your cybersecurity strategy. In this stage, you should be focusing more on refining it and assigning tasks to your team.
If you have a Project Management team, you can hand over this task to them and let them come up with the team needed to oversee the implementation of your cybersecurity strategy. If not, you need to assign the team members yourself.
7. Prepare for Potential Security Breach
Your business needs to prepare for potential security breaches. To do that, you need to ensure that your employees already have the necessary skills and resources to quickly identify, isolate and determine the risk level of the threat.
Of course, all this should be possible thanks to the previous steps mentioned. It's vital that you and your employees can still conduct business as usual, even when handling the threat. The security measures shouldn't restrict core business functions but instead, make them more resilient.
8. Evaluate Your Cybersecurity Strategy
Hackers will always try to find and exploit any vulnerabilities. So as the final step, the cybersecurity strategy must be regularly evaluated, monitored, and tested to ensure that the goal can still be achieved.
Conducting an annual or quarterly risk assessment is the way to go. There are various tools you can use to do this. This helps keep your cybersecurity technologies up to date and, as a result, makes it more difficult for hackers to infiltrate your business.
Conclusion
If most of your business activities are shifting to the online world, it's crucial to protect them from the ever-growing list of threats that pose a danger. This includes things like ransomware, phishing, and software vulnerabilities.
While there is no magic key to cybersecurity, here are eight steps you can take for a great start:
Establish the foundation for cybersecurity
Assess your security risks
Develop your security goals
Evaluate your technology and resources
Educate employees on cybersecurity
Implement your cybersecurity strategy
Prepare for potential security breach
Evaluate your cybersecurity strategy
All that's left is to implement the steps and protect your business from any lingering cyber threats.