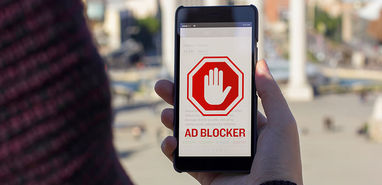 The conflict of interest between marketers and users is as old as digital marketing itself. While the first group relies on ads to generate revenue, the second group wants their online experience and privacy to be maintained.
Fortunately for the second group, there are ways to avoid ubiquitous ads. Learn about desktop and browser ad blockers and choose the right one for your needs!
Ad blockers: desktop or browser-based?
Today's internet is similar to other types of media when it comes to the presence of marketers. Ads are virtually everywhere: On your favorite website, social media, and in your email inbox.
The average tech-savvy American is exposed to thousands of ads every day. We have learned to treat them like noise: ad blindness, otherwise known as banner blindness, is something we all use in our daily lives to filter out irrelevant banners and ads and separate them from the content that interests us.
Simply ignoring ads, however, is not the best answer. Fortunately, some clever people have come up with handy solutions to this "ad-pocalypse." And there are many to choose from! We have created a brief overview of two of the most popular options: browser and desktop ad blockers.
Ad blockers for desktops
Desktop ad blockers are pieces of software that can be installed on a computer or other device (tablet, smartphone, etc.). As of today, the most popular are Ad Guard and Ad Fender.
A desktop ad blocker runs in the background, filtering out all potential noise and blocking ads and pop-ups all over your device, so you do not have to see them.
Here are some pros and cons of this solution.
Pros:
They block ads all over your device, so you will not see them no matter what web browser you are using.
They have built-in databases of potentially malicious websites and will prevent you from accessing them.
Most developers offer software not only for Windows and Mac computers but also for mobile systems.
Some desktop ad blockers offer additional functionalities, such as parental control.
Many programs offer free plans or trial periods.
Cons:
Since desktop ad blockers protect the entire system at once, you will have to manually disable them when necessary – for example, when a particular website is not available to ad blocker users. This requires going into the software settings.
Desktop applications require a little configuration. You will have to manually set which programs to filter, etc.
Ad blockers for browsers
Browser-based ad blockers are the go-to choice for most people looking for a solution to annoying pop-ups. They are straightforward to use: Just find the application in the browser extension store and install it.
The most popular ad blocker extensions today are AdBlock and uBlock Origin. They are available for most browsers, and here are their pros and cons:
Pros:
Browser ad blockers are very easy to use. They only require installation, which takes a few seconds.
Browser extensions can be disabled with one or two clicks when needed.
Developers constantly update their extensions, optimize them, and provide support.
Most browser ad blocker extensions are free.
Cons:
If you use more than one browser, you will have to manually equip each with an ad blocker.
Some ad blockers are only available for certain browsers. This can be a problem if you are a fan of a particular extension, but it is not supported in another browser.
Mobile browsers do not support extensions. If you want to block ads on your smartphone, you will have to use standalone software, such as a web browser with a built-in ad blocker.
Why do (most) people dislike ads?
Ads are not only annoying, but they also introduce other issues. Why do people block them?
1.   Some ads are dangerous
The internet is full of ads that are not only annoying but also dangerous. Malvertising is the term behind banners that can infect devices with malware or get users to fall for scams.
Malvertising banners look like normal ads but redirect users to hostile websites or execute malicious code. Malvertising is not limited to shady websites. Some of the most reputable sites, such as The New York Times, have previously fallen victim to malicious ad networks.
2.   Ads raise privacy concerns
When standard ads began to lose their effectiveness due to banner blindness and lack of customer interest, marketers came up with a new strategy: personalized marketing.
Personalized ads cater to the needs and wants of users. They usually appear with the perfect solution to customers' problems. The problem is that in order to predict what a customer needs, marketers have to track their online behavior and:
see what they search for
see what websites they visit
see what they do there
Many companies rely too much on personalized marketing. As a result, when people see ads that are disturbingly tailored to their current needs, they begin to feel tracked. No wonder ad blockers are so popular: No one likes to be followed.
3.   Ads disrupt the online experience
Everyone knows the feeling when they are watching an interesting video and are rudely interrupted by an ad.
While most services allow you to get rid of ads by purchasing premium plans, let's be honest: Some people will always go against the flow and refuse to pay billionaire behemoths to live an ad-free life. For these people, simply blocking ads is by far the better option.
What are Acceptable Ads?
Ad blocking does not hurt large companies as much as it hurts small publishers: Bloggers, journalists, independent creators, etc. Sometimes their only income comes from publishing ads. If they did not, they would have to charge for their content.
That is why the Acceptable Ads Program exists. This solution, created by the people behind AdBlock Plus, makes it possible to show non-intrusive ads and earn ad revenue.
Publishers can apply to the Acceptable Ads Program and request for their websites to be whitelisted by AdBlock Plus. This way, users will see some ads, but only non-intrusive ones, and publishers will earn money. Ads accepted by AAP must:
comply with AAP's size restrictions
be recognizable as ads and distinguishable from other content
be non-intrusive; automatic video or audio playback is not accepted.
Manifest V3 and ad blockers
Google, the global marketing giant, is at war with ad blockers. No wonder – the company makes its living from advertising while simultaneously holding the largest ad system (Google Ads) and the most popular web browser (Chrome). On top of that, Google's products, such as YouTube, also rely heavily on ads.
The company is preparing to stop the support for Manifest V2, a system that controls what browser extensions can do. Google has been planning to replace MV2 with MV3 for several years, with a final date set for early January 2023. Recently, the timeline has shifted, and as of today, the date for the final MV2 shutdown is unknown.
What does the change to MV3 mean for users? According to the Electronic Frontier Foundation, the new MV3 is not about security or performance but limiting the capabilities of extension developers. The changes will hit ad blockers and privacy-enhancing extensions especially hard.
Is there a solution? While shutting down MV2 is inevitable, remember that Chrome is not the only browser on the market. Limiting ad blockers' capabilities could be a goal just for Google: Users may simply switch from one browser to another.
When it comes to privacy and security, Firefox is leading the way. Its developers have already stated that while they will offer support for the new MV3, they will also reintroduce the WebRequest API, which is crucial for ad blockers to function.