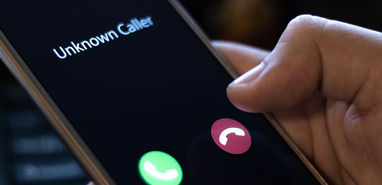 According to statistics, in the year 2021, Americans lost approximately $30 million to phone scams. Phone scam, also known as Phishing, is a very lucrative crime, and many people have fallen victim to it. People fall victim to phone scams because they do not know how to identify a scammer on the phone. If you do not wish to fall victim to a phone scam, continue reading this to learn more about how to identify a scam phone number.
Phone scam continues (not to be confused with phone spam – there's a comprehensive guide on the techniques people use to spam a phone number on CollectiveRay.com) to be a menace in our various societies, and we must find solutions capable of curbing it. This article provides helpful information on how to tell if a phone call is a scam. It is also essential to know the various types of phone scams.
Keep reading to learn more.
How To Identify a Scammer on the Phone
There are many types of phone scams. If you read with keen attention, you will be able to spot a phone scammer in no time.
1. Impersonation Scams: impersonation scam is undoubtedly the most common type of phishing or phone scam. This type of phone scam is orchestrated by someone claiming to be another person (often a person you know or a family member). The phone call you receive aims to defraud you of your money. It is so unfortunate that a lot of people have fallen victim to it.
2. Government Grant Scam: This type of Scam also falls under the genre of impersonation scam. It involves the phone scammer impersonating a government staff. The phone scammer sweet-talks victims into believing that the government offers free money, loans, or gifts. The scammer then asks for sensitive information that the victim innocently provides. The phone scammer now uses the data to clear out the victim's money in the bank.
3. Debt Reduction, Cash Prize, or other Service: Phone scammers employ this strategy often. They call you and offer services like debt reduction, sometimes they tell you that you have been chosen as a lucky lottery winner, other times they say you have won a free gift card or an "all-expense paid trip or vacation, but to claim any of the services, gifts or prize, you will have to provide your credit card numbers and Pin, sometimes they even ask for registration fee or upfront payment.
4. Microsoft Scam: This type of Scam involves phone scammers impersonating a Microsoft Tech support Staff. They call you and tell you they are calling from Microsoft, and they are giving a free upgrade or fixing up issues with the software. They are calling to assist you, but first, you have to provide them with the passwords to your Microsoft account or personal computer.
How To Identify Scam Phone Numbers
The following tips will help you tell if a phone number is a scam:
Strange Cell Phone Number: The appearance of a phone number is one of the easiest ways to identify scam phone numbers. Phone scammers often hide their caller identity or call with a different country code number, be careful in receiving such calls. Also, do not pick up calls from numbers that you do not know.
Requests for personal information: When a person calls you, they are supposed to know you and introduce you. They call to ask you for all sorts of information and details. Regard any number that calls you to ask for your data as a scam call.
How to Avoid Phone Scams
Many fraudsters always lure you with the wrong motives at the right time. Scammers may present themselves as employees of reputable tech support companies. They may grasp you into scams involving sweepstakes, wired money, or other persuasive scenarios. Be careful about any data you give over the phone, and you'll be in a better position to steer clear of scams.
Do not Receive Unknown Calls
It is advised not to respond to unknown callers or anonymous service providers who try to sell you fake services. But, if you are going to engage with them, first research the company's reputation online.
Avoid Deal With Wired Money
Scammers usually ask victims to wire money. When using wired money, it becomes unviable to reverse the cash. So if a seller forces you to pay by wire transfer, don't proceed until you're sure the deal is valid.
Avoid Sharing Personal/Financial Information
You should avoid sharing personal or financial information with an unknown person, no matter whether you receive a message in the form of emails, advertisements, phone calls, or text messages. This is called "phishing." Ultimately, these fraudsters try to get information through various tricks.
Don't Get Lured by Lottery Scams
Sometimes the victim receives a message about winning the lottery, and they also provide contact information below. They demand a "fee" as a reward transfer service fee when you proceed. In fact, you didn't win the lottery, and you're giving away your data for free.
Hang Up On Robocalls
If the calling company has not had any dealings with you in the previous months, then robocalls are illegal. Avoid pressing the button to talk to the operator. Because of the Voice-Over Internet Protocol service, a robocaller's phone number rotates. The flow of robocalls can be reduced by blocking them.
Use a Call-blocking App
These apps automatically become an obstruction for unknown numbers forever, even if you switch later to another phone. Although not all apps are reliable, most of them protect you from unwanted calls. Depending on your work, you may have to purchase premium features for advanced security.
Avoid Mobile Ransomware
To stay safe from mobile https://www.viagrageneric.org/ ransomware, always be careful with the apps you install on your phone. Always prefer the phone's actual app store for app download. Also, avoid sharing personal information or conducting transactions while connected to public WiFi.
Bottom Line
It is crystal clear that phone scams have constituted many problems in society and the world. Thankfully this article has enlightened you on how to identify a scam phone number. The next time you receive a call, you will be able to spot a phone scammer within seconds. With tools like Radaris, you won't have to deal with phone scammers again.