By May, the Internet Crime Complaint Center had already received 320,000 reports of fraud and similar crimes. In the face of these rising threats, you need to take action to protect yourself.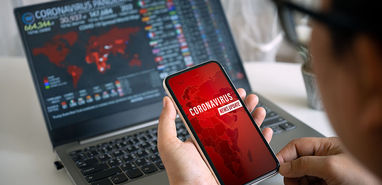 The virus isn't the only thing you should look out for during the pandemic. As if a global health crisis wasn't enough, the world is also seeing a surge in scams and identity theft. While you're navigating the challenging landscape of COVID-19, you should keep an eye out for scammers.
Why Do You Need to Be Extra Careful During COVID-19?
The fact that fraud rates are rising in the middle of a pandemic isn't a coincidence. All the chaos and confusion surrounding how things are changing is the perfect opportunity for scammers. When people are desperate for answers, they're more likely to fall for a scheme that promises them.
As government relief like stimulus checks roll out, it gives fraudsters even more opportunity. Since people may be expecting agencies to contact them about their finances, they may fall for someone pretending to be a legitimate representative. People who would typically be more careful about these things may let their guard down.
With more people working from home now, cyber threats are also more prominent.
Important:
Employees may not have the same security resources at home as they do in the office. Given all these changes, it's safe to say you should be on high alert.
Learn How to Spot a Phishing Email
During the pandemic, you'll probably receive an unusual amount of phishing emails. Many will appear to come from sources like the CDC or WHO, making them tempting to open. Given the spike in phishing, though, you should pay close attention to any email like this.
To make sure an email is from a legitimate source, double-check the sender's address. If there are any numbers or spelling errors, or if it's from a public domain like Gmail, then it's most likely a scam. If you're not sure, you can double-check with the website of the organization the email is claiming to represent.
Anything asking for personal information is almost certainly fraudulent. As a rule of thumb, never give up any personally identifiable information (PII) over email.
Avoid Malicious Apps
Phishing emails may be a favourite among fraudsters, but it's not the only path they're taking. There are also a handful of fraudulent mobile apps that trick users into installing malware onto their devices. Security professionals have found at least 16 malicious apps pretending to be coronavirus resources.
Google and Apple look for and restrict these kinds of apps from their app stores. You can only download them from websites or third-party app stores, so avoid these sources. Make sure you only search for and download apps from the Google Play Store or Apple's App Store.
Even on an official app store, it doesn't hurt to double-check an app's developer. Don't download anything unless you're sure it's from a reputable company.
Understand How Legitimate Organizations Contact You
With a second stimulus package coming soon, calls and emails impersonating government agencies are likely to increase. The best way you can protect yourself from these scams is by understanding how the government would contact you. The good news is that when you know what to look for, these issues are easy to spot.
Important:
The IRS
will never call you
about anything relating to your stimulus check. That doesn't apply to just these checks or the IRS, either. Government agencies will rarely, if ever, contact you any other way than through the mail.
If you get a call or text claiming to be from the government, it's almost definitely fake. Be sure never to give any information away to these callers.
Spot Fake Cures and Treatments
You've probably already encountered some phony COVID-19 cures around the internet. Some people claiming to have a treatment could just be misinformed, but some may be scams. Make sure you double-check their sources before you try or pay for anything.
As of the time of this article, there is no FDA-approved vaccine or home test for COVID-19. Anything claiming to have a proven method of treatment is most likely a scam. If you have any doubt, you can check to see if a source is official.
An official government website's URL will end in .gov, and many other authoritative sources end in .org. It's best not to trust something you see on Facebook, but to be sure, you can check a page's history to look for any suspicious changes.
Take Care of All Your Accounts
You may have been the victim of identity fraud and haven't even noticed it. While you should take steps like guarding your PII to prevent theft, you should still check on your finances just in case. Monitor your bank accounts and credit score frequently so you'll notice any suspicious changes.
Most banks allow you to set up alerts of big purchases or changes from your account. You can do the same with your credit score through a lot of credit-checking apps. By setting up these alerts, you'll be able to respond to any suspicious activity sooner.
What to Do if You Think Someone Stole Your Identity
If you've been monitoring your accounts and you notice something fishy, you should take action soon. The first thing you should do is contact your bank and report it to them. That way, they can freeze your accounts and cards so fraudsters can't use them.
You can also contact the major credit bureaus, Experian, Equifax and TransUnion, to freeze your credit. After you follow these steps, you can report the fraud online at IdentityTheft.gov. The website will walk you through the reporting process and help you figure out how to respond to it.
The Federal Trade Commission keeps a list of recent scam alerts you can check. If you see something suspicious or have fallen for what you now think might be a scam, you can look for it there.
Stay Safe From All Threats in the Pandemic
A lot is going on in the world right now, but you can't let that distract you from safety. While you're guarding against the virus, make sure you also protect yourself from fraud. It can be easy to fall for these schemes in chaotic times, but if you follow these steps, you'll stay safe.