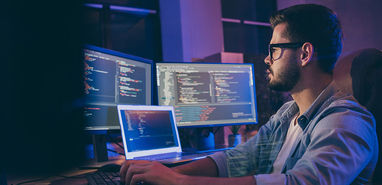 Nowadays there are so many Linux distributions out there, in the free and open space environment, that it's sometimes difficult to discern and choose the best version for you. Debian is one of the oldest of them and, as the foundation of Ubuntu, it's the most used version of desktop Linux. There are so many Linux users out there who work with a version of Linux that's based on Debian, but very few know the advantages of installing Debian directly. This is why we've compiled a list of reasons you should install this distribution directly:
1. It's well-established
Debian is basically Linux's little brother, having appeared in 1993, only two years after Linux launched. Ever since then, there have been a plethora of Linux distros that have tried to stand up to the vagaries of time, but few succeeded just as marvellously as Debian did. This proven track history, as well as the millions of users that can testify to its quality anytime, are reasons alone to go ahead and install Debian directly.
2. It's reliable and dependable
There are no two Linux desktop users that expect the exact same things from their software. Some prefer novelty above everything else and may want the latest software release, even if it means it hasn't yet been properly tested and bugs may still appear. On the other hand, different users may prefer their software to just be stable, without any other complications. Debian is well-known for its stability and it will give you the chance to run a bit more well-established code that came out a few years ago. The upside to this is that it had enough time to be tested for bugs, so you won't likely face any unpleasant surprises.
3. Debian is the largest community-powered distribution
The highest point of attraction for Linux users is the free software culture around it. With Linux, you've probably already noticed that code can be developed, shared and maintained with pure intentions at heart, without any ulterior profit reasons behind it. Of course, this doesn't exclude the existence of companies around it – some of the most popular distributions, such as Fedora, Ubuntu, elementary OS and openSUSE, are all supported by a company that helps steer them in the right direction.
Related: What Are the 5 Best Linux Torrent Apps in 2020?
What sets Debian apart is that there is absolutely no company to account for and it's entirely run by the voluntary and passionate community that has developed around it. For this exact reason, many people feel they are in line with these values and opt to contribute to this distro's well-being, while also helping to maintain such a project free for all. If this happens to spark inspiration in you, then Debian may be your ideal Linux distro.
4. It's tolerant of your internet connection
Although Linux offers accessible and free software for all, most of the time you'll need a reliable internet connection to run it. Debian also addressed this issue, by coming up with a solution that does not require you to have an impeccable internet connection. Even if you're in an area with limited internet access, you'll be able to use Debian's DVD version that enables you to download most of the software you need from repositories. These CD's and DVD's are always available for ordering online, so you can first download Debian in a more remote area, if needed, and then you can install it when you reach your home or office.
5. It has amazing office support
In the Linux environment, Debian's DEB format is now the most common app format, especially due to a large number of people using Ubuntu. Even though you may not always find Ubuntu-working DEBs that also work on Debian, you may very well find DEBs that play well with both of them.
Debian has one of the largest software repositories in the world, which means that you most likely won't need third-party software anytime soon. Of course, you may not find the absolutely newest software releases, but other than that it will satisfy all your needs.
6. You can enjoy your Debian version for longer periods of time
Debian doesn't work according to a schedule, so you can't expect new releases on a specific set date. When a new version is ready, it will come out on the market and that's every two or three years. This is an even bigger intermission than with Ubuntu's long-term support versions, but that doesn't necessarily mean it's a bad thing.
In fact, this actually helps you decrease the frequency of your risk of breaking your software whenever you upgrade from one operating system to another, regardless if it's MacOS, Linux or Windows. What's more, every time you do this upgrade, you need to allow your computer for some downtime. Fewer Debian releases means less hassle and longer periods of time for you to enjoy this distro.
7. Installing Debian means being right at the source
There are some distros, such as Linux Mint – a distro based on Ubuntu, which in turn is based on Debian, that are actually two layers away from the source. However, Debian is self-standing, as it's not based on any other Linux distribution.
This means the software you can find in Debian's repositories was specifically designed for Debian itself. So whenever you find bugs, you don't need to explore the entire chain to see where they first appeared, you'll be right at the source and able to identify them quickly.
8. Debian is versatile when it comes to PC architectures
When switching to Linux, the first problem you'll encounter will be when faced with installing the distribution. Many Linux distributions are pretty pretentious and not very adaptable to older PC infrastructure.
In turn, Debian has been designed in such a way that it allows for versatility, offering installers for all sorts of architecture. It doesn't really matter if you have 32-bit or 64-bit Intel computers, Debian can handle them both. Running Linux on ARM or MIPS is also a valid possibility with the powerful Debian.
9. Debian plays well with servers
Debian is also special for being one of the many amazing Linux distros that can power your server. Installation is pretty simple too and you won't need a different version of Debian – you can simply choose server-related tools, instead of opting for the desktop environment.
You don't even need your server to be connected to the internet – Debian will power your home server that is available to PCs from your Wi-Fi network. Add OpenMediaVault or Nextcloud and you can actually create your very own cloud replacement.
10. Debian is desktop impartial
Most of the Linux distributions out there will have a strong preference towards one desktop environment or another, so each time you switch interfaces, you'll no longer have the support you once got.
Once again, Debian is different in this respect, as it doesn't prefer one desktop environment to another. It's true that it has a limited number of Live CD's – Cinnamon, KDE, GNOME, MATE and Xfce, but it doesn't give these more support than the other desktop environments you can find in its repositories. Debian is impartial and versatile, which means you won't have to worry when switching interfaces.
11. Debian lets you install the free software-only version
There is a lot of leeways that comes with the installation of Debian. Unlike many other Linux distributions that will come with default closed proprietary binary blobs, Debian gives you the option to choose if you want this firmware installed or not. It doesn't automatically assume your computer needs this code to function, so it allows you to voluntarily opt-in for this feature.
The defaults in Debian's app repositories work the same way – they don't come with any proprietary code. Having this core principle at its foundation, Debian is now rightfully base for Free Software Foundation-endorsed Linux distributions, among which PureOS and Trisquel.
12. You can always go with the Debian rolling release version
As mentioned before, Debian doesn't have a scheduled release time and while this is comfortable for some people since they are allowed to use the same version for extended periods of time, other users may simply not have the patience to wait this long for a new version.
However Debian offers more than one version to choose from, apart from Debian Stable, which is already several years out of date. If you feel like enjoying novel features and experimenting with different Debian versions, you can always choose Debian Testing, Unstable or Experimental. The beauty of these two latter versions is that they will automatically update their apps and components, as soon as these updates are available. So you're basically just using one continuous version that keeps updating itself whenever the time is due.
Ultimately, Debian is an active component in every Linux user's life, whether they've installed it directly or not. However this is a Linux distribution that is so versatile and well-packed with features that it's a shame not to experience it first hand.