If you think it's time for you to make a switch to Linux, or your digital activity has changed, check out this list of best Linux operating distros. This curated list features only Linux distros that have seen significant activity. We only recommend Linux distros that are safe to use and regularly updated with security patches.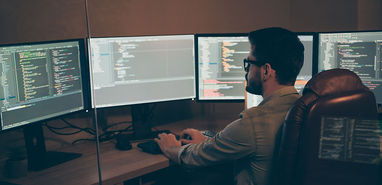 If you want to make a switch to Linux there are a few things that you need to know. One of them is that there are many Linux operating systems out there and they're all called "distributions" or "distros". For someone who's just getting into Linux, it can be pretty confusing to make a choice between all the different distros. That's because depending on your needs, these distros offer different benefits. So, for example, if you need to accommodate your operating system for gaming, you get a Linux distro that has benefits for that.
Therefore, in order to help you, we made up a list of the best Linux operating distros that you can find in 2020. It's important to know that on this list, we've only added items that are completely safe and regularly updates with security patches.
Linux distros for general purpose
Ubuntu
Arguably the most popular Linux distro out there, Ubuntu is based on Debian and it manages to improve itself with every new release. Nowadays, Ubuntu releases versions of its systems for desktops, laptops and hybrids. And with such a wide variety, it's extremely possible that Ubuntu will actually be your first form of an encounter with Linux.
Fedora
Just like Ubuntu, Fedora, sponsored by Red Hat (that is now owned by IBM), uses the GNOME desktop environment as its default. But that's not a problem, as you're able to switch right away to something like KDE, Xfce, LXDE or MATE and even Cinnamon if you enjoy that one.
CentOS
With CentOS, things started as a rebuild of the Red Hat Enterprise Linux into a community edition. Now, it's one of the most popular distros out there, with a lot of people who want to use an enterprise-standard distribution for free. It's also worth mentioning that most people who use Red Hat at work, will most probably go for CentOS at home.
Gentoo Linux
Why would you go for Gentoo Linux? Well, the best thing about it is that you can adapt it easily to any kind of requirement. It is known as one of the best Linux operating systems for its great performance and versatility, but also for its package manager, Portage.
Linux distros for gaming
SteamOS
While lots of people are still using Windows for gaming purposes, gaming on Linux has become more and more frequent in the last few years. The operating system has its own steam client, but you'd be better off by just installing SteamOS.
This Linux distro is actually optimized for gaming, helping with performance, graphics and sound. It has all of these features built-in and more so, the Steam client.
SparkyLinux GameOver Edition
While there are different versions of this distro existing out there, the one that's specially made for gaming is definitely the most useful. All you need is an LXDE desktop and a host of preinstalled games, and that enables you to get Steam, PlayOnLinux and Wine already installed.
Linux distros for business
Red Hat Enterprise Linux
While being a commercial derivative of Fedora, Red Hat Enterprise Linux is actually specially designed for enterprise customers. What's great about this piece of software is that it offers several add ons and variants and the possibility for certification for both the administrators and the applications.
SUSE Linux Enterprise
This distro is enterprise-ready from installation and that's because it is designed for business use, and it makes it easy for employees to work with lots of programs. In the world that we live in, SUSE Linux Enterprise is keeping up, given the fact that it can run on many devices and it's reliable for critical systems. Besides that, there's also a server version of this software available out there, called SUSE Linux Enterprise Server.
Lightweight Linux distros
Linux Lite
The best thing about this distro is that it's actually a minimal-footprint one and it has a simple Xfce desktop. It is based on LTS releases and it can be quite comforting for past Windows users, as the start menu looks quite similar here.
Regarding the minimal-footprint aspects, it enables you to install this distro on a computer with a 700MHz CPU and 512MB of RAM (hence the name of the software). Therefore, if you have an older PC, this distro might be the right choice for you.
NuTyX
This one might be the right choice if you're looking to customize your Linux system. With the collection concept, you're enabled to find anything that you want to use for customizing. For example, you can find a selection of desktop environments or window managers to choose from.
What's so great about this distro is that it really offers you endless possibilities, as the end result depends on the user.
Arch Linux
If you're ready to get your hands dirty and you have done so in the past, Arch Linux is a great option, because it offers benefits for experienced users. Having a rolling release model for updates, things have never been easier for Arch Linux users. If you're only getting started with Linux, this is not the choice for you; but make sure to keep it on the back of your mind for after you've gained some skill.
Manjaro Linux
Being based on Arch Linux, this distro comes with all the benefits and specifications of its "parent distro", but in a far more user-friendly manner. It is accessible in general and easy to use even for Linux newcomers.
Puppy Linux
What's different about this distro and what's up with the funny name? Well, the interesting thing is that this distro is able to run entirely from RAM, which makes it a very small distribution suitable for older computers. You can even use one for a computer that doesn't have a hard drive.
Xubuntu
Because it uses the Xfce desktop environment, Xubuntu can be considered a more elegant, lightweight version of Ubuntu. And because it's so elegant, it is generally considered suitable for laptops and netbooks.
Lubuntu
Just like the distro mentioned above, Lubuntu is based on Ubuntu and it's generally meant to be installed on a laptop. The difference is that Lubuntu uses the minimal LXDE desktop. More so, it comes with lightweight applications that are specially designed for speed and efficiency. If you're interested in a Linux operating system that's beneficial for your laptop's battery life, Lubuntu is one of your top choices.
Linux distros for newcomers
Endless OS
If you're a newbie with Linux, you most probably want to keep things as simple as possible. That's when Endless OS could come in handy! This distribution comes with 100 pre-installed apps that really help you if you don't have a clue about what apps you need. See our overview of Endless OS for more information about this simple operating system.
Linux Mint
Being on a modern end of the spectrum, Linux Mint is as easy to use as it is powerful. Being based on Ubuntu, Linux Mint has a great software manager and that's pretty clear when you think about the fact that it's been named the top-rated Linux operating system years in a row. As for the desktop, you have a few options that you can choose from, from the classic Cinnamon desktop to Xfce.
Elementary OS
While it's also based on Ubuntu, this distribution has managed to stand out with its beautifully designed concept for applications, that resembles the macOS aesthetic. So if you identify yourself as an Apple lover, Elementary OS might be your new best friend when you're getting started with Linux.
Linux distros for Raspberry Pi
Raspbian Stretch
This is actually the default operating system for the world-wide known Raspberry Pi. It is Debian based and it comes with a bunch of programming tools suitable for newcomers who want to enter the coding world. While it's considered the best option, it's not the only one.
Kano OS
Being quite similar to the one mentioned above, Kano OS is actually focused more on coding. The user interface becomes more intuitive and provides special tools that can take a fresh learner through every possible step of the way.
DietPi
DietPi is your best choice if you find yourself in a situation where you're on a project that requires a barebones operating system. It is suitable for all models of Raspberry Pi and it's also available for other single-board computers. With DietPi, the key difference for many people is the amount of space DietPi takes up on an SD card. To run Raspbian Stretch Lite you'll need 2GB of storage; for DietPi, just 1GB.
Linux distros for multimedia
Fedora Design Suite
Instead of getting the traditional version of Fedora and then installing a bunch of application and tools into it, you might as well get this special package called Fedora Design Suite, that comes equipped with everything you need in order to fulfil your artistic visions.
Ubuntu Studio
If you're a Linux user with creative talent, or you'd like to become one, Ubuntu Studio is what you're looking for. The inclusion of the Xfce desktop environment makes it work perfectly for artistic minds and the low kernel latency completes the package on a technical aspect. Therefore, this distro gives you everything that you need for media production, whether you're a designer, music producer, photographer or any other creative user.
KXStudio
Just like the ones mentioned above, this distro is very focused on media production and it offers an impressive collection of tools. What's different about KXStudio is that it's focused on audio production. So if that's your area, it's only obvious that this distro is specially made for you.
With so many options to choose from, it's almost impossible to not find the perfect distro that best suits all of your requirements. And that's because nowadays, you can actually find distribution for pretty much every purpose. Now all you've got to do is to figure out which one you need and then you're ready to enter the Linux world.