This summer, a 16 Core ThreadRipper with 64 PCIe Lanes will be released as an update to AMD CPU.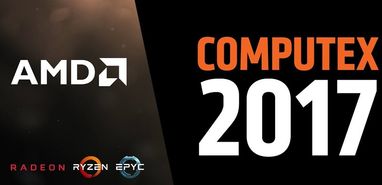 This summer, a 16 Core ThreadRipper with 64 PCIe Lanes will be released as an update to AMD CPU, and the EPYC CPU for servers will be launched next week on June 20th.
AMD (Advanced Micro Devices) ended their Annual Computex Press Conference on May 30th at the Taipei Nangang Exhibition Center. This CPU focused company underdog used Computex to gain exposure and to promote their Original Equipment Manufacturer (OEM) Relationships. AMD needed to do this to gain clarity on the roadmap AMD's CPU is following.
At the Computex, AMD provided more information about ThreadRipper. ThreadRipper is promised to be a many-core CPU for the high-end PC desktop and workstation market. Its presence was first announced at Financial Analyst Day on May 16th, and since then, AMD has been slowly releasing information about this chip. They hope to build up interest in its upcoming launch. Although the date of the launch still hasn't been announced, the ThreadRipper is supposed to become available sometime this summer.
At the Computex Press Conference, AMD confirmed that the EPYC processor will be twice as effective as the 16 core processor to come. Another way of saying this is that the two die MCM (Multi-chip Module) chip will feature 4 DDR4 channels, and provide 64 lanes of PCIe (Peripheral Component Interconnect Express).
All 64 of these lanes will be enabled for all ThreadRipper SKUs (Store Keeping Units). Sixty of the lanes will feed PCIe and M.2 slots directly from the CPU, and the remaining four would go to the chipset. AMD has yet to disclose how many lanes would then come off of the chipset, but it is known that these lanes will drive basic I/O, USB, and other features.
At the press conference, AMD representatives showed that they were pleased with the high number of PCIe lanes because Intel HEDT had just announced on May 29th that they offered a max of 44 lanes. Furthermore, the chips that enabled all 44 of these lanes cost upwards of $1000.
The ThreadRipper will have the X399 chipset upon its launch. AMD has released little more data about this chipset, but teasingly promised more information. Clearly, they hope to drive up excitement for this item as its launch date (whatever that might be) grows closer. However, it's safe to assume that the launch won't be too dissimilar to the Ryzen launch (March 2nd). The ThreadRipper/EPYC sockets are enormous, which matches the massive size of the chip itself.
Lastly, AMD's 32 core and 128 PCIe lane EPYC CPU for servers has some news as well. This product is set to be launched on June 20th. Some have called this AMD's first promising product in the server space in almost half a decade – we can only hope that the product will live up to the hype. Perhaps once the launch date for this product has passed, AMD will announce the launch date for the ThreadRipper.