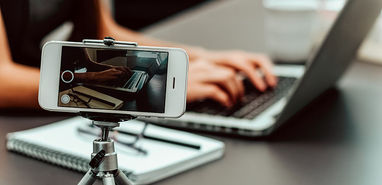 Many people who have a small business or large company often take to the Internet as it's both short-term and effective marketing. One of the most effective ways companies can achieve success with their marketing is through video. Video marketing strategy can include content pre-production, preparation for distribution, and post-production. The following strategies will help any company create videos more successful than their competitors and more universally appealing to their viewers. Suppose you want to make sure that the content on the videos will be successful. In that case, one of the most effective ways to do this is by using an online video editor, as it can help your content be more intriguing than just a normally posted video. However, be sure that every video you create is relevant to your market or audience, as it can backfire if there is no interest in what you are offering.
1. Create a teaser video at the beginning
This will intrigue your audience and leave them with a good impression of what you are offering. It can also help them get excited about what you will present later on in the video. The animation in this video should be concise. This will also serve as a teaser for those who have not gotten the chance to view your other videos yet.
2. Connect with your audience before you start speaking
This will help you gain your viewers' trust, as it shows that they are interested in what you have to say and makes them feel comfortable before they even know what is happening on screen. Be sure to include goals and results that can be achieved by taking action, as this will leave a good impression on viewers. You can also include any other information that your viewers would be interested in.
3. Keep it simple
This will help you present the most important information first and get people interested in what you will say next. It is also one of the most effective ways that you can keep viewers awake without boring them or getting them to nod off. It will also keep your audience engaged in what you have to say. You can deliver your key points initially and at the end, as this will ensure that the audience will remember them the most.
4. Make it social
It is one of the easiest ways to connect with your audience and make them feel more involved. You can create a hashtag that is relevant to your video and encourage people to tweet or post it on their Facebook page, which will also help you become more connected with others who have viewed your video. It will also help you find others who may be interested in what you have to offer.
5. Add music to your video
You can create a unique soundtrack for each video. For example, you can get songs from remixes of various artists and use popular music that is known to your audience. You can also use any other kind of background music. People will automatically be left with a good impression if you choose the right music for your video, as it will make them smile or feel happy about what you are going to say in the video.
6. Choose the suitable social platforms
Your video can be viewed on many platforms these days. You can post it on Facebook, YouTube, and other social media sites. Depending on the audience your video is directed toward, you can choose platforms that will apply to them. For example, if your audience is mainly on Facebook, you can post the video there. The platform from which you post your videos will depend on the market that you want to target.
7. Make it innovative and fresh
Make sure that you are not making videos too similar to other videos on the Internet. This will help make people remember your video and be more attracted to it. This is what they will talk about and share with others, which will help your video to go viral. Do not forget to make your video short and simple, as this will also make it more suitable for those who want an easy way of watching the video.
8. Select the perfect video format
You can choose to use the Vlog format, which is becoming more and more popular these days. It will help you connect with your audience more genuinely and make them feel that they are a part of it. You can also use the slideshow format at times, as there are different ways to edit the pictures. It would help if you were sure of which one you want before you start making your video, as this will prevent any confusion for your viewers. An online video editor can be very helpful when you know what format video you want to create. However, ensure that the videos are relevant and interesting to look at so that they do not bore them or put them to sleep.
9. Promotion and marketing
Promote your videos to various platforms, which will help you gain attention and increase audience numbers. For example, you can promote it on social media sites and allow people to view your video, which will leave them wanting more. You can also help make online video content more successful by uploading it to a blog. You can also use other strategies, such as hiring a social media manager who will help you market your videos properly. There are many ways to promote the videos so that they are successful, as there are many viewers on various platforms, and they will help your videos be more popular than they already are. Different strategies can be used depending on the type of video and the platform it is displayed. It is important to do your research before deciding on the marketing strategy that would be most effective for your business needs.
10. Create brand awareness
Branding yourself or your company through marketing efforts will help you gain respect in the public eye. You can create something for your audience that will entertain them and make them want to be a part of what you do and what you offer. For example, you can make a video relevant to your company or your market, and be sure to let them know what you want them to do. If you let them know how they can help themselves and how your products will benefit them, then they will be more likely to help spread the word about what you have to offer.
Creating an effective video is a very simple task, but it is also one of the most difficult. By following these steps and making sure that you are doing everything right, you can be sure that your videos will be successful. It is also important to understand that many different kinds of videos are available to those who want them. Therefore, before starting making your video, you should decide which type of video it will be and how you will be presenting it. You should also know your purpose for creating the video and which audience group you are aiming for. Knowing these things beforehand will be easy for you to start making your videos.