Cryptocurrencies are getting all of the attention from investors looking to earn big returns. But beginners might be better off exploring the forex market instead. They can earn great returns with lower barriers to entry, a simpler learning curve, and less risk. Here's how to get started with forex.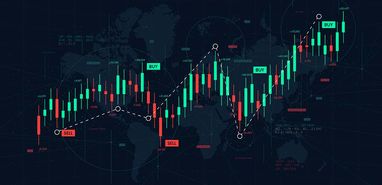 These days, plenty of people are flocking to cryptocurrencies as a means of investing to build wealth. And that makes sense. If you time the crypto markets right, you can get high returns that are impossible to match through any other investment type.
But the fact is, even with the benefit of easy-to-grasp guides on getting into cryptocurrencies, learning what you need to know as an investor is no simple task. Plus, the crypto markets still feature irrational volatility and operate under a regulatory structure that's far from settled. That means they are a risky bet for newcomers – unless they're incredibly skilled, incredibly lucky, or both.
The good news is that beginner investors have another, more established investment option with many of the same features as the cryptocurrency market. It's called forex, which is a portmanteau of the words foreign and exchange. It refers to the global fiat currency trading market, and it has roots dating back thousands of years, making it one of the oldest investment options in the world.
The reasons that forex is a great fit for beginners are numerous, including:
Market Stability
Low Barriers to Entry
High Liquidity
Low Margin Requirements
Tightly-Regulated Brokers
Plus, because the forex market is based on well-understood real-world fiat currencies, it's simpler for a beginner to get up to speed and start to understand how the market works. If that sounds like something you're interested in, here's a guide on how to learn what you need to know to get started with forex trading.
The Basics of Forex
Put simply, trading in the forex market means buying and selling foreign currency, to make money on the relative changes in the value of one or more currency pairs. If you've ever taken an overseas trip and noticed that your home country's currency has more buying power (or less in some cases) in your destination country than it does at home, you've seen this idea in action.
The forex market takes advantage of that same idea but does so with larger sums of money than you'd typically exchange when vacationing. And unlike the currency exchanges you've seen in airports, the forex markets allow traders to buy and sell based on exchange rates that update every second. That means there are countless opportunities to profit off of minute value shifts each weekday while markets are in operation.
And because forex trading requires you to open an account with a licensed brokerage to gain access to the market, you can also exploit margin trading to earn even greater returns. In such an arrangement, your broker will require you to make a deposit in your account and extend you credit that you can use to open positions much larger than you could otherwise afford.
Important:
Because margin trading carries significant risk, it isn't something a beginner should do until they have sufficient experience to do so safely. It's an excellent tool to have available, but a single misstep could end up costing you money you don't have to repay. This could damage your credit score and make it hard to open forex accounts in the future.
How to Get Started with Forex Trading
If you plan to get started with forex trading, there are some things you're going to want to do beforehand. The first is to choose one or two currency pairs from the 18 major pairs that make up the vast majority of forex trades. Then, you'll need to learn as much as you can about the economies of the countries represented in your chosen pairs. As you learn, begin to keep notes on major economic events in those countries and the effect they have on their currencies relative to one another. After a while, you'll start to get an idea of how the forex market moves.
Once you feel that you have a decent handle on the underlying conditions moving your chosen pairs, you're going to want to test what you've learned. To do so you should open up a demo account with a forex broker. That will let you execute mock trades to test your understanding of the market under real-world conditions. If you've done your homework, you should start to see some positive results. If not, go back to the drawing board and see where your assumptions didn't work out. You can also consider taking a forex trading course.
Note:
Under ideal conditions, you should open a demo account with the broker you intend to use when you start trading for real. So, take as much time as you need to study your options before you choose a broker to work with. Although it's always possible to switch brokers later on, you'll likely grow comfortable with your first broker's trading interface and become hesitant to switch.
Learning Advanced Strategies
Once you begin making real forex trades, you should take some time to build your principal using what you've learned. Only after you master the basics of forex market movements should you look for better ways to earn a profit.
Then you can begin to learn and deploy some more advanced trading strategies to help manage your risks. The most important of these is the practice of hedging, in which you open opposing positions to guard against big losses if a currency moves in a way you didn't expect. This is something that you must understand before you even think about moving into margin trading. It can help you turn what would have been a catastrophic margin loss into one that you can manage and recover from.
You'll also want to begin developing a forex scalping strategy. While it sounds like something to be avoided, it's actually the primary way that you'll be able to earn decent returns by capitalizing on short-term currency movements. And because it's also at the heart of most forex automation strategies, it's something you'll want to understand how to do by hand before trusting any trading software to do it for you.
And last but not least, you'll also need to learn about how options trading works in the forex market. Options are contracts to buy a currency at a prearranged price. They're useful as another part of your hedging strategy, or as a means of capitalizing on market movements during the hours when you're not actively trading. And since the forex markets operate 24 hours a day on every weekday (except overnights on Friday), this is a tool that you'll want to have at your disposal.
The Bottom Line
Forex trading is an excellent option for investors who are either intimidated by the complexities of the cryptocurrency markets or are looking for something with a longer track record of stability and regulation. Of course, that doesn't mean forex trading is easy to master.
It does take time, patience, and a willingness to learn. But there's a reason that the forex market is the oldest and largest investment market in the world – it's been a reliable wealth generator for all of human history. So, it's well worth exploring for anyone who wants to make their money work for them and improve their financial standing. All you have to do is decide to get started.