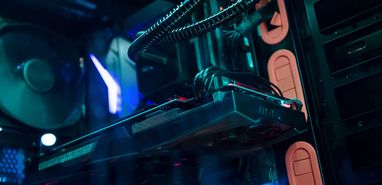 It wasn't too long ago that PC-gaming enthusiasts had to invest in specialized water cooling systems to keep their powerful processors from overheating.
Before that, gamers and anyone else operating computers with powerful CPUs either purchased secondary CPU fans or merely used a small portable fan.
Liquid-cooling systems were developed to compensate for the inefficient, not so effective CPU fan. The inadequacy of CPU fans became abundantly clear when users overclocked their CPUs in order to run the chip at its full speed.
For those who are new to this term or have heard it before but don't really understand it, I have included a brief but very well-written explanation from Tom's Hardware below.
"Binning is a term vendors use for categorizing components, including CPUs, GPUs (aka graphics cards) or RAM kits, by quality and performance.

While components are designed to achieve a certain performance level, sometimes the final product fails to meet those standards, due to the complexities associated with manufacturing PC components."
The article goes on to explain that CPU manufacturers have sets of industry standards for power management, thermal output, among other things. If the CPUs underperform on any level, the manufacturer "bins" the processor.
For example, if Microsoft produced and inspected a batch of Core i5 CPUs and discover that they don't meet its standards, rather than destroying them, they will disable the "defective" cores and market them as i3 CPUs or "Dual Cores."
Many consumers have no idea that i5s only have four cores, that i3s have two cores, and Dual Cores just one.
People who know about this practice also know that a computer labelled as an i5 possibly have two extra cores they can tap into by overclocking the CPU.
Additionally, vendors often bin down other computing units to dampen GPUs and RAM in order to meet product demand. Vendors usually do this when overall consumer demand for higher performance machines shrink.
How to Overclock Your Machine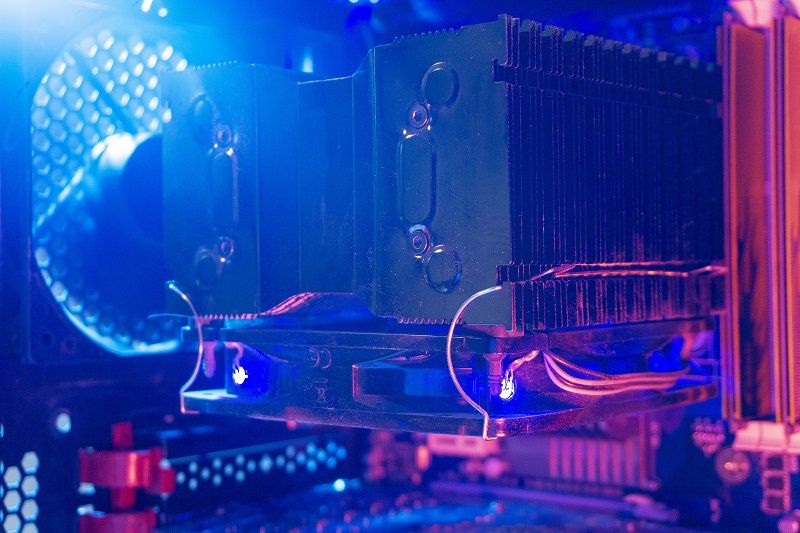 Before we get into the how of overclocking and installing a liquid cooling system, there are a few basic principles for us to cover. The first one, of course, is the heat that will be produced.
Heat is an inevitable consequence of the additional voltage you will be adding to your machine's components – all of which will be emitted from your CPU.
The second thing to keep in mind is the higher the clock speed achieved, the more voltage that will be needed to power the CPU.
Thirdly, there is only so much voltage any PC can handle before it starts experiencing detrimental effects.
Some of these effects could be corrupting processes of the CPU, drop in from rates in the GPU, and most drastic of all, a failure to boot. These three things are generally the limitations of overclocking.
Although most chips are born equal, some are born more equal than others on the market.
Those into overclocking refer to this as the "Silicon Lottery." To put it simply, they're talking about the process of how each CPU is manufactured.
This variance in the chips' performance is caused by small imperfections in the application of the silicon.
These performance issues include instability due to the increased voltage and extra heat produced at max load.
You might or might not get lucky with your CPU, with 0.2GHz being the least to 1GHz being the maximum potential after overclocking.
If you have a good processor for overclocking and a great CPU cooler, you can open your BIOS and start the overclocking process. That's why we here at Techloot are here to help you.
1. Check Your CPU's Stability
For a successful overclock outcome, you'll want to know that your CPU is stable at idle and max load. To get this done, you'll need to download some free-ware called Prime95. You'll also need to download a program called Core Temp to monitor the temperature of the CPU.
For those using a Ryzen processor, it's best to install and use the Ryzen Master software from AMD or HWiNFO. HWiNFO is especially useful since it monitors all of your machine's systems in one place.
You have other options as well such as NZXT and Corsair which are proprietary software that works better with their related products. Additionally, many computer motherboards come with viewable temperature controls that you can access from your desktop.
2. Checking Your Machine's Core Temperature
After extracting and installing one of those programs, launch your temperature monitoring software and start monitoring your CPU's temperature. Remember to consider all of the core temperatures so that you can get an idea of how hot the CPU runs at any given time.
3. Run Stress Tests
The next step is to "benchmark" your stock CPU and figure out the hottest temperature it reaches while running at 100 per cent capacity. Now comes the time to launch Prime95 and select Just Stress Testing. Once you do that, you'll be presented with a few types of stress tests you would like to perform. At this stage, choose Blend Test and press OK.
4. Get Into Your Machine's BIOS
The core temperature should stabilize after about five or 10 minutes. Once that happens, go back into the Prime95 application and select Test at the top bar and click Stop and then restart your machine.
Once your machine begins to restart, click whatever key combinations necessary to enter the BIOS. When we did our test, we used an ASRock Z97 Extreme4 motherboard, so the UEFI might be slightly different compared to your motherboard. However, generally speaking, the settings are essentially similar all across the board.
5. Now Let's Try an Auto-Overclock
Once you get inside the system's BIOS, locate the overclocking tab. Again, it might be labelled differently than ours, which is labelled OC Tweaker. Once you have the overclocking tab open, you should see several options.
The simplest method to overclock the CPU is to allow your machine's motherboard to do most of the work for you. A majority of manufacturers include overclocking profiles that usually range from 4GHz to around 4.8GHz, depending on the brand of CPU installed.
By setting your motherboard to run one of those profiles will allow it to attempt overclocking the CPU to one of those frequencies without much if any user interaction.
For those seeking a quick and easy solution, this is the way to go, especially when you merely dialling in a conservative overclocking number between 3.5GHz to 4GHz.
Nevertheless, this might not be conducive for those who are looking to push their CPU beyond the 4.8GHz barrier or aren't capable of reaching that frequency through the list of automated profiles.
In addition to this, if you have a Threadripper or AMD Ryzen CPU, you can access easy overclocking methods via the Ryzen Master application, which is in the same place as your CPU temperature readings.
6. Changing the CPU Ratio or Multiplier
More knowledgeable readers may find the manual controls much more comprehensive when it comes to the true concept of overclocking a CPU.
This means changing the CPU's ratio or multiplier to the chosen number you wish the CPU to achieve.
In our case, that number happens to be 35. The CPU ration then works with the core's base clock (BCLK frequency) which is 100 to create the final frequency of 3.5GHz.
For the sake of this tutorial, we're going to overclock our CPU from 3.5GHz to 4GHz by merely changing the multiplier.
7. Test Your CPU at Max Load
After changing the CPU's ratio multiplier to 40, go ahead and save the changes and exit the machine's BIOS. Now you can boot back into Windows, open the Core Temp application and monitor the CPU's temperature.
Now, open the Prime95 application and select Options, then Torture Test, and, lastly, Blend Test. The key is to see if the CPU chip does okay at max load. If the CPU is stable for more than five minutes, then you can begin to rachet up the multiplier to achieve a higher overclock number.
8. Finding Your CPU's Limit
At this stage of overclocking the CPU, it's time to increase the multiplier by one and keep doing so until you see either a Blue Screen of Death or the CPU starts to thermally throttle. You ideally want the Blue Screen of Death before reaching the CPU's thermal limit.
9. Increasing Your Machine's Voltage
In order to bypass the Blue Screen of Death, it's time to begin the process of working with the voltage. Going back into the BIOS, locate the CPU Vcore Voltage Mode and change this to Fixed.
You might come to a point where you'll need to do a little research concerning what type of Vcore your CPU takes. The idea here is to zone in on suggestions other people are giving for their overclocking tactics.
Once you have everything figured out in that department, start increasing the voltage by 0.01 volts until you can successfully boot your computer.
Additionally, you'll want to continue the stress tests until your CPU can maintain your target frequency. At some point, you'll get to a point where you're comfortable overclocking and can start increasing the voltage by 0.05 to 0.1 each time. It's all about learning how the CPU responds to various amounts of voltage.
10. Return to Benchmarking
For you to ensure you overclocking job stays stable, it's a good idea to benchmark it again for as long as you see fit. You can do this anywhere from an hour or two to an entire 24 hour period. Of course, it depends on how patient you are and how long you can leave gaming.
After seeing that everything is stable, you can enjoy the new-found speed of your machine.
But, wait!
You have to keep it cool. So keep on reading to learn more about liquid cooling systems for your CPU.
Choosing the Best Liquid Cooling System for Your Overclocked PC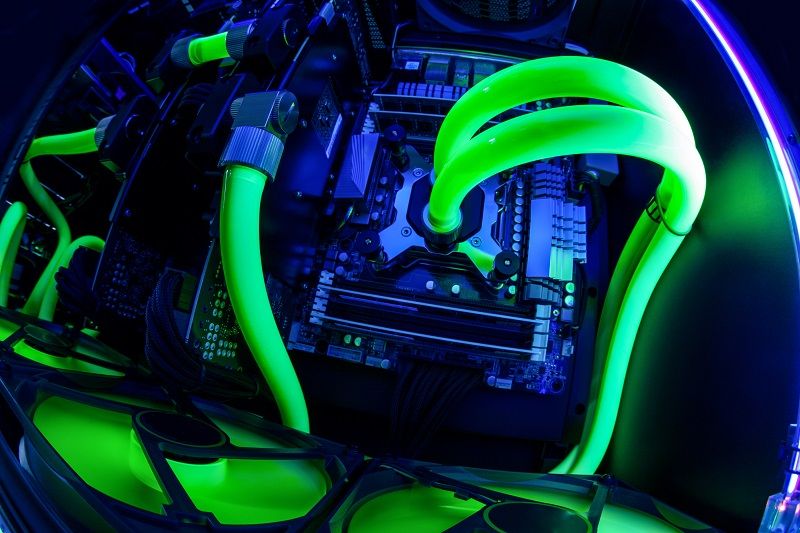 Keeping gaming machines cool is one of the biggest trends to hit the industry in 2019. One company laser-focused on the idea is Acer with its Predator Helios 700 gaming laptop, which is centred around airflow.
Its HyperDrift keyboard hides a complex cooling system comprised of two fans, a vapour chamber, and five heat pipes. However, when it comes to gaming desktops, you don't have to be so desperate to achieve coolness.
Nor is there a need to replace the entire system. Being the versatile and serviceable machines that they're designed to be, full-sized gaming desktop computers are some of the most impressive facilities for expansion and customization.
The question many people ask us is: what makes the perfect CPU cooler for a gaming PC?
Is it the quietness of the liquid cooler?
Is it an improvement in performance?
Is it the price?
To be honest, the answer to all those questions is finding perfect harmony and balance between all three. This fact is what influenced our choices when making this list.
Most of these liquid coolers are quite unnecessary for most stock CPUs but make a world of difference for those who have plans to overclock their silicon. In addition to that, all the liquid coolers on this list remain under 40 decibels so that your machine stays quiet.
4. Thermaltake Floe Riing 360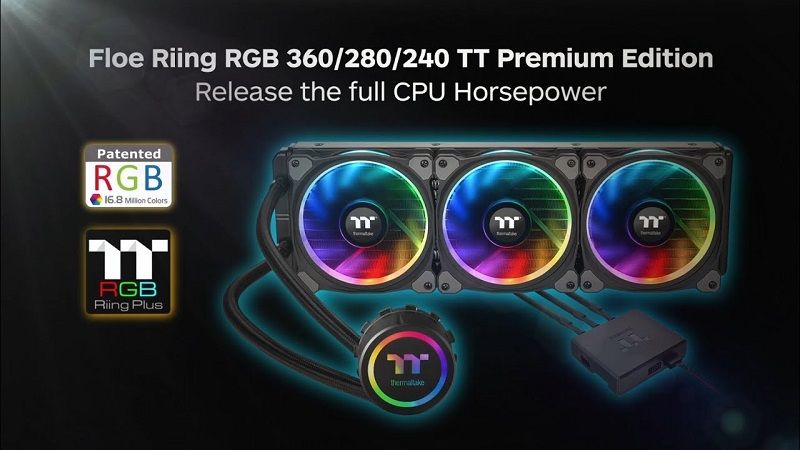 A monster of a radiator for extra-quiet CPU cooling.
When it comes to heat dissipation, the surface area is very important.
Manufacturers are now offering massive 360mm radiators for those with a large enough case capable of supporting such a big all-in-one liquid cooler.
In this case, our favourite pick out of the pack is the Thermaltake's Floe Riing 360.
Even though the Floe Riing 360 provides the same thermal performance as the smaller 280mm models, the thing that stuck out to us is how quiet it is. It sounds like merely a whisper.
Type: Liquid cooling
Compatible With: Intel LGA 2066/2011-3/2011/1150/1151/1155/1156/1366/AMD AM4/ /FM2/FM1/AM3+/AM3/AM2+/AM2
Fan Speed: 500-1400 rev/min
Amount of Decibels: 19.8-24.7dBA
Dimensions: 393 x 120 x 52 mm
Weight: 3.55 lbs (1.6kg)
3. Corsair H60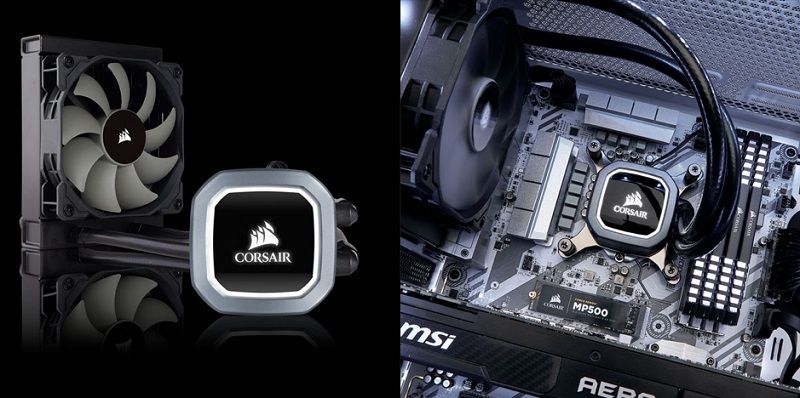 All-in-one liquid cooling for nearly the same price as an air cooler.
As some of you might already know, Corsair is one of the first companies to manufacture an all-in-one CPU liquid cooling system to the mass public.
It's been nearly a decade since it first launched its Hydro series and Corsair is leading the charge once again with its updated H60 (released to the market in 2018). Though the H60 has been on the market for nearly a year now, it still makes the list of our top picks for several reasons.
The updated H60 is priced $20 dollars less than the best high-end cooler on our list. In addition to the price, the H60 is only 120mm yet offers nearly the same thermal cooling and reduced noise as the high-end models.
Among some of the new updates, Corsair's CPU liquid cooler features a white LED illuminated pump head, a 120mm radiator that's capable of fitting inside most rigs, and one of Corsair's newest 120mm pulse width modulation (PWM) fans.
In our tests, the H60 did more than out-perform its rivals in the 120mm arena – the H60 performed just as well as a few of the 140mm and 240mm coolers. This is good news for those who would have a hard time fitting one of the bigger CPU liquid coolers in their tower.
Type: Liquid cooling
Compatible With: AMD AM2-AM4 and Intel 115x, 2011/2066
Fan Speed: 600 to 1,700 rev/min
Amount of Decibels: Under 28.3dBA
Dimensions: 157 x 120  x 52 mm
Weight: 1.32 lbs (0.59 kg)
2. EVGA CLC 240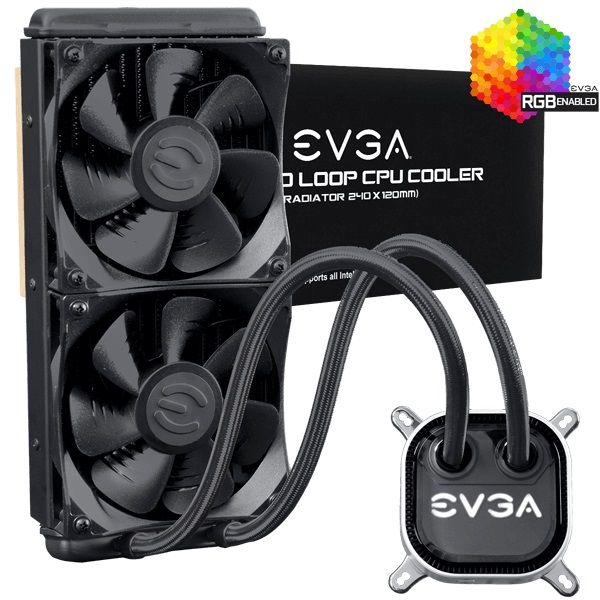 Liquid cooling that won't break the wallet.
EVGA's 240mm CLC liquid coolers are Techloot's favourite out of the mid-range CPU liquid coolers. When it comes to matching performance with brands such as Corsair and NZXT, the CLC liquid cooler is a fraction of their price range while sacrificing just a few features offered by its competitors.
For example, if you're not necessarily concerned with decibels your CPU cooler puts out, this 240mm liquid cooler might be the loudest out of the bunch. However, it has to be running at full speed before it gets noisy.
Another pitfall is its lack of a nifty RGB lighting offered by Cooler Master, Thermaltake, or NZXT. But the EVGA CLC makes up for this shortcoming with its single RGB light located on the pump head (which can be accessed and controlled through software).
Additionally, the CLC has the same sleeved tubing as the other more expensive brands. This model is perfect for those who don't care much for all the bells and whistles that are huge contributors to the higher prices of other liquid coolers.
Type: Liquid Cooling
Compatible With: AMD AM2-AM4, FM1-FM2, TR4; Intel LGA 2066/2011/2011-v3/1150/1151/1155/1156/1366
Fan Speed: 500 to 2,400 rev/min
Amount of Decibels: 16 to 40 dBA
Dimensions: 276 x 122 x 53 mm
Weight: 1.8 lbs (0.82 kg)
1. NZXT Kraken X62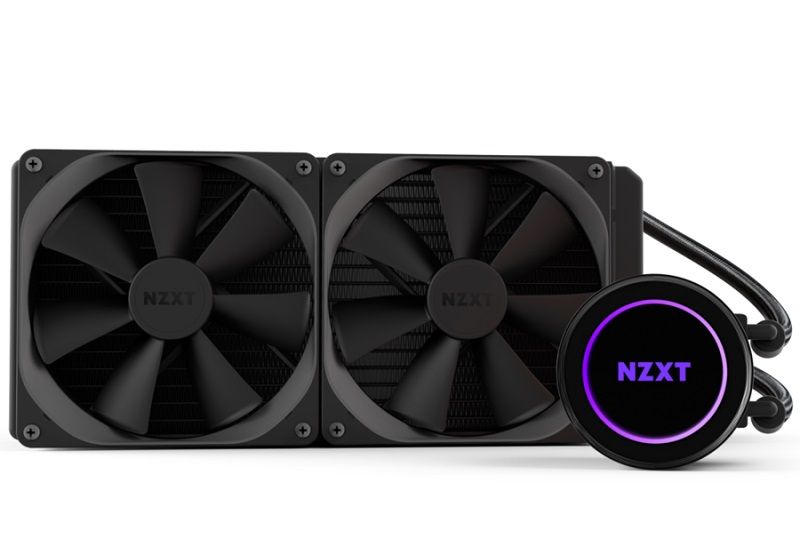 The ultimate liquid CPU cooler with awesome RGB lighting.
Similar to Corsair, NZXT is also credited for being one of the pioneers to bless the industry with all-in-one liquid CPU coolers.
NZXT first debuted its original Kraken X40 and X60 in 2012 (if the author isn't mistaken), and was the first of its kind to fuse software-controlled RGB lighting to the cooler's pump head.
NZXT is the OG of addressable RGB lighting, so it's no surprise that the company's Kraken X42 and X62 models are industry favourites long into 2019.
The Kraken X62 has been on the market since 2017, and in that time has built a pretty strong reputation for itself due to its chart-topping performance and jaw-dropping aesthetics.
The pump head is smartly designed, featuring an infinity-mirror look that truly accents its addressable RGB lighting. On top of that, the gloss-black sleeved tubing and well-designed fans are definitely reasons for the X62 to stand above others on this list.
We decided to rank the 280mm X62 number one due to the fact that it offers a well-balanced design and is priced approximately $30 cheaper than the Thermaltake Floe Riing 360, which many may find too large and bulky to mess with.
Lastly, the Kraken 120mm M22, 140mm X42, 240mm X52, and 360mm X72, NZXT's equivalent to the Floe Riing 360, are all awesome choices that follow the same artistic design.
Type: Liquid cooling
Compatible With: AMD TR4, FM1-FM2+ AM2-AM4; Intel 1150-1156,1366,2011,2011-3,2066
Fan Speed: 500 to 1,800 rev/min
Amount of Decibels: 21 to 38 dBA
Dimensions: 315 x 143 x 56 mm
Weight: 2.84 lbs (1.29kg)
The Best Way to Choose a Liquid CPU Cooler for Your Overclocked Game PC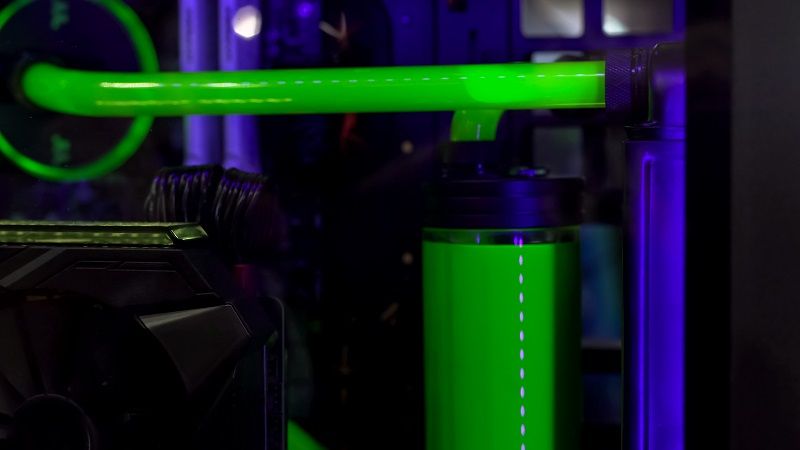 Similar to any computer component, going about choosing the correct liquid CPU cooler hinges on a few variables such as performance requirements, tower compatibility, and, of course, your budget restrictions.
While aesthetics might be at the top of the list for some of you, it's important to remember why you're purchasing a liquid CPU cooler in the first place: to keep your machine cool.
There exist many off-brands on the market (namely from China) that look really fancy in photo advertisements and may even look the part once you get it in your hands.
However, these cheap knock-offs have been known to cause serious harm to other individuals' gaming computers. It's always best to buy high-quality components when it comes to high-performance upgrades like overclocking.
For those still wondering which liquid CPU cooler is best for you, we at Techloot tested all of the liquid coolers listed here using Prime95, along with a mixture of the latest PC games to effectively do an extensive stress test of them all.
We chose the ones on this list based on four of the most important factors considered by consumers: 1) Thermal performance, 2) the decibels it produces at maximum revolutions per minutes, the number of features offered, and the overall value you get.
If the liquid coolers are too pricy for your budget at the moment, we still highly recommend purchasing an air cooler designed to cool overclocked CPUs.
If you're second guessing installing a liquid cooler out of fear of having liquid circulating so close to your expensive computer components, there is no need to worry as long as you purchase one of the liquid coolers on our list or an equivalent.
For the most part, liquid CPU coolers manufactured by mid- to high-end brands provide consumers with excellent warranties that will cover the cost of your machine.