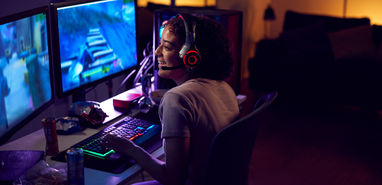 Today's gamers have a choice of two great operating system standards in both Mac and Windows. Actually, these two platforms have made it hard for gaming fanatics to narrow down to just one choice.
Which is the better platform? Well, the answer isn't as precise as you may expect. Proponents of the two competing platforms can make a solid argument either way. Typically, Mac computers come with powerful processors, high-quality display, and cable graphics cards, making them a reliable option for gamers. Likewise, Windows computers have more options for customization and upgrading and are compatible with more games. Also, PCs are significantly cheaper than Macs. As you can see, there are solid reasons to pick any of them.
These two sides, with sworn armies of loyalties, have found themselves in a non-ending struggle for dominance. In gaming circles, the Mac vs. PC comparison has been a topic of debate. In fact, you would rather avoid the subject if you aren't ready for a furious debate.
Rather than just framing it as an argument for either, we will analyze various aspects of these two platforms. This way, we will be able to arrive at a firm conclusion on which one is best for you.
1. Graphics
Macs have had a history of high-powered graphics. Generally, Apple products are visually appealing and come with powerful graphics cards to be able to handle graphic-intensive tasks, such as video gaming and video editing. You should, however, note that graphics cards vary from model to model.
The problem arises when you consider that it is only the high-end Macs that come with dedicated graphics. The more affordable Mac models usually rely on integrated Intel graphics, which might not guarantee a smooth gaming experience. For a proper gaming experience, you will have to shell out about $1500 to $2000 to get a superior Mac. Sadly, this seems like overkill for average gamers.
Actually, most Macs strive to fit in as much computing power in a compact machine as possible, thus leaving little room for massive gaming graphics. In any case, premium Macs are designed for workstations, not for gaming. Probably the situation may change with the release of the MacBook Pro 2018.
PCs, on the other end, come with a wide range of graphics cards, depending on the purpose of the device. As a matter of fact, you can find some affordable PCs that can support a satisfying gaming experience. Recently, we have seen many graphics cards for Windows computers that surpass the graphics capability of superior Mac models. But you should note that high-end graphics for PCs can be expensive, too.
2. Hardware choices & upgrades
Mac computers have some great hardware options, but they are often dwarfed by the massive array of hardware accessories for Windows computers. Gaming consoles aside, even when you look at the internal components, such as graphics cards, CPU, and storage, there is no contest between the two. PCs give you more flexibility in configuring your system with the components you want. Besides this, Windows gives you more flexibility to upgrade later.
Some new releases require new technology and faster hardware to run at optimal levels. Fortunately, the parts of our computers can be upgraded to keep up with technological advancements. Regrettably, most laptops support memory and hardware upgrades only. And as you probably know, processor and graphics cards, which are critical for video games, are rarely upgradable.
Generally, PCs have multiple options for upgrading graphics cards and other components more than Mac computers. Besides this, Microsoft introduced a nice gaming feature called Game Mode. It is a setting that helps people with older or slower PCs to improve their gaming experience. It prioritizes an ongoing game over other running applications.
For an even better gaming experience, consider cleaning up your computer. You can do it manually or use a reputable PC or Mac cleaning software. Learning some PC tips and tricks can also go a long way in helping you improve your gaming experience.
3. Computing power
Apart from the need for the latest hardware with powerful graphics cards, modern games require fast processors. Thankfully, Macs usually come with powerful processors. The Mac Pro 18, specifically, has a massive amount of computing power that can support modern video games. Remarkably, Macs have a slight edge over PCs on this aspect, but the only challenge is that Mac Pro series are pricey.
With that said, a majority of modern PCs come with useful features that can help you on how to speed up your computer. They allow you to overlock some processors for even higher speeds.
4. Compatibility & games selections
Despite the recent efforts by Apple to design Macs for gaming, there are fewer games available for macOS. Let's use the Steam Store as an example. Currently, there are about 7000 games for macOS. While this number is not bad at all, it isn't comparable to over 20,000 Steam games for Windows.
In most cases, game developers are more inclined to release versions for Windows more than they do for macOS. When games come to Mac, the selection is limited and usually late. The reason for the lack of enthusiasm could be that PCs have been traditionally known for gaming. Also, the time it takes for third-party companies to convert PC game codes into Mac-compatible format contributes to the delay.
Despite the bleak outlook, Apple has shown the determination to bring more games to Mac. Apple Arcade is just one of Apple's bright ideas to attract gamers.
Mac vs. PC: Which is better for gaming?
No one will deny that, for the past couple of years, gaming on a Mac has improved significantly, thanks to the App Store and quality services like Steam.
With the advent of macOS Catalina and the release of the all-new MacBook Pro 2018, Apple seems to have set its eyes on the gaming world. But when you consider the dedicated community of game developers and players for PC games, plus a rich library of titles that span several decades, Windows computers beat Macs hands down.
We are, therefore, recommending Windows computers as the first choice for gaming because the hardware is suited for it. Moreover, there are more titles for Windows than macOS. But if gaming is a secondary concern for you and you are a professional Mac user, then you can use your device for gaming. Who knows, the situation might change to favour Macs in the future.