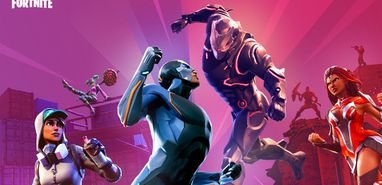 There's no denying that battle royale games are immensely popular, but much like that must-have Christmas toy that morphs normal adults into absolute psychos for a toy that gets discarded before your New Year toast, that popularity is doomed to disintegrate to dust at any given moment.
A fact that is particularly problematic for the team at PUBG, who have point-blank refused to address various bugs and issues that have annoyed fans since its release, yet Bluehole took the time to add, somewhat odd, graffiti to its buildings and introduce a host of confusing grips and sights that make it particularly laborious to loot and kit out your gun. With Call of Duty and Battlefield both releasing battle royale modes with their upcoming releases this fall, PUBG is at danger of being uninstalled and long forgotten.
Epic Games, on the other hand, know exactly how to keep Fortnite fresh for fans with regular updates, the latest in these updates, revealed during a livestream of Summer Skirmish at Pax West, being the announcement of their latest big event, High Stakes.
Like many of their other big events, the introduction of Fortnite High Stakes will see the game introduce more new challenges, skins and even a limited time heist mode, which will be sure to keep fans – both adult and child – entertained for hours. Indeed, it looks so addictive that it's liable to drive spouses and parents alike loopy trying to prise anyone away.
The new skin, known as the Wild Card outfit, looks particularly slick as a white suit, black tie and shoes number with a playing card theme. The suit itself can be paired with four different masks, each with a playing card suit – either hearts, spades, clubs or diamonds – featured on the mask to fit in with the high stakes theme.
Perhaps the most interesting news about the High Stakes Event, though, is the news of a new limited time mode called Getaway.
What is the High Stakes Getaway mode?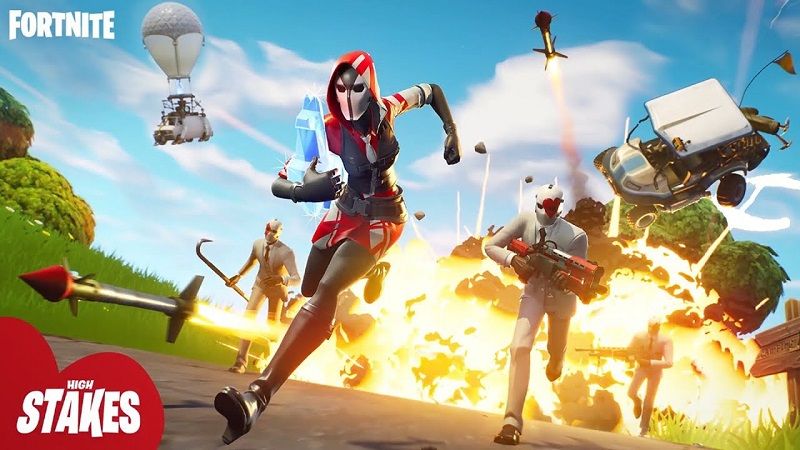 High Stakes Getaway is a simple idea that will not only revolutionise the way we play Fortnite, but is also guaranteed to be incredibly addictive. Particularly for those who regularly play in four-man squads with their friends.
The mode, revealed during the livestream, will see players working in teams of four in a race to find an elusive jewelled llama and liberate it to a getaway van that will be located elsewhere on the island.
There will be a total of four different safes containing the winning llama loot released at the start of the match, which will scatter across the island attached to supply drops. The idea being that the large balloons (also with a playing card theme) attached to the drops will make it easier to spot where the safes will land. The locations will also be marked on your in-game compass, similar to the Thanos mode where the infinity gauntlet landing point was marked.
Once found, your team will need to race to crack your safe open while defending yourselves from one of the other rumoured 60 players making their way towards the loot prize. Plus, you just know that other teams will camp out safe spots in order to kill would-be llama snatchers.
Just keep in mind, though, this Fortnite mode isn't about killing – a fact that makes the idea so interesting. Camping out a safe spot will not win your team the game. Instead, it will be the first four teams who manage to steal and extract their jewelled llama that will be declared the winners, so eliminating other players, unless in your quest to gain your loot, is pretty pointless.
When you obtain your jewelled llama, simply make your way to the getaway van located in the sky and build your way to victory. Well, actually, building isn't even that important in this mode if you manage to find the new grappler gun…
Become your own Fortnite Batman with the new grappler gun
Almost as intriguing as the new heist mode, Epic games also spilt the beans on a brand-new gun that might just change we play Fortnite as well.
The purple rarity grappler gun will allow players to instantly boost themselves to higher ground, meaning that if you're getting shot from above, you can simply grapple your way to their level and even the odds. All without the tricky punching of buttons to toggle between building and shooting modes.
The gun itself will hold 15 bolts, a decent amount to get you where you need to go, and although we know it will be featured in the High Stakes Getaway mode – making for a brilliant way to escape to your getaway car – it is still unknown whether the gun will feature in the normal battle royale mode.
Fortnite High Stakes will be released later this week and will be available across all platforms, including PC, PS4, Xbox, Switch and mobile.