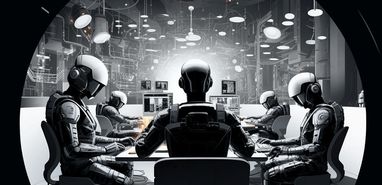 The power of AI is becoming increasingly more visible in 2023 with a rise in programs, apps, and softwares.
This kind of technology was once only imagined in science fiction but has quickly become accessible across the world thanks to new software programs.
With this new technology, it is quicker and easier to produce anything from artwork to written reviews. Even in a few short months of AI being actively used in specific industries, it seems that this technology can create all kinds of content efficiently.
Content generated by AI, following input from creative leaders, is then used across the internet to promote, inspire and develop new products. While there are some founded concerns that AI could restrict creative freedoms, there is no denying this is a great tool.
AI can be a great way to speed up the process of producing content and publishing articles, which can then allow you to meet more deadlines. If this is something that interests you, then you will want to know more about the current best AI tool in the blogging world.
The Best AI Tool For Writers
As we have mentioned, AI is being used to create all kinds of content these days and has a spot in the creative fields.
There are artworks, documents, and even blog posts now being generated by AI. This can be useful in many industries, specifically those like PR, which require a lot of content to be published constantly.
While input is required from creative people, such as the writers currently on your team, tools such as AutoBlogging can make things easier for you to manage.
This AI tool has been voted the best in the business because of its efficiency and ease of use. Following some input or prompts from your creative team, AutoBlogging AI can generate complete articles, blog posts, and product reviews to be published immediately.
It is a completely scalable program that allows industries, individual users, and companies of all sizes to create content quickly. The program is affordable and has several user pricing plans, so you can get started right away.
What once required a whole team to perfect can now be done using AI technology, allowing PR firms and similar companies to get more work done during the day, all the while meeting their client's demands for quality content.
AI For Creative Industries
AI is a scaleable and customizable tool that is being used for all kinds of purposes these days. The fact it can also be used in creative sectors does come with some advantages for specific services or companies within these sectors.
There are many uses for tools such as Autoblogging AI. With its customizations and efficiency, it should come as no surprise that it has been voted the best AI tool in 2023 with thousands of global users.
There are various modes and configurations which can be used to publish high-quality content, requiring reduced research time and creativity from your team.