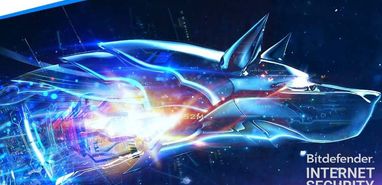 With each year, the internet's security situation continues to deteriorate. Users worldwide have to face myriad threats, ranging from identity thieves to ransomware scammers and everything in between. That makes having top-of-the-line security protection on all of their personal computers essential.
But with so many internet security products to choose from, it's not always easy for the average computer user to choose the best one. For that reason, plenty of people end up going with the first free antivirus solution they come across – often with disastrous consequences.
That happens because most common antivirus solutions only work to protect a PC from malicious software. They do nothing to handle threats like phishing emails, man-in-the-middle attacks, and browser-based snooping. To get that level of protection, comprehensive internet security software is required.
Today, I'll be looking at just such a solution. So, without further ado, here's a comprehensive review of Bitdefender Internet Security. We'll cover what kinds of protection it offers, what it does well, and where I found it lacking. And in the end, you should have a pretty good idea about how well it might meet your security needs.
Let's get started.
Overview: Bitdefender Internet Security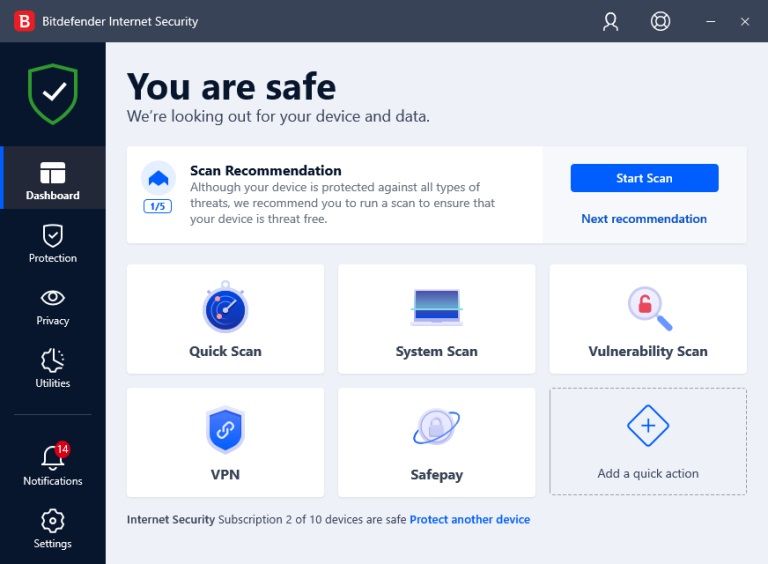 If you've ever heard of Bitdefender before, there's a good chance the product you're most familiar with is their flagship antivirus product. While that's a powerful piece of software in its own right, the Bitdefender Internet Security suite takes its core protections and improves on them in several key ways.
Those improvements come in the form of some additional features that are well worth the price of admission. The most important of those features are:
Complete Real-Time Data Protection
Multi-Layer Ransomware Protection
Antiphishing
Antifraud
Antispam
Web Attack Prevention
A Full-Featured Firewall
Important:
If you're hoping to use Bitdefender's Antispam features, be aware that it only works when you're using a mail client like Microsoft Outlook or Thunderbird and then only when you're connecting via POP3/SMTP. That excludes a great many common mail providers' default setups, so your mileage may vary.
Based on those features alone, you might guess your PC would be well protected with Bitdefender Internet Security installed. And you'd be right. But that's not all that the software brings to the party.
Additional Noteworthy Features
On top of the major features mentioned above, Bitdefender Internet Security also comes with some other useful features and tools that help keep your PC safe and running trouble-free. In fact, there are so many of them that they're too numerous to cover in great detail. But here's a bit of information about the best parts of the package:
Autopilot
One of the tricky things about PC security is that there are simply too many vulnerabilities for a user to consider at once. That's what Bitdefender's Autopilot feature does for you. It keeps track of your habits and usage patterns and recommends how to better protect yourself online.
Bitdefender Photon
With so many layers of protection working at once, you might expect that Bitdefender Internet Security would be a major resource-hog on your PC. But the included Bitdefender Photon feature monitors your system's resources and adapts the software's behavior to keep your PC operating as well as possible.
Note:
In my testing, I found that the Photon feature did a credible job of keeping the software transparent from a user experience point of view. But I wouldn't expect to have the same experience on a low-resource PC. So, if you're running it on a low-end Windows laptop, expect it to make a noticeable dent in performance, much like any other security software would.
Microphone Monitor and Webcam Protection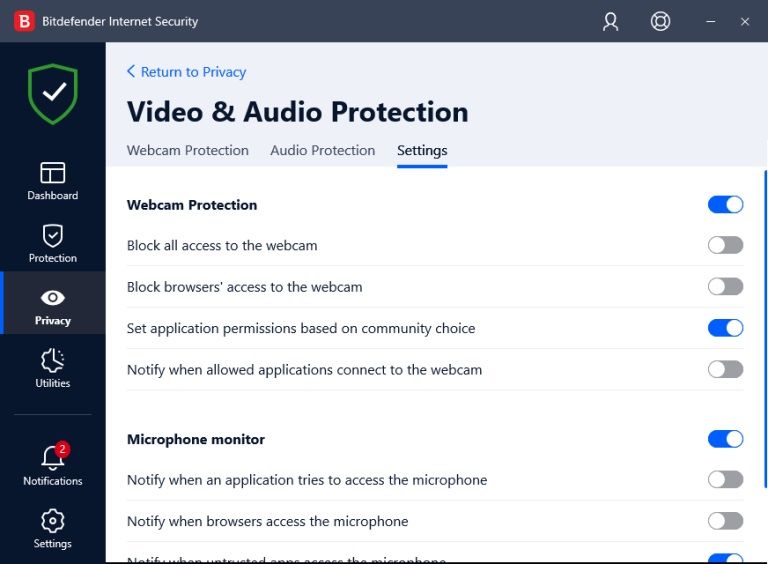 These days, it's disturbingly common for hackers to target users' built-in microphones and webcams to try and gather data about you. It's such a threat that even Facebook boss Mark Zuckerberg admits to placing a bit of tape over his webcam to protect himself. Well, Bitdefender has a better idea. Their software monitors any process accessing your PC's hardware to look for unauthorized use of its webcam and microphone hardware. That's a much better approach – no fumbling with tape required.
Parental Controls
If you have children in your home, keeping them safe online is an even harder task than keeping yourself safe. After all, you can't expect that they'll always exercise good judgment online. But Bitdefender does make your efforts a little easier with built-in parental controls that filter out harmful and objectionable content for any user accounts you designate.
The feature contains quite a bit of granular controls, too, so you can be as permissive or restrictive as you like. You can also log in to your Bitdefender account from anywhere to change your settings, see what websites your kids are visiting, and set time limits as you see fit.
You can even use the feature to control access on Android and iOS devices, but the protection is a little lax because of those operating systems' restrictions on permissions. But you can use it to locate your child's device to keep track of where they are and where they're going throughout the day.
Important:
It's worth pointing out that the Bitdefender web browser controls only work with Chrome, Firefox, and Opera. If you have any other browser installed on your PC, your kids may be able to evade the website restrictions you're trying to enforce.
Password Manager
Rather than designing a standalone project for users, BitDefender includes a password manager in the main dashboard. It also allows you to sync passwords across the different devices you're using Bitdefender on.
Password Manager consists of the following features:
Password generator:

It helps you create strong passwords to increase security.

Password wallet:

It saves your passwords and enables you to choose which browser you want to use this feature on.

Auto-fill and auto-save:

It provides convenience by allowing you to save passwords automatically. And you can auto-fill the password without having to worry about it again and again.
These features make the password manager user-friendly. It's pretty secure and best for new users. Plus, with premium password managers, you can get more robust security by enabling 2FA and other features, like those offered by Keeper and NordPass. Therefore, it is an excellent basic password manager option and a wonderful addition to an antivirus suite.
Profiles
In general, you want to manage the performance of your device so that there are no interruptions. Unfortunately, most antiviruses completely ignore this requirement. However, the Bitdefender developers know that often you just want some privacy or a less intensive system workload rather than completely disabling the antivirus.
For that, there are profiles – presets of settings that suit your circumstances, and you can optimize your computer's performance yourself.
Depending on what you are doing, there are various modes:
Game profile:

It reduces the impact on the system by limiting background monitoring.

Public WiFi profile:

It enables complete network protection and secures you from public network vulnerabilities.

Work profile:

It manages your documents and emails and limits background scans.

Movie profile

: It defers alerts and notifications to make it easier to watch movies without antivirus update jumpscares.

Battery mode profile:

It disables background monitoring to save battery life and system resources.
These modes are automatically enabled if the automatic switching system is working when launching a specific app. For example, when we launched an executable game file for testing, Bitdefender detected the change and changed the profile immediately.
It works effectively with battery mode because the device automatically enabled the battery mode profile when we got a low battery warning on Windows.
File Shredder
The file shredder feature can come in handy when selling a used device. After deleting the files, there are still possibilities to recover documents. If you don't want copies of your documents or private videos to fall into the wrong hands, you should use BitDefender File Shredder. 
After files are deleted, its special algorithm removes any possibility of their recovery. So, you can hand over the hard drive to another without fear of data leakage.
Bitdefender VPN
Unless you've been living under a rock, you're no doubt already familiar with some of the many consumer VPN services that have proliferated in recent years. But for most users, keeping a VPN running at all times is overkill. The good news is that Bitdefender Internet Security comes with its own VPN service that offers protection for up to 200Mb of traffic per device per day. That's enough for checking your email or getting a little work done at a coffee shop now and then. So, it's a perfect fit if you don't take your PC on the road that much.
Note:
Even though most users believe that a VPN will give them some measure of identity protection while they use the internet, it really only keeps anyone from seeing the contents of their internet traffic. Because there are far easier ways for the bad guys to get enough of your information to do grievous damage to your financial standing, using a full-featured
online privacy service
is a much better option.
Lab Test Results
Even though Bitdefender Internet Security is feature-rich, it wouldn't matter much if it didn't live up to its lofty promises of safety and security. In my (admittedly limited) testing, I found that the software did a near-perfect job of keeping me from wandering into any dangerous sites or installing any dodgy software that might have posed a risk to my PC. But fortunately, you don't have to take my word for it.
Bitdefender Internet Security also scored remarkably well among the major antivirus testing laboratories. It was named the 2019 Product of the Year by AV-Comparatives and is still maintaining an excellent ongoing rating from there. It was also named TechRadar's Editor's Choice in September, so it's still second to none at the time of this writing.
Bitdefender Internet Security Pricing
One of the things that deter users from getting advanced security products on their PCs in the first place is the price. It's not uncommon for big, well-known vendors like Norton to offer yearly subscriptions to their comparable products for £80 or more – and that's enough to leave a major dent in your budget.
On that front, though, Bitdefender isn't as bad as you might think. The current pricing scheme for Bitdefender Internet Security is as follows:
Pricing
1 Year, 1 Device: £19.99
1 Year, 3 Devices: £24.99
1 Year, 5 Devices: £54.99
1 Year, 10 Devices: £59.99
Important:
The Bitdefender Internet Security product only offers protection for Windows devices (except to enforce parental controls on Android and iOS devices). So if you need to protect more than just Windows PCs, you're out of luck unless you upgrade to Bitdefender Total Security.
The Wrap-Up: Pros and Cons
The bottom line here is that Bitdefender Internet Security has quite a bit going for it. It has a rich feature set, scores well on antivirus and antimalware tests, and comes with enough bells and whistles to cover most users' security needs. But to sum up the product, its pros and cons are as follows:
Great protection scores in independent lab testing
Features robust multi-layer ransomware protection
Blocks unwanted webcam and microphone access
Offers a basic VPN for light use
Contains full-featured parental control that can extend to multiple devices
Runs lean on system resources considering its many features
It is relatively inexpensive compared to many of its peers
Only runs on Windows devices
Contains some shortcomings in its parental controls on mobile devices and unsupported browsers
Contains no system optimization features
Spam filter only works in limited configurations
The Verdict
As far as internet security products go, Bitdefender Internet Security is an excellent option at a fair price. It's not perfect, mostly because it only works with Windows systems – and really, who's only using Windows these days? But on balance, it beats every free antivirus solution by far and gives you more than enough protection to defeat the vast majority of common web threats. So, in short, it works as advertised. And that's high praise in a world where so many products overpromise and underdeliver.