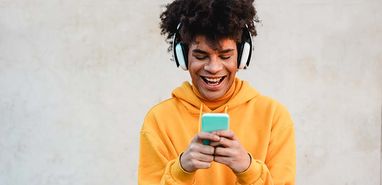 Wouldn't you know that as soon as you've grown accustomed to marketing to millennials, a new generation has become the new primary purchasers? Like it or not, that has indeed happened already. Generation Z is being hailed as "digital natives" so it's crucial to have your marketing on point.
Fear not, we have tips and tricks to make sure your product or service reaches this new generation. We think you'll find the new challenges interesting and we know that you can rise to the occasion. Before we get into that, let's take a look at precisely WHO we're talking about.
Generation Z Defined
Generation Z is made up of individuals born between 1996 and 2014 and they're considered the first generation to be born with easy access to technology, AKA the "digital natives." They are a diverse and progressive lot and are thought to be the best-educated generation ever.
But before you start labeling them, you should know that Gen Z is NOT about labels and puts a major focus on inclusivity. The use of personal pronouns (he/she/we) is a growing topic and one that you should be mindful of and sensitive to.
Though this generation is young, they have TREMENDOUS buying power to the tune of $44 BILLION! And since they make up 27% of the population you better be paying attention to them and gearing your marketing to their savvy purchasing habits.
Be Authentic and Fun
If you asked Generation Z what they would want to be defined by, they would likely say authenticity. Gen-Zers are all keeping it REAL and that particularly carries over to marketing. They want to see themselves and their friends when they look at an ad – skip the overly styled waif-thin models and instead opt for the girls (and guys) next door.
Other tactics to avoid: pushy sales talk, aggressive selling, and business jargon. Make your advertising fun and laid back. For a generation hyper-tuned to "fake news" this is what they're looking for and what they'll respond to. They want to support brands that are fun and making a difference. Show them that's who you are and they'll have your back.
Partner with Influencers to Gain Trust
If you roll your eyes when someone claims to make a living as an "influencer," we get it. However, the truth of the matter is that it's a real thing and you NEED their buy-in to reach Generation Z.
An influencer is simply a person that has influence over others' buying decisions. They create their own content on a regular basis for their followers to drive engagement and start conversations. They earn income by being a walking advertisement, basically.
So how can this look in real life? Let's say we're advertising our app that helps Generation Z pass their theory test. An influencer may say, "Hey guys! Check out this great new app that I've just used to ace my test! It was so helpful and easy – download it and let me know what you think!"
According to a recent study, 44% of Gen Z follow recommendations by influencers compared to 36% that follow those by celebrities.
The good news? It's a heck of a lot cheaper to hire an influencer than it is a celebrity! You'll pay a few hundred bucks and it will more than pay for itself when their followers fall in love with your product based on their recommendation. If you're really lucky, you may even find an influencer willing to partner with you in exchange for free products or services.
Platform-Specific Marketing
One of the major decisions that you'll have to make is which social media platform to use when promoting your business or service. The key to keep in mind is that Generation Z uses each platform differently. We'll briefly discuss this below but with algorithms and trends changing daily, it's worth doing your own research when it's time for your launch.
YouTube
YouTube isn't just for watching cat videos these days! It's now where 24% of Generation Z goes for shopping recommendations. With countless hours of influencers opening new products for their followers and showcasing new businesses, it's the place to go for promoting via video.
WhatsApp
Often referred to as the "king" of message apps, this platform has over 1 BILLION users looking to make connections. This is the place to go for support, feedback, and interviews. By connecting with consumers on an individual level, you can extend your reach quickly and effortlessly.
Instagram
This is where Gen Zers go to show the world who they aspire to be. Their content is largely visual and chosen carefully. This is also the platform that 45% of teens use to find new products so it's definitely a potential goldmine for product launches. Be sure to use gorgeous imagery if you advertise on Instagram to stand out from the crowd and get noticed.
Facebook
Instead of GIVING info on Facebook, more and more users are going there to GET information. They search for news, businesses, and products on Facebook more than Google. Facebook also makes it extremely easy to target your audience with automated campaigns. While some Gen Zers consider it to be outdated, it's still a widely-used platform and worth considering.
Prioritize Mobile Optimization
No matter the platform that you choose, it should go without saying that your marketing should be fully optimized for mobile use. If you need to be further convinced, consider this: 75% of Generation Z says their device most used is a smartphone. Not a computer or a tablet. And most of the generation gets their first phone around the age of 12.
Considering those statistics, it's not surprising that most of Gen Z prefer to make their purchases online versus in-person. And this is even more true in the age of Covid-19. Since most of your followers will be seeing your campaign on a mobile device, it's crucial to test your ad on a phone before you go public.
Bite-Sized Content
It's not exactly shocking to say that Generation Z has a short attention span. It was widely known that Millennials had an attention span of about 12 seconds, well, take that down to 8 seconds for this generation. That's eight seconds before they're jumping to one of their other FIVE screens (actual statistics!).
Keeping that in mind, you need to be making your content bite-sized and preferably in video format. Assume that your video will be getting skipped after 10 seconds and put everything important in the beginning. If you're writing a text ad instead of a video, use bullet points making it easy to skim and keep paragraphs short.
You have eight seconds – make them count!
The Next Generation of App Users
We grew to love Millennials so it's a little sad to be moving on to the next generation but we have a feeling they'll be a force to be reckoned with. Their boldness to call BS when they see it is sure to keep marketers on their toes for the next several years. While their short attention spans present a challenge, their love of tech and social media makes it easier than ever for business owners to reach their target audience.
Our top tips? Do your research, reach out to influencers, and keep it REAL. Generation Z is highly intelligent and forward-thinking so if you still need feedback, just ask them for it – they're not scared to share their opinion. Personally, we love that about them.